7239...
TGS SPECIAL REPORT
..."WAKEY-LEAKS" UNDER THE MICROSCOPE
by Bruce Marshall, Goldsheet.com Editor
With college hoops playing a reduced schedule over the holiday break before conference play kicks into gear in the next week, and with football season still going strong, we take some extra time to examine gridiron developments this week before getting back to more basketball in our next issue.


Speaking of football, make sure to check out our upcoming

TGS

Football 19 where we break down NFL Wild Card action and continue with playoff coverage thru January. In two weeks we will also begin our season-ending reviews for the non-playoff teams in the NFL and will continue with those as the postseason progresses toward the Super Bowl in early February.


In the meantime we are still trying to process the bizarre recent "Wakey-Leaks" story involving Wake Forest football radio color analyst Tommy Elrod.


First, a bit of background. Elrod--a former Wake Forest player and assistant coach--provided or attempted to provide confidential game preparation material to opponents several times starting in 2014, the school announced earlier in December. Wake Forest began a program-wide investigation (without the aid of FBI Director James Comey, we are sure) last month after an equipment manager discovered documents inside Papa John's Cardinal Stadium--one day before Wake Forest's Nov. 12 game in Louisville--showing specific Demon Deacons plays.


Elrod has since been fired from the IMG Radio Network and banned from Wake Forest athletics and its facilities.


What about Elrod? He played for the Deacs from 1993 to 1997 and was later hired as a graduate assistant under HC Jim Grobe. Elrod held multiple positions for 11 seasons, but was not retained by current head coach Dave Clawson.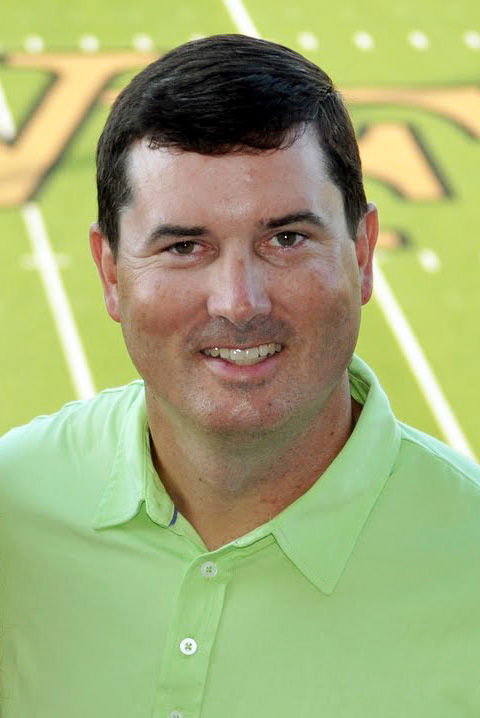 Did Elrod (right), who headed to the broadcast booth after being fired in 2013, mete out a unique form of revenge on the athletic department that got rid of him? Did Wake lose games it might have won had Elrod not had open access to practices and playbooks? Did he do it for money or for a future job at another school?


And, what about the student-athletes themselves? As Winston-Salem Journal columnist Scott Hamilton appropriately asks: "How many of the 91 times battered quarterback John Wolford was sacked were at least assisted by a little inside information?"


Maybe Elrod is a direct descendant of Benedict Arnold and just couldn't help stabbing his compatriots in the back. But sports has a long and illustrious history of cheating, from Lance Armstrong to Rosie Ruiz to Spygate to all of those Eastern bloc Olympians we recall over the decades. But at least they were cheating to win. Elrod was cheating to help his team lose. Betraying your friends/country/teammates is a ticket to a special kind of infamy. Ask Benedict Arnold or Judas or Brutus.


Now, an obscure radio guy has provided a one-word definition for such behavior. Just remember, winners never Elrod, and Elrods never win!


We're not sure what made our heads spin more, hearing about Elrod's shenanigans in the first place or some of the explanations given by those supposedly entangled somewhere in this web. Such as Louisville AD Tom Jurich, who might have made things worse when he admitted that Elrod did give "a few plays" to Louisville's offensive coordinator Lonnie Galloway over the phone the week of their November game, which Louisville won 44-12.


"Among the communications were a few plays that were sent and then shared with our defensive staff," Jurich said in a statement, adding that none of the plays was "run during the course of the game." As if that somehow makes Elrod's communication with Galloway and Louisville's use of that information any less egregious!


Jurich was not finished. "Our defense regularly prepares for similar formations every week in their normal game plan. Any other information that may have been discussed was nothing that our staff had not already seen while studying Wake Forest in their preparations for the game, and the material was not given any further attention."


Jurich added that he's "disappointed that this issue has brought undue attention to our football staff as we prepare for our upcoming bowl game."


Well isn't that too bad? The Louisville AD has just admitted that his team cheated, that his offensive coordinator received and shared confidential strategic information about an opponent, a breach of ethics that undermined the integrity of that game. And now he's angry that it's creating a distraction?


Adding to Louisville's fascinating role in this fiasco is the fact that Wake Forest's internal investigation began after the loss to the Cardinals, when staff members discovered materials left behind by Louisville that indicated the Cardinals were prepared for plays the Demon Deacons had not run before.


More has already come in the Elrod saga, and many more questions are still to be answered. The fallout has also touched Virginia Tech, along with Louisville having been fined $25,000 each by the ACC for accepting information. Former Hokie assistant Shane Beamer, now a Georgia assistant and son of retired HC Frank Beamer, has also been fined $25,000 by Georgia for accepting the Elrod info when Shane was still with VPI back in 2014. Which, by the way, was the year the Hokies and Demon Deacons slugged their way to a nil-nil draw through regulation before Wake would prevail 6-3 in double OT.


Young Beamer has apologized profusely. "I realize I made a serious mistake in judgement by accepting the information and failing to notify officials at Virginia Tech of the communications," Beamer said. "I sincerely apologize to Virginia Tech, Wake Forest, the ACC and the University of Georgia for my mistake. I am truly sorry."


We at TGS have no idea where this ridiculous story ends up, though it would not surprise us to hear of more rogue information passed by Elrod to other coaches and schools. Within that realm, however, is what really troubles us about this story. Which we'll get to in a minute. First, however, allow us to digress and recall a related story from another generation...and how that generation dealt with this sort of betrayal.


If the name Karl Sweetan rings a bell, you're probably old enough to remember Neil Armstrong walking on the moon, or William F. Buckley and Gore Vidal debating one another on ABC during coverage of the 1968 conventions, Republicans in Miami, Democrats in Chicago, when Buckley famously threatened Vidal ("I'll sock you in your God-damned face, and you'll stay plastered!") and called him the "Q" word (okay, "queer") after Vidal called Buckley a "Crypto-Nazi"...all on live TV!


Sweetan (shown at right getting hit by the Rams' Lamar Lundy in 1966), who played in the CFL with the Toronto Argonauts as well as in semi-pro leagues before making it in the NFL, was a not-so-obscure QB in the late 60s, first taking over for Milt Plum and then relieving an injured Bill Munson and starting more than half of the Detroit Lions' games in 1966 and '67, plus three more games with the Saints in 1968. Sweetan would then move to the Rams in 1969 and serve as the backup to Roman Gabriel for two seasons, taking a handful of snaps before being released in 1971. Sweetan will also forever live in the NFL record books, as his 99-yard TD pass to Pat Studstill in a 1966 game at Baltimore will always be no worse than tied for the longest scrimmage play in NFL history (it has happened 13 times in NFL history; when Sweetan and Studstill hooked up, it was only the third time).


(On the Sweetan-Studstill bomb, Studstill caught the ball on the dead run at the Lion 45 yard-line and outran the Colts defenders to the goal line. Studstill, like Sweetan, would also end up with the Rams, but his name does not invoke ignominy like his former QB).


While Sweetan's name is forever in the NFL record book, however, he is better known for an embarrassing act after he was released by the Rams...and preceding Elrod's mischief by 40+ years. Ironically, Sweetan's alma mater was...Wake Forest.


After being released by the Rams and having failed to make it with the CFL's Edmonton Eskimos, Sweetan decided to change careers and try his hand at a type of selling. He did not distinguish himself in that regard, either.


Sweetan, along with a cousin, attempted to peddle a 1971 Ram playbook for $2,500 to J. D. Roberts, then the head coach of the Saints. Roberts pretended to go along with the deal and informed the league, which called the FBI, which wired Roberts with a transmitter in one of football's more unusual plays. "All I did was ask questions," Roberts said after completing his Bud Fox-like role, although he was not going to help nail any Gordon Gekko-type. "The FBI did a helluva job," said Roberts.


U.S. Attorney Gerald J. Gallinghouse said Roberts had done a good job, too, adding that the coach "executed each play the FBI called to perfection." Sweetan and his cousin were jailed, charged with interstate transportation of stolen property and fraud by wire and released on $5,000 bond each, though no convictions were ever handed down.


The case, however, shocked pro football's coaches, largely because many of them could not see why a playbook could be understood to have such value. Former Packers coach Dan Devine said he would not pay $5 for one. Don Shula of the Miami Dolphins was not moved, either. "What secrets are there, really? A book gives you a system, not a game plan."


Presumably, what Sweetan had to sell was an offensive playbook. In those days, the books--usually loose-leaf notebooks--contained plays and variations, formations, audibles, nomenclature, house rules, and, in some cases, exhortations to the players to give 110%.


The Sweetan story at times nonetheless bordered on hilarity. First, imagining an NFL HC (J.D. Roberts; think of a modern-day coach like Bill Belichick trying to play that role?) wired by the FBI to nail a former QB trying to sell a playbook? That particular playbook had been compiled by then-Rams HC Tommy Prothro, who, ironically, was not an advocate of playbooks. "I believe in them less than anybody," Prothro said in 1972. "I really don't learn by reading things. I learn by seeing something and talking about it. Consequently, I've never believed in writing it all down. But all our other coaches believe in it, and if these young, smart guys believe in it, I'm all for having one."


Prothro, who had great success as a college coach at Oregon State and UCLA, and less success in the NFL with the Rams and eventually the Chargers, said that the most valuable information to be gleaned from a rival's playbook is not what a team does, but what it doesn't do. "You never know when they are going to do something," he said, "but if you know something they won't do, then you don't have to protect against it."


Prothro admitted decades ago that he had trouble recalling the nomenclature in his own playbook. "I'll ask an assistant every once in a while, 'That pitch where the quarterback swings around end and we trap the first man from the tackle's nose outside, what the hell are we calling that now?' In the same way I don't remember what I had to eat tonight for dinner, but I know what happened on the second play of the third quarter of a football game in 1954."


In the early '70s, there was little variation in playbooks from team to team, except in nomenclature. With the wholesale exchange of game films, teams were already thoroughly conversant with the plays their adversaries ran. In fact, they often knew their opponents better than themselves and had to "scout" themselves every few weeks to make sure no predictable tendencies were showing.


It was nonetheless surprising to some that the Saints made a federal case out of the Sweetan matter. "This whole incident is sadly blown clear out of importance," said Bengals HC Paul Brown at the time.


Billy Wilson, once a star end for the San Francisco 49ers, had a garage full of playbooks around the time of Sweetan's shenanigans. "I've got them from every year I played football," Wilson said in 1972. "What's the going price? $2,500? I think I'll have a garage sale now. Two for $4,000!"


As for Sweetan, he turned in his playbook when he was dismissed from the Rams, but it was a Xeroxed copy he and his cousin were trying to peddle in New Orleans!


Fast-forward 40+ years to the Elrod story, and a couple of observations. One, while we have no sympathy for Elrod, we also have no sympathy for Shane Beamer, Lonnie Galloway, or anyone else who knew what Elrod was up to and didn't tell anybody. They're as culpable in this mess as Elrod. Compare them to J.D. Roberts, who immediately acted when hearing of Sweetan's escapade. Roberts had no hesitation doing the right thing, while the modern-day coaches like those on staff at Virginia Tech and Louisville would rather have kept the info to themselves. Do ethics mean anything anymore in sport?


We suspect any assistant coaches decades ago would have reacted, and acted, as did J.D. Roberts. This current lot of modern-day coaches? We're not so sure.


Fortunately, the Elrod story doesn't drill much deeper than a few inches. We find these stories about stolen football information (including Bill Belichick's Spy-gate) to be borderline humorous. It's almost comical, though more than anything, it's an embarrassment for those involved. As for the whole football-is-everything crowd, they should take a moment to consider what most of the coaches were saying about Karl Sweetan's actions more than 40 years ago. Playbooks are not what they are cracked up to be.


Finally, we can all be happy that Tommy Elrod's place in society was as a Wake Forest football analyst on the radio, totally inconsequential to anything important going on in the world. Now, had Elrod held a position of importance, in say the government or military, we've got potential problems.


Society can cope with guys like Tommy Elrod. It's when the Tommy Elrods of the world have significant roles like Alger Hiss once did that we have to be concerned. Wake Forest football? Not worth worrying about!
Return To Home Page