7214...
TGS SPECIAL REPORT
...CAROUSELS, BOWLS, BROWNS...AND '76 BUCS
by Bruce Marshall, Goldsheet.com Editor
As the rapidly-progressing 2016 football season moves into December, we at TGS prepare for one of our most exciting and gratifying times of the year. Within two weeks, we'll be into the bowl season, always a marker for us because these games have often defined past seasons. And when wrapping up a sixth decade of publishing, as we are in 2016, the years could easily start running together in our minds without recollections of the bowls, and the enduring memories they provide for past seasons.


In a moment, we'll get to talking about the upcoming postseason calendar, as well as take a look at where the college coaching carousel is spinning as we enter a new week. First, however, there's something unique happening in the NFL that is garnering surprising little attention, considering its historical significance.


We're well into December, folks, and the Cleveland Browns still don't have a win.


Now, we realize there is nothing much to talk about with the current wretched Cleveland edition other than its constant losing, but the Brownies are indeed approaching infamy. After last weekend's bye, Cleveland is well-rested and has four more chances to avoid matching the 0-16 Lions of 2008 as the NFL's single season losing-est team.


Of course, perhaps because Detroit hit its 0-16 within recent memory, and caused something of a fuss as it become a moderate national storyline in the process, the novelty of the Browns' current plight has been diminished and is being somewhat overlooked by the national sports media. After all, prior to 2008, we hadn't ever seen what an 0-16 NFL team looked like. Thanks the Lions from eight years ago, now we know. But we don't want to shortchange the Browns, ignominious as their performance has been in 2016.


Still, hardly anyone recalls anything about the 2008 Lions, because there was nothing remotely interesting about them other than being bad. Bad and interesting, and more memorable, were the 0-14 Tampa Bay Buccaneers of 1976, the flagship entry for NFL losers prior to 2008.


Unlike the 2008 Lions, the Bucs had a legit excuse to be bad, as they were an expansion team, entering the league along with the Seattle Seahawks. Which created some awkwardness 40 years ago, as the addition of Tampa Bay and Seattle would expand the league from 26 to 28 teams, and the NFL had to decide where to place the expansion franchises, as well as figure out how to fit the new teams into the pre-arranged schedules of the day. Amazingly, it took a couple of years to find full-time landing spots for each, with the Seahawks dropping into the AFC West, and the Bucs into the then-called NFC Central, ostensibly to provide a warm-weather site for the old "black-and-blue" division of the Bears, Lions, Packers, and Vikings (though Detroit had already moved indoors to the Pontiac Silverdome by 1975).


The schedules in the '70s were another matter, however, as at the beginning of the decade and the merger, the league announced both inter-and intra-conference foes in advance...five years worth at the outset! So, beginning in 1970, every team knew what its schedule would look like, as far as opposing foes were concerned, thru 1974! Thus, for a few years, the NFL was not much different than college football as far as advance scheduling (though the pros would not announce dates and locales of the games until the spring of each year, much as it continues to do today). Scheduled foes-in-advance for later in the decade were announced a few years later, but the addition of the Bucs and Seahawks caused some concerns for the schedule-makers, who didn't know how the new teams would fit, or how they might disrupt the carefully-crafted list of foes for each team.


The solution, for 1976 and '77, was for the Seahawks and Bucs to flip-flop conferences after the first season. In each year, the 14-game schedules for Seattle and Tampa Bay would include one game vs. each of the other 13 teams in their respective conferences, plus a game vs. each other. To accommodate the Seahawks and Bucs in the 14-game schedules of the day, one intra-conference game was sacrificed for each team. For 1976, Seattle was placed in the NFC West, and Tampa Bay in the AFC West (yes, the Bucs were once in the AFC West!). For 1977, the Seahawks flipped to the AFC West and the Bucs to the NFC Central, where they would remain from 1978 (when the regular-season schedules were also increased to 16 games) until the league re-alignment of 2002.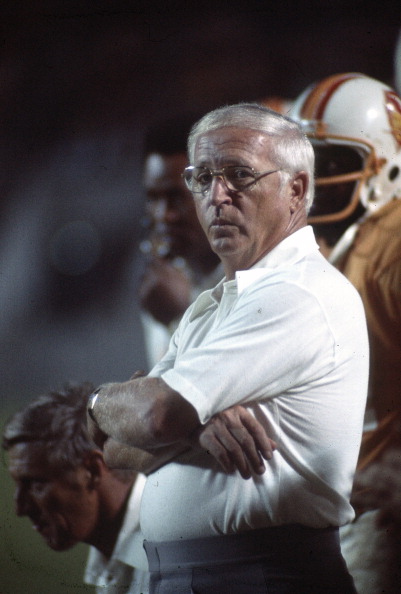 Tampa Bay's first edition, however, would become the butt of jokes for decades to come because the Bucs couldn't win a game, finishing 0-14. It was a sobering development for HC John McKay, hired away from Southern Cal after a fabulously-successful 16-season run with the Trojans. But in his NFL debut, McKay would lose more games than he did over an eight-season span from 1967 thru 1974 at SC, when he lost only 13 times. (McKay's last Trojan team in 1975 started the season 7-0 but promptly lost its last four regular-season games after it was announced that McKay would be leaving the following year for the NFL.)


McKay's earliest Tampa Bay edition was filled with an array of castoffs that was standard fare for any new entry, though the '76 "expansion draft" was supplying players for two teams, not just one, as had been the case with previous expansions in the '60s. Thus, the available player pools were a bit diluted for both the Bucs and Seahawks, especially compared to mid-to-late '60s expansion teams Miami, Atlanta, New Orleans, and Cincinnati (in particular the Saints, who stocked their initial roster with several familiar names and former all-pros, even as many were well past their sell-by dates). Though Tampa Bay had a handful of recognizable names on the downside of their careers (such as ex-Bengals RB Essex Johnson, ex-Steelers and Notre Dame QB Terry Hanratty, and a few others), the original Bucs roster was very non-descript, and was heavily populated by various castoffs and rookies who had played for McKay at SC.


Surprisingly, the Bucs did not select a QB in the dispersal draft and waited until the 7th round of the college draft before taking Parnell Dickinson from Mississippi Valley State. Thus, Tampa Bay's first-ever trade would be with the 49ers and net none other than Steve Spurrier, the one-time Florida Heisman winner who would be the Bucs' primary QB in their maiden voyage. (Spurrier started 12 of 14 games, with rookie Dickinson and Hanratty starting one each). Spurrier, however, was never on the same page as McKay, who preferred to establish his offense around the power running game he employed at USC. Spurrier, realizing the team did not have the personnel to feature that sort of attack, lobbied for a more pass-oriented offense, and clashed often with McKay, who also wanted his son John (J.K.) as the team's primary receiver, while Spurrier preferred Morris Owens, who would go on to some productive seasons for better Bucs teams in subsequent years and would catch 6 of the team's 9 TD passes in '76.


When the carnage finally ended in December, the Bucs had set a new standard for futility, not only losing all fourteen of their games, but also getting blanked an astounding five times in the process while scoring only 125 points, just 8.9 ppg, an NFL-low for a 14-game schedule (though the record stood for only one season, as McKay's next edition in '77 tallied only 103 points, a mere 7.4 ppg!) The '76 Bucs also put a staggering 17 players on injured reserve, including six defensive starters.


A few times, Tampa Bay came close to scoring a win, playing Buffalo tight at the old "sombrero" in early October before falling 14-9, and then in the epic showdown vs. fellow expansion team Seattle, a game that drew plenty of national curiosity as both entered at 0-5, looking for their first-ever W. The visiting Seahawks would hold on for a 13-10 win, with a Jim Zorn-to-Sam McCollum TD pass highlighting a 2nd Q "explosion" when Seattle would score all of its points. (The Seahawks would finish at 2-12, adding a 30-13 early-November win over the Falcons at the Kingdome.) The following week the Bucs pushed downstate Miami into the final minute before losing 23-20. But in the last six games of the '76 season, Tampa Bay would not come closer than 17 points.


After the '76 campaign, McKay would release Spurrier, and the Bucs would proceed to lose their first 12 games of '77 before finally breaking their losing streak at New Orleans after dropping a stunning 26 games in a row to begin their existence!


Unlike the 2008 Lions, or the 2016 Browns, for that matter, there was something endearing about the '76 Bucs. Perhaps it was because they were behind the eight-ball from the start as an expansion team. Or perhaps it was McKay, to this day the most humorous after-dinner speaker of any sports personality of any era (perhaps when time permits one day soon we'll recount hearing McKay speak at a golf "smoker" in early 1973, and some of his jokes that stick with us to this day), and whose dry wit came in especially handy during those dark early days with the Bucs.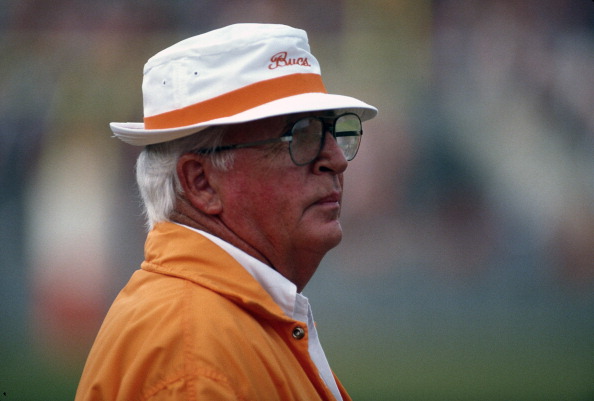 Indeed, "McKay-isms" became especially popular during Tampa Bay's rampant losing, as scribes couldn't wait to pen the latest McKay quips. Among the best were those that follow:


On hearing about kicker Pete Rajecki's nervousness at playing in front of McKay: "That's unfortunate, as I plan on attending all the games."

At a postgame press conference: "You guys don't know the difference between a football and a bunch of bananas." At the following week's press conference, after a member of the media left a case of bananas at his door: "You guys don't know the difference between a football and a Mercedes-Benz."


On John Brodie's comment that Steve Spurrier throws one of three passes into the ground: "That's OK, we'll just get shorter receivers."


When asked how he compared coaching in Tampa to coaching at USC: "It's a three-hour time difference."


When asked what he thought about his team's execution: "I'm in favor of it."


To players planning on staying in Tampa over the offseason: "Stop by my office tomorrow and pick up some fake noses and mustaches so no one recognizes you."


"We've determined that we can't win at home and we can't win on the road. What we need is a neutral site."


"We didn't block real good, but we made up for it by not tackling."


"Mr. (Hugh) Culverhouse has been a great owner. He hasn't come to the dressing room yet to give me any suggestions. Well, I need some advice. I called the Baltimore owner, but he was busy".


"We'll be back. Maybe not in this century, but we'll be back."


As for McKay, he at least offered some levity to the situation with the early-day Bucs. Which came in handy 40 years ago. While Tampa Bay 1976 produced some bad football, at least when we look back at those Bucs, thanks to John McKay, we manage to smile.


(For our take on the Browns' ongoing pursuit of pro football infamy this Sunday vs. Cincinnati, and our projections on the rest of the upcoming pro football card, check out this week's NFL Analysis.)


COLLEGE COACHING CAROUSEL
After spinning wildly in recent seasons, averaging more than 20 coaching changes yearly for most of the past decade, the college coaching carousel seems to have slowed this season. So, unless the dominoes start to fall in an odd way in the next few weeks, this year's carousel is going to be the slowest in recent memory. Though most sources say it's only temporary, as 2017 is already shaping us as the year to end all years for the college hot seat. (More on that in a few weeks, addressed in a midweek issue of TGS in our Hoops publication.)


In the meantime, we are looking at only a handful of openings, though a few rugs might still be pulled from under a smattering of coaches in the coming days. This unique slowdown has other ramifications, as many insiders believe the lack of viable landing spots has limited the options of coaches who might normally be looking for escape routes (such as Brian Kelly at Notre Dame). At the moment, there also appear to be no changes forthcoming in the ACC, one of the few times in recent memory that we recall a major conference with no coaching changes.


Following is a quick spin on the carousel as of Sunday night. If recent history proves an effective barometer, some of these opening might already be filled by the time you read this later in the week.


Baylor...Jim Grobe's appointment was only an interim one for this season as the Bears dealt with the dismissal of Art Briles over the summer. With possible NCAA penalties looming in the near future, the Waco assignment might scare off a few candidates. And the school does not seem especially interested in bringing back a coach with ties to Briles, such as Tulsa's well-regarded HC Philip Montgomery, who seems ticketed for a bigger job very soon but apparently not at Baylor, where Montgomery a year ago seemed a likely successor at some point to Briles. But that connection from Montgomery's days as the o.c. under Briles might not be working in Philip's favor. On Tuesday morning, ESPN was reporting that Temple HC Matt Rhule had accepted the job.


Cincinnati...Under-fire HC Tommy Tuberville resigned under pressure over the weekend. The reported Bearcat wish list has many names, led by Western Kentucky HC Jeff Brohm, Western Michigan HC P.J. Fleck, Ohio State STs coach Kerry Coombs, Toledo HC Jason Candle, App State HC Scott Satterfield, Troy HC Neal Brown, Oklahoma o.c. Lincoln Riley, Youngstown State and former Nebraska HC Bo Pelini, and ex-Texas HC Charlie Strong.


Florida Atlantic...After skidding to a 3-9 record, the Owls fired three-year HC Charlie Partridge last week. Top candidates are reportedly Ohio State co-d.c. Luke Fickell, who was the Buckeyes' interim HC in 2011 before the arrival of Urban Meyer; Alabama OL coach Mario Cristobal, who had a rather successful run and a couple of bowl visits for nearby FIU before getting surprisingly dismissed after 2012; former Miami Hurricanes HC Randy Shannon; and former South Florida HC and current Colorado d.c. Jim Leavitt.


Florida International...The Golden Panthers, who fired Ron Turner in late September and performed under interim HC Ron Cooper the rest of the way, hired former Miami Hurricanes, Cleveland Browns, and North Carolina HC Butch Davis as their new coach in late November.


Fresno State...After firing fourth-year HC Tim DeRuyter in late October (with o.c. Eric Kiesau promoted to interim HC for the remainder of the season), the Bulldogs hired former Cal HC Jeff Tedford in mid-November. Tedford is a Fresno grad and former QB for Jim Sweeney's Bulldog teams in the early '80s.


Houston...Tom Herman's move to Texas was expected (but not appreciated) by the Cougs, who have some LSU connections (past and future) apparently in the mix as Herman's successor. One is former Tiger HC Les Miles, the other is current Alabama o.c. Lane Kiffin, represented by super-agent Jimmy Sexton, but also reportedly close to inking a deal at LSU as the o.c. for new HC Ed Orgeron, who has worked on staffs at Southern Cal twice with Kiffin, including 2013, when "Coach O" succeeded Kiffin on an interim HC basis. Also reportedly getting consideration are current UH coordinators Todd Orlando (defense) and Major Applewhite (offense). Apparently off the list is former Cougar HC Art Briles, fired last summer at Baylor.


Indiana...In an unexpected move, six-year HC Kevin Wilson abruptly resigned (or was forced out, depending upon which reports you believe) and was immediately replaced by d.c. Tom Allen. The Hoosiers are bowl-eligible for the second straight season, but never finished above .500 for Wilson.


LSU...Last week the Tigers rather surprisingly announced they would remove the interim tag from Ed Orgeron after the school's reported pursuit of Texas HC Tom Herman reached a dead end. Les Miles had been dismissed in late September following a close loss at Auburn. Though AD Joe Alleva's hire of Orgeron is being applauded in some circles, SEC insiders believe "Coach O" enters 2017 with basically no rope, and will be on the hot seat immediately if the Tigers underachieve.


Nevada...Fourth-year HC Brian Polian walked the plank less than 24 hours after the Wolf Pack's rousing 45-10 season-ending win over UNLV in the Fremont Cannon rivalry game, the biggest margin of victory on Polian's watch. Polian took Nevada to bowls in 2014 & '15, but slipped to 5-7 this season and was moved out by AD Doug Knuth, who took the job shortly after predecessor Cary Groth hired Polian following the 2012 season. Sources say Knuth might have made a courtesy call to former HC and HOFer Chris Ault, though at 70 years old, Ault is not a candidate to return for a third tour of duty at Mackay Stadium. A couple of branches from the Ault coaching tree, Louisville co-o.c. Chris Klenakis (who helped create the "Pistol" offense while o.c. for Ault over a decade ago) and Maryland d.c. Andy Buh (a former Pack assistant once considered the heir apparent to Ault) are on the radar in Reno, as reportedly are Eastern Washington HC Beau Baldwin, Washington d.c. Pete Kwiatkowski, Arizona State o.c. Chip Lindsey, and UCLA quarterbacks coach Marques Tuiasosopo.


Oregon...At the moment, this is the prime job open on the marketplace after Mark Helfrich's dismissal last week. South Florida's Willie Taggart and Boise State's Bryan Harsin are scheduled for interviews, and Western Michigan's P.J. Fleck is also likely to have an audience in Eugene early in the week. Not on the Ducks' radar (at least at the moment) are former HC Chip Kelly, who says he intends to stay with the San Francisco 49ers (we'll see if the 49ers feel the same in a few weeks), and recent Webfoot o.c. Scott Frost, who did a nice job turning around UCF and getting the Knights bowl-eligible in his first HC gig this season. Frost, however, says he is going to stay in Orlando. Also rumored as candidates at Phil Knight's alma mater have been North Carolina HC Larry Fedora and former Rutgers and Tampa Bay Bucs HC Greg Schiano (currently defensive coordinator at Ohio State).


Purdue...The Boilermakers pulled the plug on the Darrell Hazell regime at midseason, with WR coach Gerad Parker promoted on an interim basis to finish the rest of the campaign. The Boilermakers' top target was reportedly Western Michigan's P.J. Fleck, though some regional observers believe Fleck might not have more than lukewarm interest in what has become one of the Big Ten's toughest jobs. Western Kentucky HC Jeff Brohm accepted the job on Monday afternoon.


San Jose State...Personable fourth-year HC Ron Caragher was dismissed after the Spartans beat Fresno State 16-14 in their regular-season finale. The surprise name that has surfaced is former Fresno State HC Pat Hill, who coached the rival Bulldogs for 15 seasons before being fired following the 2011 campaign. More surprising might be the name of June Jones, whose career at SMU ended awkwardly in 2014, but worked magic at Hawaii previously. Cal o.c. Jake Spavital, Washington d.c. Pete Kwiatkowski, Washington State d.c. Alex Grinch, Michigan o.c. and longtime Jim Harbaugh sidekick Tim Drevno, and Oklahoma State RB coach Marcus Arroyo, a former NFL and Spartans aide who was also SJSU QB early in the last decade, have also been mentioned.


Texas...This punch was telegraphed worse than one of George Foreman's roundhouse rights aimed at Muhammad Ali during the 1974 Rumble in the Jungle, as HC Charlie Strong was dismissed a day after the season-ending 31-9 loss to TCU, and Houston HC Tom Herman was hired less than four hours later.



BOWL COVERAGE STARTS NEXT WEEK!



Following is the complete TGS bowl schedule for the next four weeks; keep this for handy reference of our coverage.
Issue No. 16...Thirteen bowls from Dec. 17-24 (New Mexico, Las Vegas, Camellia, Cure, New Orleans, Miami Beach, Boca Raton, Poinsettia, Idaho Potato, Bahamas, Armed Forces, Dollar, Hawaii). To be mailed, and available online, December 12; TGS EXTRA!!! bowl issue also available December 12.
Issue No. 17...Fourteen bowls from Dec. 26-29 (St. Pete, Quick Lane, Independence, Dallas, Military, Holiday, Cactus, Yankee Pinstripe, Russell Athletic, Foster Farms, Texas, Birmingham, Belk, Alamo). To be mailed, and available online, December 19.
Issue No. 18...Thirteen bowls from Dec. 30-Jan. 2 (Liberty, Sun, Arizona, Music City, Orange, Citrus, Taxslayer Gator, CFP Peach, CFP Fiesta, Outback, Cotton, Rose, Sugar). Available online December 26; mailed December 27.
Issue No. 19...The CF Playoff Championship game (Jan. 9-at Tampa, FL). To be mailed, and available online, January 2.
Return To Home Page