7155...
TGS SPECIAL REPORT
...ON THE COLLEGE FB HOT SEAT
by Bruce Marshall, Goldsheet.com Editor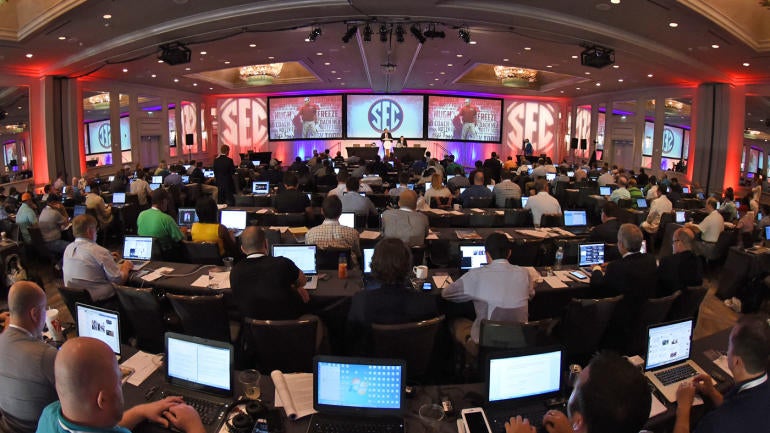 When attending college conference media days each summer, there are usually question-and-answer sessions with the players. Like their coaches, some of the players are more forthcoming with answers than others. So, when we have a chance to ask questions of players on teams where a coaching change has just occurred, we often ask how that player, and his team, reacted when they knew a coaching change was imminent.


Predictably, some players offer few insights, but several have volunteered info to us the past few years and conceded that yes, it was often a very distracting situation for the team, especially players with eligibility remaining and not knowing how they might fit into the plans of a new regime. The many players who often have their ears to the ground anyway regarding potential transfers are usually joined by several other players, all wondering what their futures might hold under a new coaching staff. Fringe players are especially sensitive, knowing that their scholarships could be at risk. Thus, the networking inevitably begins, with players and their personal "support groups" often operating in the back channels as they look for potential new landing spots...all terribly distracting when a season is still being played.


These sorts of dynamics have long been acknowledged in the coaching profession, too. In those cases, when change is imminent, assistant coaches will almost always begin their networking in earnest as they send out feelers for possible future employment. Those machinations often begin well before a coaching change is announced and a staff is released. What makes it all the more difficult is that those assistants still have jobs to do, and it is human nature for those who work in a soon-to-be-discarded staff to lose focus with their coaching duties.


We mention all of this because knowledge of these situations, and potential trouble spots, can prove valuable for handicappers as they try to identify go-against sides (as well as the occasional go-with spot when a team digs in harder for an embattled coach) that always become more pronounced in the final month of the season. Though the names and schools often change, the same dynamics seem to repeat almost every season. Which is why we always believe an early-November look at the coaching "hot seat" is a valuable exercise for all handicappers.


At the same time, we have duly noted a rather recent phenomenon in college football, the mid-season coaching dismissal, once almost solely in the purview of the NFL in gridiron circles, but in recent years far more prevalent in the college ranks. Already this season, four coaches (Les Miles, Ron Turner, Darrell Hazell, Tim DeRuyter) have been forced to walk the plank. Though many coaches have pricey buyout provisions in their contracts, well-heeled alums and boosters are often prepared to do whatever is necessary if a change is needed and a large buyout is required for a current underachieving coach.


What has become unique about this fall's "hot seat talk" is the many in-trouble coaches who seem to be working themselves out of jams. Before we look at the situations where changes are most likely to occur in coming weeks, we want to mention the following spots where it looks as if the coach is temporarily out of danger.


Auburn...In late September, many were speculating that whichever coach (Les Miles or Gus Malzahn) lost in the "Hot Seat Bowl" between LSU and Auburn, would likely be fired before the season concluded. We didn't have to wait nearly that long, as LSU's Miles was canned the next day after the 18-13 Auburn win. Malzahn was not considered off the hook just because of the LSU result, but his Tigers have rolled off an impressive four wins since and could be lining themselves up for an SEC West winner-take-all battle vs. hated Bama in the Iron Bowl on November 26. With Auburn having rekindled memories of his masterpiece in 2013, Malzahn no longer appears in danger.


Penn State...Sources have told us for the past two years that much of the Nittany Lion community was lukewarm to HC James Franklin, who was not winning enough to suit their tastes and whose brash demeanor was not playing well to the masses in State College. But after the recent win over Ohio State (Franklin's first over any of the Big Ten East "big three" of the Buckeyes, Michigan, and Michigan State), Franklin's team is now ranked, and he has the marquee win needed to quiet his most-vocal critics.


Southern Cal...With coaching instability having evolved into an art form at SC since the departure of Pete Carroll after the 2009 season, it was widely speculated that Clay Helton would be looking for another job soon after the Trojans broke 1-3 from the gate. Moreover, the AD who promoted Helton from an interim to a full-time gig late last November, Pat Haden, had retired, replaced by another former Trojan great, Lynn Swann, further fanning the rumor mill in LA. Over the past month, however, SC has regrouped, coinciding with exciting RS frosh Sam Darnold taking over QB duties. Helton's team has captured four in a row and has a chance at some big wins in November over highly-ranked Washington and old, nasty rivals UCLA and Notre Dame. Sources tell us that Swann likes Helton and is not contemplating a change, though the fickle Trojan booster base still dreams of a big-name coach taking over the program.


Vanderbilt... The Commodores have sagged since Derek Mason succeeded the aforementioned James Franklin after the 2013 season. Though a vocal anti-Mason element exists in Vandy Nation, where many believe Mason's stodgy offense severely limits any upside, the Commodores are now 4-4 and have an outside shot at qualifying for a bowl. The recent win at Georgia was Mason's first on the SEC road and likely buys Mason at least another year as he tries to get the program back on firm footing.


Kentucky...It was widely speculated in SEC circles that fourth-year HC Mark Stoops needed a bowl bid to save his job, especially after the Wildcats had collapsed late the past two seasons, denying themselves a postseason slot in the process. After last week's convincing victory at Missouri, however, Stoops is at five wins, and at the worst should end up with six, as a date vs. lower-level Austin-Peay remains on the schedule. Stoops should easily clear that hurdle and might even get up to a 7 or 8-win campaign that would not only surely save his job but perhaps canonize him with the UK faithful.


Meanwhile, there are three high-profile spots in particular that bear close scrutiny in upcoming weeks as the hot seat is getting especially warm in these locales...


Texas... Not exactly a surprise here, as HC Charlie Strong has been getting more abuse from Texas backers than Paul Ryan has been receiving from Donald Trump supporters. Strong has upgraded the Longhorn offense this season because his "forced hire" for a new offensive coordinator, Sterlin Gilbert (via Tulsa), has mostly worked well, though Strong has had to reassume control of his defense after demoting coordinator Vance Bedford. Longhorn backers, who have not had a national title contender since Mack Brown's 2009 team, are awfully restless, however, and the current Texas mark of 4-4 is not good enough. Sources say Strong could win out for the remainder of the regular season and still walk the plank, though the Longhorns are still battling for him and fashioned a mild upset over undefeated Baylor last Saturday. As expected, names are already being floated as successors tro Strong, with Houston's Tom Herman and North Carolina's Larry Fedora reportedly atop the list.


Notre Dame...Is Brian Kelly really in trouble? Fighting Irish sources believe than next year could be when Kelly really feels the heat, but Notre Dame is not a place where a coach can go under .500 (as the Irish seem to be headed this season) and feel very comfy. Kelly was reportedly a bit miffed that he even needed a dreaded, "vote of confidence" from AD Jack Swarbrick last week. But sources tell us that the Notre Dame money people are not interested (at least yet) in bailing out Swarbrick for the big contract extension he gave Kelly a few year ago. Domers still advise keeping an eye on the situation, as they believe Kelly, who would have little trouble finding a nice landing spot, might be tempted to move on his own accord if the Irish can't climb above .500.


Oregon...The Ducks, just two years removed from a BCS title game appearance, have nose-dived and are in danger of missing a bowl game entirely for the first time since 2004. Fourth-year HC Mark Helfrich is feeling intense pressure, while resonating in Eugene is the thought that Helfrich inherited a full cupboard from predecessor Chip Kelly, including a future Heisman Trophy winner in QB Marcus Mariota. Post-Mariota, however, Oregon has not looked the same, and there are wild rumors in the Willamette Valley that the Ducks might make a pitch to Kelly, currently struggling in the NFL with the 49ers, after the season. Another potential name being floated is that of Scott Frost, recently Helfrich's o.c. before taking the HC job at UCF and quickly turning around the Knights' fortunes.


Other situations to watch in coming weeks: Boston College...The Eagles scored a badly-needed win for beleaguered HC Steve Addazio last week at NC State, increasing the chances that BC can become bowl-eligible now that it needs only two more wins to do so. But Addazio's offenses have been painful to watch, and ACC sources speculate that a change could be forthcoming if the Eagles can't qualify for a bowl. Florida Atlantic... Nearby FIU already dismissed its HC, Ron Turner, last month. C-USA sources say Owl HC Charlie Partridge could soon meet the same fate, especially after the Owls sunk to 1-7 following last Saturday's 52-3 demolition job conducted by Western Kentucky. Kent State... Paul Haynes has been considered to have one foot out the door since the beginning of the season. Last Saturday's exciting 27-24 upset win at Central Michigan might have thrown Haynes a temporary lifeline, though MAC sources suggest it more than likely means that KSU will wait until the season concludes before hitting the eject button on Haynes. Rice...They seem to have short memories at Rice, because the Owls had never bowled for three straight seasons until HC David Bailiff did it from 2012-14. But sitting at just one win into November, C-USA sources report that Rice is considering a change. San Jose State... Ron Caragher is reportedly on thin ice at San Jose, where the school's fundraising arm, and not the athletic department, will be on the hook for a buyout, if needed. Also keep an eye on...Arizona, Arizona State, Arkansas, Cincinnati, UTEP, UMass.
Return To Home Page