7120...
TGS SPECIAL REPORT
...THE "THIRD SATURDAY OF OCTOBER" IN THE SEC!

by Bruce Marshall, Goldsheet.com Editor


We're approaching the midway point of the 2016 college football season, and already something resembling a changing of the guard is apparent. By now it is obvious that recent powerhouses such as Oregon, Michigan State, and Stanford have slipped far from their perches of the past few years. Notre Dame is staring down the barrel of a potential losing season. LSU has already fired its head coach; rumors are flying that opposite numbers at legendary Texas, Southern Cal, and perhaps even Penn State and Notre Dame could also be looking for new coaches in the very near future.


At least in one regard, however, the more things change, the more they stay the same. That would have to do with Alabama, still clicking atop the polls with an unbeaten record and shooting for a fifth national title in the past eight seasons for HC Nick Saban. And few matchups shake the soul of the SEC like Bama-Tennessee, which get together for their annual feud in another "Third Saturday in October" clash, this week played in Knoxville.


Over our six decades publishing TGS, a period of Bama-Tennessee battles in the mid-to-late '60s stirred us like no other. One of those games in particular was the feature of our summertime website SEC Retrospective piece, featuring the 1966 Tide, a rare Bama unbeaten team that did not win a national championship. Which still sticks in the craw of many longtime Tide backers. In fact, that entire season even prompted a compelling book entitled The Missing Ring written in 2007 by Keith Dunnavant. There was also not a more memorable Tide game in '66 than that year's "Third Saturday in October" clash vs. the Vols, a classic which also warranted its own chapter ("Rocky Top") in Dunnavant's outstanding book.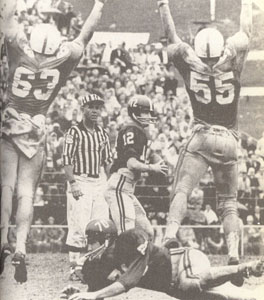 Conditions in Knoxville for '66 Tide-Vols, however, were miserable at best. Hard rains pounded the Smokeys region that Saturday and turned Neyland Stadium's grass field into a soupy mess. Bama mistakes caused by the conditions would set up UT for a couple of early scores and a 10-0 lead that carried into the break.


Bear Bryant lore would suggest that the coach would tear into his troops at intermission after such a feeble first-half display, as his team had fumbled six times (losing two), QB Kenny Stabler had not completed a pass, and Bama had been able to muster little beyond two 25-yard drives. Instead of a typical lacing, however, the Bear decided on a different sort of pep talk at the break.


When Bryant entered the room for the expected tongue-lashing, it was not the angry Bear that most players expected. The coach was upbeat, even singing a biblical tune as the door closed behind him. "What a friend we have in Je-sus!" rhapsodized the coach, though most of the players knew better, because Bryant signing a hymm would usually precede a serious butt-chewing. But this time the Bear kept the act going, clapping his hands as a cigarette dangled from his lips. "This is perfect!," roared the Bear. "We got 'em right where we want 'em!"


The puzzled players looked at one another, expecting the other shoe to drop any moment. After all, hadn't the Tide played its worst half in years, trailing a good team 10-0, now being forced to mount a comeback in a monsoon?


Bryant, however, was just getting started with his pep talk. "That was their half, and now this is our half coming up!," the Bear exhorted his boys. "What a chance we've got! What a chance we've got to show 'em what we're made of!"


In The Missing Ring, Dunnavant would best sum up the unexpected Bryant halftime speech.


"The same relentless driver who spent so much of his life mashing his players into submission, making them feel vulnerable to his wrath, also understood how to make them feel invincible, and so now, just when they needed a jolt of bulletproof, he flipped the switch. At the most precarious moment of a magical season, Bryant instinctively understood his players needed something stronger than fear. They hungered for inspiration.


"With a few simple words, he demonstrated his faith in them, and to the players in that room, his faith was a powerful thing, a force of nature capable of rivaling the mighty rain itself. A lesser coach might have leaned too heavy on the gas, perhaps offering up some sentimental gusher about their responsibility to live up to the legacy of all of those great Alabama teams of the past. But melodrama was not Bryant's style."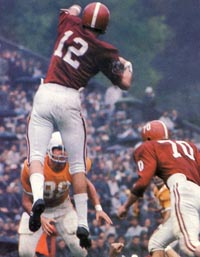 As the second half commenced, the tide (no pun intended) would slowly begin to turn in Bama's favor. The Vol "D" remained sturdy, but Stabler was finally able to fire up the "O" just enough to flip the field-position edge enjoyed by UT in the first half. Late in the 3rd Q, the Tide defense created an opportunity, as LB Mike Hall laid a thunderous hit on UT HB Charlie Fulton, who fumbled into the mud. Bama DE Mike Ford recovered the ball at the Vol 46, and Stabler, confidence growing, was in business in UT territory. On first down, a 14-yard completion to WR Dennis Homan detonated the offense. Four plays later, and the game having moved into the 4th Q, Stabler would sneak across the goal line from the 1, narrowing the scoreline to 10-6 with 14:29 to play.


Bryant, however, was not thinking about kicking a PAT to get within 3 points. He would rather have a chance to eventually win the game with a field goal than need to score another TD vs. the rugged Volunteer defense. So, he gambled on a 2-point conversion that could reduce the deficit to 10-8. After conferring with his backfield coach (and future NFL 49ers HC) Ken Meyer, Stabler took the snap and rolled back slightly left, and before the pass rush would converge on him would loft a spinner to TE Wayne Cook, who would make the catch face-mask high. The 2-point conversion succeeded, and then, within 10-8, the Tide needed only a field goal to take the lead.


After a couple of possesssion exchanges, Stabler would start a drive from his 25 with nine minutes to play. The Snake was burnishing his eventual legacy, in the midst of pulling his team out of a mighty hole, in the clutch, despite brutal conditions. "I didn't have any doubt in my mind on that last drive," Stabler would later say. "I never had any doubt at any other time, either."


Slowly, Stabler, and the Bama offense began to swim upfield, mixing runs and passes until getting deep into Vol territory, when it was time to stick to the overland route and let workhorse RB Les Kelley and Stabler's runs move the Tide into position for the winning score. Deep in Vol territory, however, the UT "D" stiffened, as the Tide was still a yard short of a touchdown om 4th down as the rain resumed. Earlier in the 4th Q, at the Vols' 45, Tennessee had stopped a fourth-and-one Alabama gamble quite coldly, and Bryant decided not to give the Vols a second chance. He ordered in his field-goal kicker Steve Davis.


The snap-back was low, a "wormburner" in snapper lexicon. Stabler momentarily fumbled with it and still had two hands on the slippery ball when Davis swung his foot into the soaked pigskin. "It couldn't have been more than a yard or two inside the left upright," said Stabler, and Davis was mobbed by red shirts.


Alabama 11, Tennessee 10! Seventy-five yards in 14 plays, no mistakes. There was only 3:23 to play, but Tennessee had not come this far to surrender without a fight. Vol QB Dewey Warren would immediately fire up a drive, connecting on a 22-yard pass to TB Bill Baker. Needing one more big gain to get into field-goal range, HC Doug Dickey dialed up a trick play. After taking a pitchout from Warren, and appearing ready to embark upon a sweep, HB Fulton, a converted QB, instead pulled up and lofted a pass for bruising, 234-lb. NFL-bound TE Austin Denney, the scorer of the game's first TD who was open downfield, looking for a moment as if he might score, until Tide DB Johnny Mosley ran him down at the 13!


With only 1:53 to play, and setting up for a game-winning FG try, the Vols would stay on the ground. Two powerful thrusts by FB Bob Mauriello against a suddenly yielding Alabama middle got the ball to the two for another first down. From there, however, TB Walter Chadwick was piled up, then Mauriello lost a yard and Tennessee called a timeout with 16 seconds to play. The timeout, however, might have been called hastily, as there was still time for Warren, who did not call the timeout, to run another play and get the ball closer to the middle of the field to give PK Gary Wright a better angle. But with the ball on the right hash, and having exhausted their final timeout, the Vols had to go for the kick on third down, and Wright would be booting from a sharp angle.


The center snap was almost perfect, but Tide kick-blocker deluxe Donnie Johnston was bearing in from the edge, perhaps unnerving Wright, whose kick barely avoided being blocked. The Wright kick bent to the right, seeming to pass directly high above the goalpost.


After a moment's hesitation, referee Charles W. Bowen of Fort Lauderdale, Fla. waved frantically to the right as he shook his head--no good! Which took a lot of guts on Mr. Bowen's part, as he still had to get out of Knoxville after the game. After all, this was a series that was once suspended when a referee was stoned and chased to the streetcar after an unpopular decision!.


In postgame interviews, Bryant was asked about the last-second FG attempt by UT's Wright that had gone awry by mere inches. "If he'd have kicked it straight we would have blocked it," chortled the Bear. And the Tide would not be threatened the rest of 1966.


(For more on that 1966 classic, check out our website and the corresponding SEC Retrospective piece from July, or grab a copy of Dunnavant's The Missing Ring, available online; if in Alabama, most bookstores will have copies. For our take on this Saturday's Bama-Tennessee "Third Saturday in October" clash and other games on this week's slate, please check out our College Analysis).
Return To Home Page