7100...
TGS COLLEGE FOOTBALL PREVIEW
...LOOKING FOR AN ANGLE?
by Gary Olshan, Chief Analyst
Miami-Ohio at BOWLING GREEN...Visitor is 7-1 SU last 8 between these two MAC teams separated by only 141 miles. M-O itching for rematch. In final 2 minutes, Trailing 30-29, RedHawks fumbled on 1st-and-goal and the ball was returned returned for a BG TD in misleading 37-29 upset loss LY.

Tulane at OHIO STATE...Classic "sandwich spot" for highly-ranked OSU. Buckeyes off high-profile clash with TCU in Jerry's World and has trip to Happy Valley on deck.

Clemson at GEORGIA TECH...GT 5-1 when hosting Clemson. Tigers' 24-10 victory in "Death Valley" LY was played in a steady downpour. Yellow Jackets' triple-option was held to 198 YR, more than 100 yds. below its average (307).

East Carolina at SOUTH FLORIDA...USF led 38-31 before it erupted for 23 points in the final 16:51 of LY's 61-31 victory in Greenville. ECU is a horrific 7-18-1 vs. spread under 3rd-year HC Scottie Montgomery upd.VT.

Notre Dame at WAKE FOREST...WF jacked-up to nab its first series win (0-4). Deacon "D" looking for redemption after allowing a season-high 380 YR in LY's spread-beating 48-37 loss in South Bend. WF 18-11 as a home dog since 2009.

Louisville at VIRGINIA...UVA defense relieved that L'Ville QB Lamar Jackson left a year early for the NFL after accounting for 344 yds. & 4 TDs in 38-21 setback at Cardinal Stadium LY.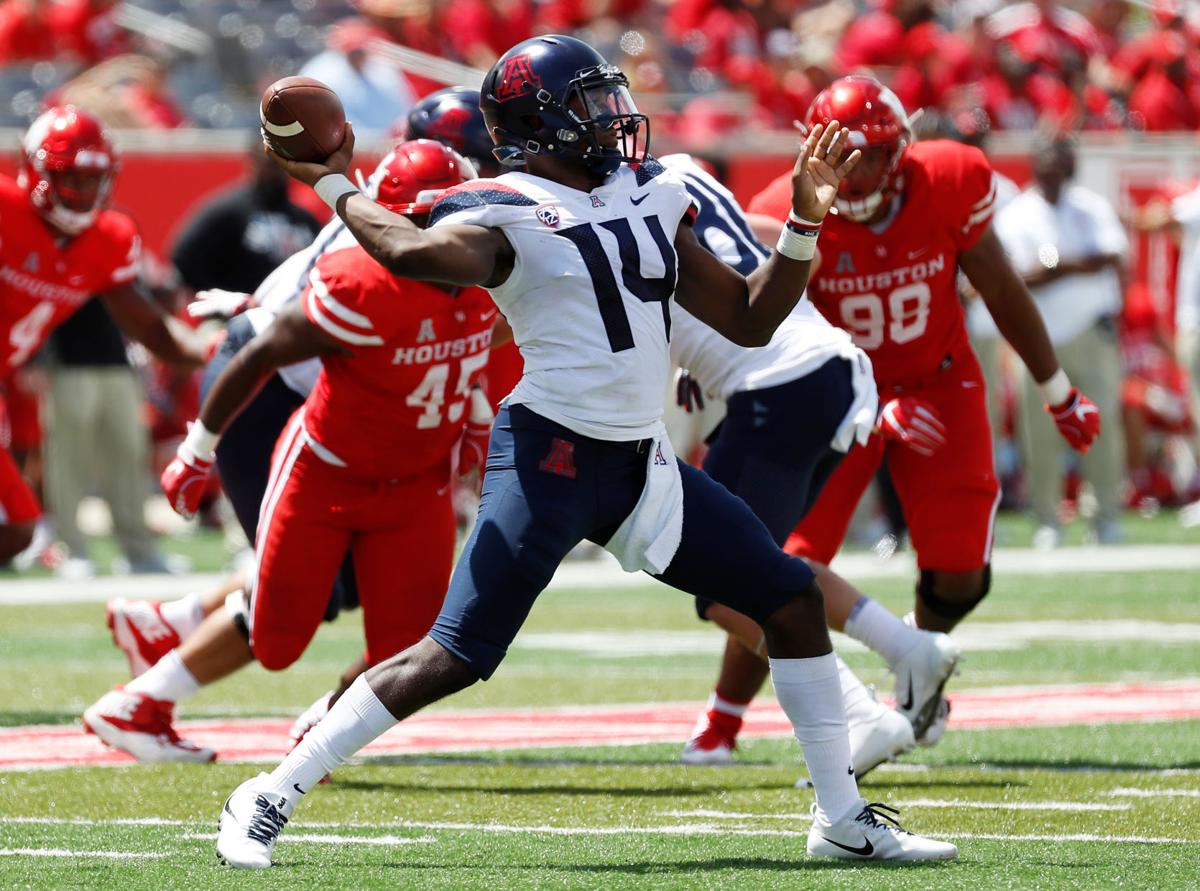 Arizona at OREGON STATE...U of A QB Khalil Tate looking forward to trip to Corvallis after sprinting for 206 YR & 2 TDs on 16 totes in LY's 49-28 home victory over OSU.

Stanford at OREGON...U of O fired-up for rematch after star QB Justin Herbert was out with a broken collarbone in LY's humiliating 49-7 pummeling in Palo Alto. Ducks' untested backup QBs combined for a sorry 5 of 13 for 33 yds. & 2 ints.

Florida at TENNESSEE...UF pulled out 26-20 win LY on a 63-yd Hail Mary pass thrown by QB Feleipe Franks. Gators 20-5 SU in this one-sided series. UF is 15-8 as a visiting favorite since 2008, but 0-3 in that role past 2Ys.

Mississippi State at KENTUCKY...MSU has captured 8 of last 9 in the series, including 45-7 smashing in Starkville LY (Bulldogs outscored UK 28-0 in 2nd).

Nebraska at MICHIGAN...NU's new HC Scott Frost will inform his his troops of his last visit to Ann Arbor, when his UCF team was drubbed 51-14 in "The Big House" in what was the Knight HC in 2016.

Kansas State at WEST VIRGINIA...Hotly-contested series, with last 4 meetings decided by a total of only 13 points. WV QB Will Grier threw for 372 yds. & 4 TDP in his team's 28-23 win in Manhattan LY.


Texas Tech at OKLAHOMA STATE...OSU has won series high 9 straight. Cowboys, however, won't take TT lightly after needing game-winning TD drive with 1:12 left in LY's 41-34 victory in Lubbock. OSU did shank two FGs attempts & outgained Red Raiders 597-384.

Navy at SMU...Navy has captured 8 straight in series, with LY's wild 43-40 win being the closest margin during that time frame. Middies led 34-11 at H and possibly starting looking ahead to Notre Dame game, as it was outscored 29-9 after intermission.

Tcu at TEXAS...TCU has won 4 straight in the series for the first time since Heisman winner Davey O'Brien's teams in 1935-38! Horned Frogs held UT to season low in rushing (9) and total (269) yards in LY's 24-7 victory in Fort Worth.

Army at OKLAHOMA...OU hasn't faced a service academy triple option since narrow 27-24 win over Air Force in 2010. Sooners 14-4 as home chalk since 2015

South Carolina at VANDERBILT...USC notched a series-high 9th straight win vs. Vandy in 2017. Gamecocks led 24-13 at H, but managed just 1 TD after intermission in 34-27 home win LY.

Air Force at UTAH STATE...Utah State pining to end 3-game series losing streak, especially after squandering 21-10 lead in stinging 38-35 setback LY. Utag QB Jordan Love was on target, hitting 17 of 30 for 284 yds. & 2 TDP & adding 32 YR.

Texas A&M at ALABAMA...Bama has won last 5 in series by an avg. score of 42-20. Tide led 24-3 in 3rd Q & the Aggies final TD came with :17 left in Bama's 27-19 victory in College Station year ago.

Return To Home Page