7046...
TGS 2016 PRO FOOTBALL PREVIEW
...A LOOK AT THE AFC NORTH

by Bruce Marshall, Goldsheet.com Editor


We

continue our pro football preview with a look at the AFC North. As always, teams are listed in order of predicted finish, with 2015 straight-up, pointspread, and over/under results included...

It was a bit odd seeing the Baltimore

Ravens

(2015 SUR 5-11; PSR 6-9-1; O/U 7-9) out of the playoff mix a year ago after qualifying for the postseason in six of HC John Harbaugh's first seven seasons on the job. Upon inspection, however, it was totally understandable considering the casualty list (a league-high 20 players on injured reserve!) that effectively sabotaged the campaign. By December, QB Joe Flacco, RB Justin Forsett, and WR Steve Smith were all out, and 2015 never began for rookie WR Breshard Perriman, KO'd in preseason. And that was just on the offensive side. How the team stayed mostly competitive the entire season and did not wave the white flag was the latest confirmation of Harbaugh's ability to motivate. Along the way, Harbaugh was able to coax a couple of close wins over AFC North nemesis Pittsburgh.



FB COMING SOON...TGS 60 DISCOUNTS STILL AVAILABLE!

...Click here to order


Despite all of last year's problems, there were nonetheless a few green shoots on the otherwise barren 2015 landscape, as some youngsters (WR Kamar Aiken, RB Buck Allen, & TEs Crockett Gillmore & Maxx Williams among them) displayed promise after being thrust into the lineup sooner than expected, and the "D" still held up fairly well despite the injuries. Now, after some key FA additions and what appears to be a bountiful draft haul engineered by GM Ozzie Newsome, a quick return to relevance would come as no surprise, especially if the injury situation provides a few more breaks than a year ago.


After all, the Baltimore fan base is now expecting as much after the Orioles have returned to contending status and local product Michael Phelps added to his all-time record medal haul at the Rio Olympics!


A few years removed from his massive contract, QB Flacco (off of knee surgery) should at least have a better supporting cast around him in the fall. Vet wideout Steve Smith decided to return for one more shot at reaching 1000 career receptions after suffering an Achilles tendon tear midway thru last season. Though Perriman continues to have knee issues and remained on the PUP list deep into preseason, the offseason FA additions of ex-Dolphins and Vikings wideout Mike Wallace, plus ex-Saints and Patriots TE Ben Watson, gives Flacco a potentially upgraded collection of targets. Watson's presence, along with the overload of returnees at TE, suggests Harbaugh and o.c. Marc Trestman might opt for more double-TE sets in the fall.


As for GM Newsome, he addressed the OL early in the draft, investing a first-round pick on Notre Dame T Ronnie Stanley, who effectively fills the gap created by Kelechi Osemele's FA departure, and sources suggest that Trestman and OL coach Juan Castillo will be working on the same page this fall, which didn't always seem the case a year ago. While the RBs corps has a "same-y" look, one of Newsome's draft steals, fourth-round TD machine Kenneth Dixon from La Tech, has run with flair in camp and in early preseason action and could provide extra spark to the infantry. Meanwhile, ex-Southern Cal RB Allen showed enough promise in 2015 that he likely takes snaps away from vet Forsett, not the pass-catching threat as is Allen out of the backfield. If the Ravens continue to bog down in enemy territory as they did a year ago when dropping from 13th to 26th in red-zone efficiency, near-automatic PK Justin Tucker, who has become the fastest kicker in the league history (60 games) to reach 500 points, is still around to salvage three points from any stalled drives.


Another of Newsome's offseason moves, adding vet FS Eric Weddle from San Diego in free agency, might solve what has been a question mark on the defense since Ed Reed's departure after the 2012 Super Bowl year. Another unquestioned plus for the stop unit would be the return to health of OLB Terrell Suggs, who went down in the 2015 opener at Denver with an Achilles tendon tear. Suggs began the preseason on the PUP list but is expected to be activated before the regular-season opener on September 11 vs. the Bills.


Despite the various injuries a year ago, the "D" remained rather robust vs. the run (ranking a respectable 12th) and believes it has fortified the DL with third-round pick DE Bronson Kaufusi, a versatile BYU product who can fill a variety of roles alongside ex-Florida State stopper Timmy Jernigan and NT Brandon Williams, who has emerged as a run-stuffer of note. The presence of a potential hybrid such as Kaufusi plus the healthy returns of Suggs and Elvis Dumervil (who had offseason foot surgery) suggests that vet d.c. Dean Pees can resurrect the pressure his 3-4 looks need from the edge. The age of Suggs and the recent drop in Dumervil's numbers loom as concerns, though second-year LB Za'Darius Smith emerged as an effective pass rush force a year ago, and ex-Bama thumper C.J. Mosley has developed into a force at ILB.


Harbaugh and Pees are also hoping for a healthy return from CB Jimmy Smith, who was playing at a Pro Bowl-level a couple of years ago before being slowed by foot injuries. The late-season move of ex-CB Ladarius Webb to SS went smooth enough last December to make the switch permanent, and if Weddle still has something left in his tank, the Ravens believe their defensive backfield should be upgraded.


While it is going out on a limb to forecast a quick recovery by the Ravens, Harbaugh has proven adept at squeezing every last ounce from his personnel since his hiring in 2008. We are more convinced that last year in Baltimore was a one-off, due to the inordinate amount of injuries, than a sign of sustained decline. If all of the dominoes fall in the right direction this fall, and Flacco is fully recovered from his knee injury, a quick return to contention by the Raves would be no surprise. After all, prior to last season and the injuries, Baltimore was the most consistent performer in the North for most of the past decade.


Spread-wise, do not expect a repeat of last year's 0-4-1 M&T Bank Stadium mark as chalk, a byproduct of the spate of injuries. Previous mention of the Steelers also notes the ultra-competitive nature of that series, which resurrected last season after three double-digit margins (including Baltimore's wild card win at Heinz Field) in 2014; excluding that campaign two years ago, seven straight regular-season games between the two teams have been decided by 3 points or fewer since 2011!



Are the critics of the Cincinnati

Bengals

(2015 SUR 12-5;

PSR 13-3-1

; O/U 7-10) and HC Marvin Lewis being a bit harsh? After all, qualifying for the playoffs is still a big deal in the NFL. Ask the Buffalo Bills, who haven't done as much this millennium. Making the postseason in five straight years, as Cincy has done, is even more impressive. Failing to win a Super Bowl is hardly a crime, either, not having kept some outstanding coaches (Bud Grant and Marv Levy come to mind) out of the Hall of Fame.


Still, consider that when the Denver Broncos were recently qualifying for the playoffs under HC John Fox, but not winning it all, they decided to find another coach who might be able to win them a Super Bowl...which Gary Kubiak did a year ago. Meanwhile, the Bengals and Lewis have been one-and-done in the postseason for five years running, but Cincy owner Mike Brown has given no indication of turning in another direction for his head coach. In fact, Lewis (hired in 2003) was extended for another year, thru 2017, after the latest postseason exit.


There, in a nutshell, perhaps, is why the Broncos are a champion and the Bengals remain, and likely continue to remain, merely a contender, and nothing more.


Of all of the recent Cincy flame-outs in the playoffs, none were as painful as a year ago, as the Bengals seemed poised to end their postseason win drought that extended to 1990. Against AFC North rival Pittsburgh in the wild card round, Cincy had rallied from a 15-0 deficit with 16 straight points in the 4th Q and had KO'd Steeler QB Ben Roethlisberger. Moreover, the Steelers had just turned over the ball in their own territory inside of 2 minutes to play when LB Vontaze Burfict picked off Big Ben backup Landry Jones. But RB Jeremy Hill promptly fumbled the ball back to the Men of Steel, who got another chance from their 9-yard-line with 1:23 to play. A compromised Rotherlisberger would miraculously re-enter the game and painstakingly move Pittsburgh just past midfield with under 30 seconds to play when the Bengals were whistled for back-to-back personal fouls (committed by Burfict and CB Adam Jones) on the same play. Gifted possession at the Cincy 17, Steelers PK Chris Boswell would boot the game-winning field goal with 18 seconds to play. Locals could have been excused for contemplating a jump into icy Ohio River adjacent to Paul Brown Stadium after that numbing 18-16 defeat.

In retrospect, however, 2015 was the Bengals' best season under Lewis and probably best overall since Sam Wyche's 1988 Super Bowl team. Cincy would stay unbeaten for eight games and finished a Lewis-era best 12-4, doing so minus QB Andy Dalton (thumb injury) for the last three and-a-half games while ex-Alabama star A.J. McCarron led the team into the playoffs. Minus Dalton, however, there was another ominous feel, especially when Cincy surrendered a chance at home-field edge in the playoffs when blowing a 14-0 lead at Denver and losing in OT to the Broncos in the penultimate week. Which not only pushed the Bengals out of home-field edge but also nudged them into the wild card round instead of a first-round bye. And we all know what happened from there.


Still, many Bengals backers believe that 2015 would have been the year of the breakthrough had Dalton not injured his thumb in that December 13 loss to the Steelers. At the time "Big Red" was enjoying his best season and had a passer rating of 107.4, behind only Seattle's Russell Wilson in league rankings. Dalton led three late game-winning drives and Cincy had its most-dynamic aerial game in years with WR A.J. Green (10 TD catches) and TE Tyler Eifert (13 TDs) providing big-time targets. Meanwhile, RBs Hill and Giovanni Bernard, who fill completely different roles, combined for more than 1500 YR and 13 TDs.


All of those key components return, as do five starters along the OL. There was some outflow at the receiver spots in free agency, though neither Marvin Jones nor Mohamed Sanu, both having left town, were consistent No. 2 wideouts opposite Green. Former Patriot Brandon LaFell, signed in the offseason, and Pitt rookie Tyler Boyd have been added to fill those gaps and might have a better chance diverting attention from the mercurial Green. The departure of o.c. Hue Jackson to Cleveland is not considered to be too disruptive as QB coach Ken Zampese was promoted to take Jackson's place. Zampese, with Lewis for the past 13 seasons, is credited with having molded Dalton and Carson Palmer a few years earlier into competent NFL QBs.


Last year's defense was also perhaps the best of the Lewis era and was one of the top ballhawking platoons in the league with its 21 interceptions. That was helped by improved pass rush pressure that resulted in 42 sacks thanks in part to keeping key DT Geno Atkins (11 sacks) healthy while DE Carlos Dunlap set a team record with 13.5 sacks. Still, there need to be some adjustments, especially in the early going, with the controversial LB Burfict on a 3-game suspension to start the season due to a dangerous hit on Steeler WR Antonio Brown in the playoffs, and key S Reggie Nelson, a leader of the secondary, having left to Oakland in free agency.


Nonetheless, plenty of pieces remain for d.c Paul Guenther, whose 4-3 looks are fueled by pass rushers and tight-covering DBs. While depth remains a bit of a concern on the DL, all starters do return, and the secondary should adjust for Nelson's departure with the addition of first-round pick CB William Jackson III, a U of Houston product who fits the Bengals' playmaker mode and should be able to replace at least some of Nelson's 8 picks a season ago.


In a sense, Cincy's 2015 mirrored most of the recent Lewis seasons in which the Bengals started quickly and lost momentum late. The slate is a bit more front-loaded this season, with the Jets, Pittsburgh, and Denver waiting out of the chute and road trips to Dallas and New England in mid-October. If Cincy begins slowly, we'll see how it reacts. The team has frankly not dealt too well with late-season adversity in recent years. Though avoiding most of those early banana peels, and keeping Dalton healthy, sets Lewis up for another playoff run...and perhaps an end to the postseason win drought that has now extended beyond a quarter-century.


It's worth noting that the Lewis Bengals were the AFC's best pointspread performer last season (13-3-1), turning around a poor chalk mark (from 2-5-1 in 2014 to 8-3-1 in 2015) in the process. Lewis was also 5-0 in his latest successes as an underdog a year ago, upping his mark to a starry 14-3-2 in that role since 2013.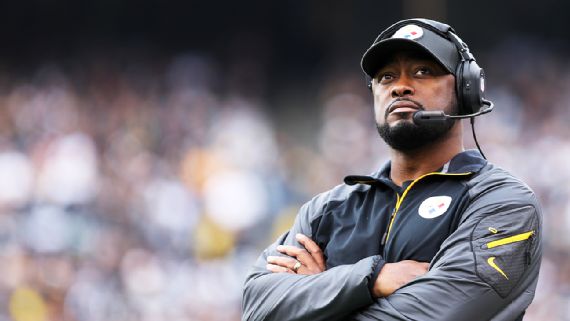 We suggest fans of the Pittsburgh

Steelers

(2015 SUR 11-7;

PSR 8-7-3;

O/U 6-12) not fret too much at the latest Steelers preseason struggles that have seen them lose again in the first two exhibition outings of 2016. Indeed, HC Mike Tomlin has evolved into a modern-day Bum Phillips (who notoriously downplayed exhibition games), entering this August just 2-11 SU in preseason play the past three seasons. Losses to the Lions and Eagles have subsequently dropped the Men of Steel to 2-13 SU since 2013.


Keep in mind, however, that Tomlin has not been forcing the issue this summer with several veterans, in particular QB Ben Roethlisberger, who has been held out of the first two August games, as have a handful of other regulars. So, don't worry, Steelers fans. After all, we are among those who recall the dark days of the franchise in the late '60s, when Pittsburgh won just 14 games between 1965-69 as it completed its residence at old Pitt Stadium. Those were times for Steelers fans to be depressed, not these days, especially after another playoff appearance a year ago.


Nonetheless, Pittsburgh has not exactly been storming the postseason lately, needing some unlikely help from the Bills (who beat the Jets) to qualify as a wild card on the final day of the 2015 regular season after seemingly blowing the playoff slot in an upset loss at shorthanded Baltimore the week before. The Steelers also narrowly qualified the previous 2014 season, only to be ousted by the same Ravens in the wild card round, after missing the postseason completely in 2013 & '13. So, while Tomlin has maintained the Steelers as a contender, they have also not been a serious title threat since their last Super Bowl visit in the 2010 season, winning just one playoff game since, and that courtesy of a Bengals meltdown in the wild card round a year ago.


The worry for this fall in Pittsburgh, as has been the case in recent seasons, is keeping Big Ben in one piece. Roethlisberger enters his 13th season this fall with plenty of tread wear on his tires, and his ability to avoid significant injury (which he could not do a year ago) is an ongoing concern. Especially since Pittsburgh did not address the backup QB situation in the offseason. Journeyman Bruce Gradkowski remains the first out of the bullpen, but his torn hamstring in early August means that Landry Jones, borderline serviceable at best and struggling mightily early in this preseason, is the backup until further notice. Michael Vick, who kept the ship afloat for a couple of games when Roethlisberger was out last season, was not re-signed.


Definitely, absences were a major storyline last year at Heinz Field. Tomlin was minus All-Pro C Maurkice Pouncey and PK Shane Suisham for the entire regular season after August injuries. Key RB Le'Veon Bell (ACL tears in both knees) missed 12 games, as did LT Kelvin Beachum (who has since departed as a FA). Rotheslisberger missed four games and parts of two others, and WR Martavis Bryant was sidelined for five games. Bell's backup at RB, DeAngelo Williams, also missed two games. G
etting everyone back healthy would obviously be a plus, but it is probably no more realistic to expect than keeping key elements off of the 2016 injured list. Or suspension, as RB Bell will miss the first three games (reduced from a four-game penalty) to begin the season after violating league substance abuse policies, and WR Bryant has been docked for the entire season. Now, LB James Harrison also has to worry about a league edict demanding explanations after the recent Al-Jazeera story implicated several NFL players for PED abuse. Stay tuned for further developments.


If all, or mostly all, hands are on deck, the Steelers could be lethal on the attack end, with Big Ben suggesting the team is capable of bettering 30 ppg. When available last season, Roethlisberger generated a career-best 328 yards per game, the best mark of his career. Wideout Antonio Brown has evolved into an unquestioned star after his league-best 136 catches a year ago (and an NFL-record 265 catches the last two seasons!), and ex-Oregon State dynamo Markus Wheaton looks ready to step into the No. 2 spot after catching 44 passes a year ago. One of the few position battles on offense is at TE, where offseason signee Ladarius Green remains on the PUP list, leaving second-year Jesse James and vet David Johnson temporarily competing for the job.


It will also be important to keep RB Bell on the field, as the Steelers are 22-13 SU in games he has started in the regular season, but 1-2 without him in the playoffs. With durability an issue for Bell, capable backup Williams (907 YR in 2015) remains an important cog. The young OL has matured into a competent forward wall under the tutelage of vet position coach Mike Munchak, and getting C Pouncey back in the fold should be a major plus.


The defense, though still rugged vs. the run (ranking 5th a year ago), is nonetheless a good distance from traditioonal "Steel Curtain" units of the past. A suspect secondary that contributed heavily to a poor 30th ranking in pass defense was addressed immediately in the draft with the first-round selection of CB Artie Burns from Miami (Fla.) and Maryland SS Sean Davis tabbed in the second round. The LB situation remains fluid with Harrison's status up in the air as of mid-August, and recent first-round picks Jarvis Jones, Bud Dupree, and Ryan Shazier are going to be expected to finally live up to their collective hype.


As is always the case with a Tomlin defense, the Steelers are not afraid to blitz, and their LBs collected 25 sacks a year ago out of the 3-4 looks. Still, more push would be welcomed along the DL, and it is hoped that South Carolina State rookie DE Javon Hargrove, a third-round pick, can at least emerge as a capable situational pass rusher.


As always, the Steelers must be reckoned with as long as Big Ben can stay healthy. There is also no guarantee that Pittsburgh makes the playoffs after teetering on the edge of qualification the past four seasons, and if Baltimore recovers as we expect, the top of the North is going to get crowded once again. Remember, however, that three North teams qualified for the playoffs just two seasons ago, and a repeat would be no surprise. More than most teams, the injury wire might provide more important in Pittsburgh than other locales.


Some of the more interesting Steel trends in recent seasons have involved "totals" including a near decade-long "over" slant at Heinz Field, though Pittsburgh was only 4-4 "over" at home last season. "Unders" have been more prevalent lately, including 12-6 a year ago and 15-7 dating to late in the 2014 campaign.



While Clevelanders continue to bask in the glow of the end of their 52-year city title drought following the Cavs' stirring win over the Warriors in the NBA Finals, and dream of a Daily Double with the Indians looming as one of the favorites to win the World Series, none are being bold enough to predict their football team is going to join the new championship trend. Instead, their Cleveland

Browns

(2015 SUR 3-13, PSR 6-010, O/U 8-8) have become the NFL's most-dysfunctional franchise under the disjointed ownership of Jimmy Haslam, now working on both his fourth head coach and general manager in the past five seasons.


This fall, Haslam, who has been less patient with his coaches than the late George Steinbrenner once was with his Yankee managers, turns to yet another HC (Hue Jackson) and GM (Sashi Brown, technically the VP of football operations). Most AFC observers believe the Brownies are a long way from a turnaround. There is plenty of work to do for Jackson and Browns after Cleveland's latest crash-and-burn in 2015, as the Brownies ranked in the bottom five in scoring, total "D" and rushing "D" and won just once after October 11.


Their first order of business in the offseason was to flesh out a QB situation that has featured a staggering 24 different starters since the franchise was restored in 1999. The disastrous Johnny Manziel experiment finally ended after last season, and rather than picking one of the top QBs in the draft, Cleveland gambled on FA signee Robert Griffin III, at this stage a reclamation project after his once-promising career jumped the rails in Washington. Moreover, there was considerable offseason personnel outflow, including veteran C Alex Mack bolting for the Falcons, creating a void on the OL that was also weakened by the departure of T Mitchell Schwartz. Hardly welcome news from an OL that allowed a league-high 123 QB hits last season and was spotty once more in pass protection during the first two preseason games. Though, to be fair, RG III looked improved in his second outing on August 18 vs. the Falcons, when he threw for a pair of TD passes, one a 50-yarder to ex-Ohio State QB Terrelle Pryor.


There is a bit of optimism, however, because of the presence of new HC Jackson, who impressed in his lone NFL stint as the boss in 2011 with the Raiders, nearly steering them into the playoffs before becoming the odd man out after Mark Davis took over ownership duties from dad Al, who passed away during that 2011 season. Along with new GM Sashi Brown, Cleveland went into what looked like full rebuild mode in the offseason, dealing away the second pick in the draft to the Eagles for a stockpile of picks that would grow to 14, suggesting a ground-up rebuild was ready to commence. A football version of Moneyball, perhaps, especially with former Billy Beane disciple Paul DePodesta now having switched sports and taking a position in the Cleveland front office.


Then, with repairs needed almost everywhere throughout the roster, the Brownies went out and selected speedy Baylor WR Corey Coleman (who had a history of drops in college) with their first pick, the sort of boutique selection usually reserved for a contender. A Billy Beane-like stroke of genius, or just another Cleveland draft-day mistake?


Much of any potential upgrade will not depend upon Coleman but rather how much Jackson can extract from RG III, whose career careened off course in Washington due to various factors, injuries among them. Already with a couple of serious knee problems in the past, Griffin does not have the look of the playmaker he was earlier in his career, as the wheels that consistently got him out of trouble in college at Baylor and as a rookie with the Skins have been too damaged to function in the same manner the past couple of years. Realistically, given RG II's history of injuries, expecting him to contribute for a full season seems a bit folly, so the decision (at least thru mid-August) to hold on to serviceable Josh McCown, who performed admirably in 2015 but whose record as a starter is just 2-17 over the past two seasons, seems prudent.

Jackson is also crossing his fingers that troubled WR Josh Gordon, a Griffin teammate from Baylor now reinstated after a one-year suspension, stays out of trouble and contributes. Gordon, recently activated from the PUP list, is still looking at a 4-game suspension to start the season, but any return to past form would be a huge plus, especially if fellow WR Coleman hits the ground running as "Air Baylor" hopefully gets lift-off in the AFC North.


The most-reliable receiving target, however, is likely to remain underrated TE Gary Barnidge (team-best 79 catches and 9 TDs a year ago), perhaps the Browns' premier skill-position component especially after last year's top wideout Travis Benjamin left in free agency. The brain trust surprisingly did not address the RB spot in free agency or the draft, suggesting lots of confidence in ex-Georgia and Alabama State Isaiah Crowell (709 YR LY) and former Miami Hurricane Duke Johnson. Since the Browns didn't do anything particularly well last season, it would be hard for the offense to be much worse. The same can be said of the defense that might not necessarily miss four of the top six tacklers who skee-daddled out of Cleveland after last season. It ought to help this fall that All-Pro CB Joe Haden should be good to go after playing in only five games a year ago because of a thumb injury and two concussions. Haden's status, however, did little to explain a 30th-ranked run defense that hopes adding LB Demario Davis (via the Jets) can provide some upgrade.


The healthy return of Haden comes with potential issues, however, as Tramon Williams on the opposite side figures to get picked on often as foes avoid throwing Haden's direction when possible.


The pass rush was identified by the front office as a key area of need and addressed a couple of times in the early rounds of the draft, with Oklahoma State DE Emmanauel Oghah and Penn State DE Carl Nassib picked in the second and third rounds, respectively. Regardless, veteran d.c. Ray Horton has his work cut out as he looks for pieces to fit into his 3-4 looks, though we suspect the Cleveland defense will be a work in progress, as some expected waiver wire additions likely give the platoon a different look in November than it will have in September.


Unfortunately for Cleveland, the North has been a bad place to be in recent seasons, with little forgiveness within the division for any rebuilding projects. Which has made a breakthrough very elusive in Cleveland for the past decade. A ninth straight losing season looks to be a very good bet by the shores of Lake Erie. Hopefully for Hue Jackson and Sashi Brown, it doesn't get bad enough for owner Jimmy Haslam to consider another round of replacements. If ever a franchise needed a bit of stability, it's the Brownies.


Return To Home Page