7022...
TGS 2016 COLLEGE FB PREVIEW...TGS

PRESEASON TOP 40!

by Bruce Marshall, Goldsheet.com Editor

We conclude our college football 2016 preview with the much-awaited TGS preseason Top 40. NFL division previews begin next week thru the month of August!


1-CLEMSON...Like last year's Kansas City Royals, who used their narrow miss the previous season to fuel a return to the World Series and a win over the Mets, ACC sources believe the close loss to Alabama in last January's CFP title game (one in which Clemson often looked the better team) could serve as a similar motivator to this season's Tigers. Postseason wins in recent years over LSU, Ohio State, and Oklahoma (twice) have proven that Dabo Swinney's program is now among the nation's elite. Star jr. QB Deshaun Watson returns as the ultimate catalyst, and shrewd d.c. Brent Venables dealt with much heavier graduation losses on his stop unit a year ago than he will this fall. A tricky banana peel at the outset vs. Auburn could scuttle this projection before Labor Day, but we suspect Clemson clears that hurdle and begins to take aim on the October 29 showdown at Florida State, where the ACC Atlantic is likely to be decided and the road paved to the Final Four.



FB COMING SOON...TGS 60 DISCOUNTS STILL AVAILABLE!

...Click here to order


2-ALABAMA...Forgive our lack of creativity for putting last year's finalists in the 1-2 spots for this season. And backing Alabama does feel about as bold as picking the Soviet Union hockey team to win the gold medal at the Sapporo and Innsbruck Winter Olympics in the '70s. If nothing else, however, picking Nick Saban's operation is always a nice default option. Three national titles in five seasons, and four in the past seven seasons, have elevated the Nick-ta-tor to Bear Bryant-like levels in Tuscaloosa. Sure, there is plenty of reloading to do, with half of last season's starters, including the Heisman winner (RB Derrick Henry) and QB (Jake Coker), having departed. Since when, however, has Saban's Crimson Tide ever been short of runners? (Look for slashing soph Bo Scarborough to ease the absence of Henry.) And the receiving corps could be the nation's best for the fourth different starting QB (whose identity is still up in the air into fall camp) in as many years at Bryant-Denny Stadium. Playmakers such as ILB Reuben Foster and SS Eddie Jackson still dot the "D" and will be among the next group of Bama first-round NFL draftees. At this stage, it would be a significant surprise for any Saban team to

not

be in the title mix.


3-OKLAHOMA...Again, we're not exactly going out on another limb, projecting one more of last year's Final Four into our preseason top three. There is evidence, however, that Bob Stoops and his Sooners have a chance to advance that far once again. Baylor's bumpy offseason suggests there will be one less serious contender in the Big 12, and the OU offense has already revived since last year's hire of o.c. Lincoln Riley, under whom transfer QB Baker Mayfield became a legit Heisman contender. Along with powerhouse RB Samaje Perine, the Sooners own perhaps the most lethal 1-2 offensive punch in the country. Granted, there are some issues, including the loss of several playmakers from the 2015 defense. The schedule is also full of potholes, beginning with a tricky opener at Houston and the intersectional of the year on Sept. 17 at Norman against Ohio State. If OU can survive those tests, and win at TCU in a Big 12 showdown on October 1, the Sooners will surely be in the top four and likely to stay there until December.


4-MICHIGAN...We feel a bit like a herd of sheep, following all of the offseason hype generated by Jim Harbaugh and the Wolverines. And while not being personally fond of Harbaugh and his many peculiarities, by now it is apparent that he knows what he's doing, as his first Michigan team jumped up to 10 wins in a reloading season a year ago. A similar advance puts the new Wolverine edition in the national title mix. For the second straight year, Harbaugh relies upon a transfer QB (this time it's ex-Houston pilot John O'Korn) to detonate the offense, but the bulk of last year's "O" returns, and new d.c. Don Brown arrives from Boston College, where he oversaw the nation's top-ranked "D" a year ago. The schedule is also favorable, leaving the state just once (a trip to beatable Rutgers) before mid-November. Of course, there's always Ohio State (this year at Columbus) in the regular-season finale, but Harbaugh has seemed to close the gap on Urban Meyer. Remember, too, that Harbaugh's second editions have a track record of success, as his 2012 San Francisco 49ers reached the Super Bowl. 5-TENNESSEE...We admit to drinking the same orange Kool-Aid as have others for the Vols, who have been the team du jour among many prognosticators in the preseason. That's probably because UT finished last year with six straight wins (including a bowl blowout of Northwestern) after narrow losses to Oklahoma, Florida, Alabama, and Arkansas, the first three after leading deep in the 4th Q. To be accurate, the Vols' late-season surge came vs. the soft portion of the 2015 schedule. But almost every player of note, including star QB Joshua Dobbs, returns from last year's near-miss campaign, and the schedule is favorable, with SEC East nemesis Florida and old rival Alabama both visiting Knoxville. Since Tennessee is a heavy favorite to win its half of the SEC, it should have a chance to get to the Final Four if it can win the conference title game in Atlanta. Now, can HC Butch Jones (whose game management came into question last season) prove he can win the close games vs. contenders?


6-OHIO STATE...This feels like another obligatory high selection, and we feel no joy in projecting the Buckeyes into the national title mix. Yet that's what recent history suggests with the monster Urban Meyer has built on the banks of the Olentangy. This season, there is considerable reloading after much of last year's 1-loss team departed for the NFL, but which coach outside of Nick Saban wouldn't die for all of the five-star talent in Columbus? There is also no QB controversy this season with J.T. Barrett the definite orchestrator of the attack. We'll see if a revamped offensive line and an Ezekiel Elliott-less backfield allows Barnett to function at his best. Blue-chippers or not, it is still asking a lot of the numerous new defensive starters to pick up where their many NFL-bound colleagues left off last season. The September 17 trip to Oklahoma is also by far the toughest regular-season intersectional in the Meyer era.


7-TCU...Though not flying as far under the radar as two years ago, when the Horned Frogs were coming off of a losing season in 2013, TCU is still escaping much of the hype it had to deal with a year ago when it wore a big target following the 12-1 breakthrough of 2014. True, a near-complete rebuild of the offense is in order after almost all of last year's starters, including do-everything QB Trevone Boykin, departed, though Big 12 sources believe either Texas A&M transfer Kenny Hill or strong-armed soph Foster Sawyer will eventually provide solid leadership and real spark. Until then, another ornery Gary Patterson/Dick Bumpas "D" should be able to keep TCU afloat with eight of the top ten tacklers back from an injury-disrupted 2015. If one of the new QBs emerges in time for games at Fort Worth vs. Arkansas and Oklahoma in the first month of the season, Patterson could be back in the national title conversation.


8-LSU...We're going to gulp a bit on this one as we see the potential for the Bayou Bengals to undershoot expectations once again, which would almost surely prompt the departure of under-fire HC Les Miles, who barely survived after three straight ugly losses to Alabama, Arkansas, and Ole Miss last November. The bad news is that the same three await in a row in another brutal schedule stretch late this season. The constantly misfiring LSU passing game, which ranked a lowly 105th a year and returns erratic QB Brandon Harris, must also upgrade. But wondrous returnee RB Leonard Fournette (1953 YR last fall!) was probably the Heisman frontrunner into last November, and ten starters return to what should be a gnarly defense for new coordinator Dava Aranda, who introduces 3-4 alignments for the first time in the Miles era. How the Tigers fare vs. that brutal 3-game late-season stretch likely determines if LSU is in the title mix...or if Miles stays employed at Baton Rouge into 2017.


9-FLORIDA

STATE

...The Noles suffered from QB woes last season, especially after limited backup Sean Maguire was forced into action for the second half of the season. There is hope in Tallahassee, however, that either RS frosh Deondre Francois or true frosh Malik Henry, who both impressed in spring drills, will eventually prove an upgrade from the sr. Maguire, who returns as a stop-gap alternative for Jimbo Fisher. That FSU won 10 games in a reload season a year ago that was detoured by injuries speaks to the reservoir of talent on hand in Tallahassee. Now, 15 seasoned starters return, including Heisman hopeful RB Dalvin Cook, who motored for 1691 YR despite various nagging injuries and OL inconsistency. If FSU can survive a treacherous September (Ole Miss in Orlando, at Louisville and South Florida) and finds answers at QB, it could set up an ACC Atlantic showdown and potential game of the year on October 29 at Doak Campbell against Clemson.

10-SAN

DIEGO

STATE...Before asking what we might be smoking to rank the Aztecs so high, consider that SDSU is one of only a few teams that projects to be favored in all of its games this season. Thus, 13-0 into the bowls is not unreasonable on Montezuma Mesa. So much did the Aztecs outclass the Mountain West last season that they didn't play a conference game within 2 TDs until the title game vs. pesky Air Force. Then SDSU went out and destroyed Cincinnati in the Hawaii Bowl. Most all of the components are back from last year's 11-win team, including Mountain West Offensive MVP RB Donnel Pumphrey (1653 YR), and many of the key cogs from Rocky Long's top-ten rated defense. Still, we caution Aztec fans to not dream too big, as the suspect Mountain West and a soft non-league slate will hurt the Aztecs too much in the computer rankings to barnstorm the Final Four. A better chance exists for the New Year's Six bowl slot reserved for the top "Group of 5" entry.

11-STANFORD...By the end of last season, Stanford was something to see, blowing out USC in the Pac-12 title game before routing Iowa in the Rose Bowl, and Christian McCaffrey putting the finishing touches on an NCAA single-season record for all-purpose yardage (3864 yards!), which in pre-SEC mania days would have been enough to earn him the Heisman Trophy. As was the case a year ago, and with McCaffrey still in the fold, the Cardinal can probably play with any team in the country, but HC David Shaw has some questions to answer before they can start dreaming about the Final Four on The Farm. Namely, who takes the place of underrated 4-year starting QB Kevin Hogan (soph Keller Chryst and jr. Ryan Burns have lots of upside, if not game experience), and if a re-tooled OL does not regress. With much success in recent years, the Tree has earned the benefit of the doubt, and remains the team to beat in the Pac-12, but a precarious, front-loaded schedule (Kansas State, USC, UCLA, Washington, Washington State, and Notre Dame all in the queue during the first half of the season) and the roster questions are enough for us to put the Cardinal just outside of the top ten.

12-HOUSTON...We need to explain our "Group of 5" ratings that have put San Diego State ahead of Houston in our preseason rankings. The reason is mostly schedule-related, though we acknowledge that the Cougars have a better chance than the Aztecs of crashing the Final Four because of high-profile non-league assignments vs. Oklahoma and Louisville that could provide enough updraft in the computer rankings to make HC Tom Herman's team a legit Final Four threat if it can run the table. Unfortunately for the Cougs, running the table requires beating both the Sooners and the revenge-minded Cardinals, no easy trick. No matter, UH is again the team to beat in the American, with electric QB Greg Ward, Jr. a peripheral Heisman threat and pacing an offense that scored better than 40 ppg and helped whipped Florida State in the Peach Bowl. Whatever happens on the field, the Cougs are going to be in the middle of this fall's rumor mill, subject of Big 12 expansion speculation and HC Herman likely to again be targeted by higher-profile entries (which this winter could include Texas). Stay tuned.

13-NOTRE

DAME

...The Irish came very close to qualifying for the Final Four last season, only a last-second FG by Stanford's Conrad Ukropina away from perhaps earning a spot in the CFP. That Notre Dame probably didn't deserve a Final Four berth was underlined in a 44-28 Fiesta Bowl whipping administered by Ohio State, but we digress. Head coach Brian Kelly has eight starters to replace on offense, but will have his pick of established QBs, jr. Malik Zaire or soph DeShone Kizer, the latter having relieved the former early last season when Zaire broke his ankle. And recent blue chip-recruiting hauls suggests that Kelly is in reload rather than rebuild mode this fall. Still, most insiders believe any Irish challenge to the Final Four will have to be begin on defense, where the Domers have particular concerns in their back seven. The schedule features only three true road games (plus three at neutral sites) but includes more challenges than a year ago, including the return of Michigan State to the slate for the first time since 2013, and the traditional even-numbered year season-ender at USC.



14-

FLORIDA...Prior to the midseason suspension of QB Will Grier, the Gators were authoring one of the storylines of 2015 for new HC Jim McElwain, though the season would end with a thud in three straight losses with backup QB Treon Harris struggling in relief. Grier and Harris are now both out of the program and McElwain, whose rep as a QB guru was being burnished when Grier was ascending, believes he can coax similar stats from his new QBs, either juco Luke Del Rio (Jack's son) or Purdue transfer Austin Appleby. Meanwhile, SEC sources say the Florida DL might be one of the league's best, featuring NFL-bound jr. DT Caleb Brantley. If Del Rio or Appleby deliver, and the OL overcomes some of last year's inexperience and injury issues, Florida emerges as an intriguing darkhorse in the SEC, as McElwain has already instillled a more positive vibe at The Swamp after earning the Gators their first SEC East crown since 2009 a year ago.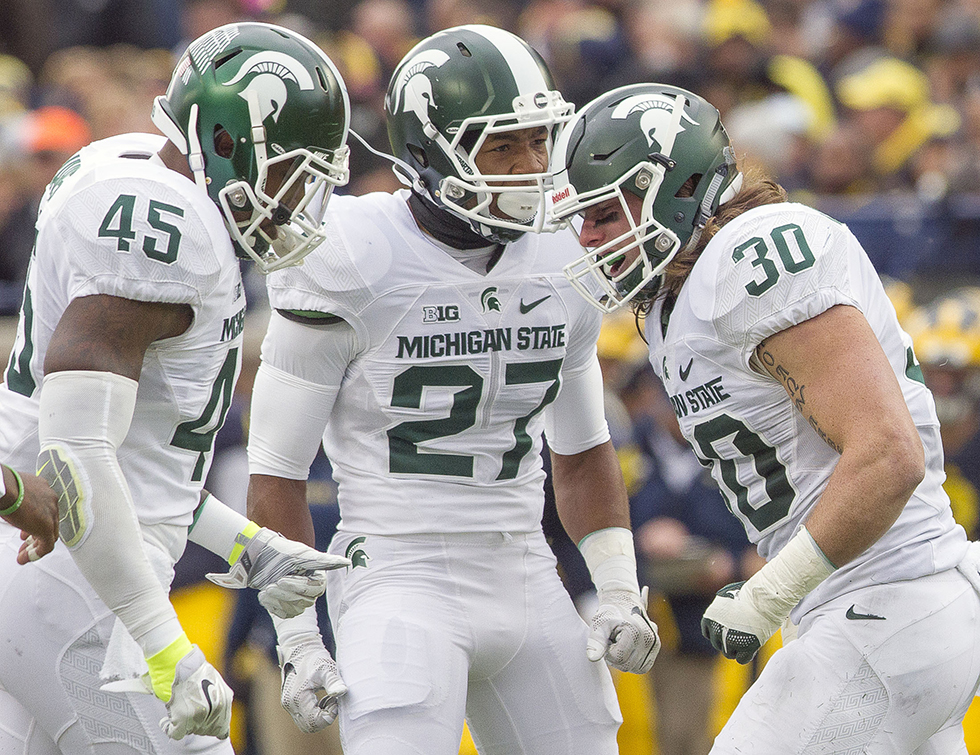 15-MICHIGAN STATE...No, QB Connor Cook didn't date to the Bubba Smith era at East Lansing, it just seemed so with Cook having started the past four seasons and finishing his college career as the Spartans' all-time leading passer. Remember, however, that new QB 5th-year sr. Tyler O'Connor fared well when called from the bullpen last season, engineering the upset win at Ohio State when Cook was nursing an injured shoulder. Four straight top ten finishes suggests we not underestimate Mark Dantonio's troops, but along with the QB change is a near complete overhaul of the OL, suggesting Dantonio might introduce more spread looks into the pro-style MSU offense, especially since O'Connor and fourth-year jr. QB Damion Terry are effective runners. Still, the defense has carried MSU before and might have to again behind star MLB Riley Bullough, a Butkus Award candidate. September dates at Notre Dame and home vs. Wisconsin will be indicators if Dantonio has another top ten team and possible CFP contender on his hands this fall.

16-

OLE

MISS...Meet one of the mystery teams of 2016 after a very awkward offseason featuring several odd developments at the NFL Draft, when Ole Miss got attention for the wrong reasons as a couple of high-profile Rebels (OT Laremy Tunsil and DE/LB Robert Nkdemdiche) fell long and hard down the board amid controversies which would eventually result in another call from the NCAA after new potential violations involving Tunsil were revealed. Already on the NCAA radar for various transgressions, Ole Miss is holding its breath regarding any pending penalties which could run all of the way up the flagpole, including bowl bans. Until then, however, we are a bit wary to rate the Rebs too low, because returnee QB Chad Kelly might be the SEC's best after passing for 4042 yards last season, and Hugh Freeze has been recruiting at a high level since moving to Oxford in 2012. Plenty of graduation-related holes must be filled, but keep in mind that Ole Miss has been good enough to beat Alabama each of the past two seasons.



17-

WASHINGTON...

There are indicators that U-Dub is on the move for third-year HC Chris Petersen, who might be on the verge of recreating some of his Boise State magic in Seattle. Keep in mind that only ten seniors were on the two-deep roster for last December's Dallas Bowl win over Southern Miss, and many of last year's breakthrough stars (such as QB Jake Browning and RB Myles Gaskin) did so as frosh. Petersen has thus quickly built the foundation for the Huskies and welcomes back 17 starters plus big-play WR John Ross, who missed all of 2015 with a knee injury. Petersen should develop momentum with three relatively easy non-conference games at Seattle before a three-game stretch at Arizona, home vs. Stanford, and at Oregon (which hasn't lost to the Huskies since 2003) that will confirm if U-Dub has arrived as a serious Pac-12 contender or perhaps still another year away.

18-IOWA...The Hawkeyes were a few seconds away from a berth in last season's Final Four, denied cruelly when Michigan State scored a late, late TD in a pulsating Big Ten title game at Indianapolis. Of course, Iowa wasn't really Final Four worthy, as a blowout Rose Bowl loss to Stanford confirmed, but such is life in the Big Ten West, where a forgiving slate is always likely and can pave an undeserving run to the brink of the CFP. Iowa won't sneak up on anyone this fall and will not escape every crossover Big Ten East heavyweight on the reg.-season schedule as a year ago (a home date vs. Michigan looms on Nov. 12), but a formidable defense that ranked as one of the Big Ten's best returns eight starters, while QB C.J. Beathard and most of the components of an effective infantry assault are also back in the fold for HC Kirk Ferentz, along with OU's Bob Stoops now the dean of the nation's coaches (if discounting Kansas State's Bill Snyder, whose first stint with the Wildcats began in 1989 but retired briefly between 2006-08). Repeating last year's 12 wins might be a tall order but expect the Hawkeyes to take advantage of another favorable slate en route to a desirable bowl.

19-GEORGIA...While many gridiron aficionados wonder if the Bulldogs made a mistake by hitting the eject button on Mark Richt, whose only sin in Athens was not winning a national title, many SEC insiders believe that new HC and alum Kirby Smart (fresh off a stint as Nick Saban's d.c. at Alabama) might eventually retire as Georgia's coach after a long and successful career 'tween the hedges. Smart could also immediately light the fuse to get the Dawgs into the national discussion, though the recovery of star RB Nick Chubb from serious knee surgery must be monitored, and an inexperienced front seven on defense will have to hit the ground running with the opener vs. potent North Carolina at the Georgia Dome on September 3 before SEC action commences with a flourish later in the month in back-to-back games at Ole Miss and home vs. Tennessee. Touted five-star QB Jacob Eason will eventually win the job, but if he is thrown to the wolves too early it will likely be due to former Virginia transfer Grayson Lambert not providing needed spark.


20-ARKANSAS...Bret Bielema is now comfy enough to entertain the masses with his deadpan humor at the summer SEC Media Days after slowly building the Razorbacks into a contender the past few years. The ascent could continue this fall with an experienced defense returning nine starters and another king-sized OL opening up holes for a slew of touted RBs eager to succeed NFL-bound Alex Collins and Jonathan Williams. There's another Allen at QB, only this time it's Austin, brother of recent starter Brandon and having demonstrated the necessary swagger in spring to win the job. Bielema gets all of his toughest SEC dates (Bama, Ole Miss, Florida, and LSU) in Fayetteville, though plays his most-challenging non-league test on the road at TCU on September 10. There are probably too many banana peels to avoid for the Hogs to make a run at the top ten, though some poor foe from the Big 12 (like Texas and Kansas State the past two years) or ACC likely pays the price in a bowl game.

21-

OKLAHOMA

STATE...Looking for a sleeper in the Big 12? Try Ok State, which has the support of all old PGA Tour fans with jr. QB Mason Rudolph, whose namesake is recalled fondly by longtime golf fans from tourneys in the '60s and the memorable Cary Middlecoff-Jack Whitaker-hosted CBS Golf Classic, of which the "other Mason Rudloph" was an annual participant. The "new Mason Rudolph" isn't too shabby on the gridiron after passing for 3770 yards as a soph, and might better those numbers in the fall with most of his key receiving targets back in the fold. Now, the Cowboys must improve their anemic ground game that ranked 114th last season, and the "D" was a bit yielding, ranking 100th (though distorted by facing a series of high-octane Big 12 foes), or else Rudolph and his receivers are simply going to have to outgun opponents. But there are 16 starters back in the fold, and HC Mike Gundy was sporting a mullet at Big 12 Media Days in Dallas this July, an act of bravery that merits a reward for his team in our rankings.

22-NEBRASKA...Meet last year's Big Ten version of Tennessee, as Nebraska seemed to find new and creative ways to lose throughout the season (including last-second defeats by 5, 3, 1, 2, and 3 points!) en route to the Cornhuskers' first losing campaign since the days of Bill Callahan, hardly the first chapter new HC Mike Riley wanted to write in his Lincoln debut. But Nebraska and its losing record would still be the only team to knock off Michigan State in the regular season, and proceeded to batter UCLA in the Foster Farms Bowl, creating some optimism for a turnaround this fall. Exciting QB Tommy Armstrong returns for his senior season with a wealth of established receiving targets, though a run to the Big Ten West crown will require the restructured OL to coagulate quickly and for a sieve-like pass defense (which ranked 122nd nationally) to plug some of the leaks. The second year in the Riley systems and schemes, however, should be a bit more comfy for all concerned, and the law of averages would suggest Big Red won't lose all of those close decisions again as in 2015.

23-

BAYLOR

...We're not quite sure what to do with Baylor, which endured perhaps the bumpiest offseason of all, with a disturbing off-field scandal costing HC Art Briles his job, prompting transfers and de-commits from future recruits. Not to mention resulting in the stop-gap hire of former Wake Forest HC Jim Grobe, universally respected and considered beyond reproach ethically (something badly needed these days in Waco) but also perhaps an awkward fit for the the go-go Briles offense that produced record-setting offensive numbers in recent seasons. While Grobe is regarded a bit better than John L Smith, who took over at Arkansas on a similar interim basis in 2012, there are some parallels between the Bears of 2016 and the Razorbacks of 2012, who had their problems. While pondering what happens to Baylor after this season, expect sr. QB Seth Russell to post big numbers if he can stay healthy, which he couldn't a year ago, and note that capable backup Jarrett Stidham is one of those who transferred. The OL must be re-tooled and the receiving corps rebuilt, and the "D" faces significant reloading on the line. As usual the Bears will not be tested by their soft non-league slate, but we suspect a gradual drop-off from Briles' recent national contenders.

24-LOUISVILLE...The Cards haven't quite detonated the past two seasons for Bobby Petrino as many envisioned, as the 'Ville has been relying lately more on defense than offense (what the heck is going on at Papa John's, anyway?). This fall, however, expect the "O" to once again begin pulling its weight behind soph QB Lamar Jackson, who flashed plenty of upside during the stretch run last season, including a 227-yard passing, 226-yard rushing effort in the Music City Bowl win over Texas A&M. Moreover, all significant runners and receivers return from 2015. The gnarly defense, which ranked 18th nationally a year ago, also returns eight starters and most of its playmakers after several key components decided to bypass the NFL Draft and stick around the 'Ville for another year. Clemson and Florida State will remain difficult hurdles in the ACC Atlantic, and a trip to potent Houston looms in the non-conference portion of the slate, but expect the Cards to improve from last year's 8-5 mark with a more traditional Petrino-style team.


25-

SOUTH

FLORIDA...One of the surprise packages of 2015 was USF, which roared down the stretch with wins in 7 of its last 8 regular-season games to remove the mounting pressure on HC Willie Taggart. With the foundation stabilized in Tampa, the Bulls could be ready to take the next step behind playmaking jr. QB Quinton Flowers, who accumulated 3287 total yards and 34 TDs in a breakout 2015, while thundering RB Marlon Mack makes for a nice 1-2 punch after rushing for 1381 yards last fall. Meanwhile, a ballhawking defense returns six starters in its back seven from a platoon that ranked among the nation's leaders in tackles for loss, interceptions, and turnovers gained. With the exciting options at the skill positions, USF has a chance in every regular-season game, including a shot at Florida State in Tampa on September 17, and won't have to worry about West heavyweight Houston unless drawing the Cougars in the American title game.

Teams ranked 26 thru 40 are listed below...


26-

UCLA...

The Bruins proved a false alarm last season and did not react well to adversity. But if Jim Mora's team grows up, new receivers step into the breach as expected, star soph QB Josh Rosen continues to progress into the Heisman discussion, and key DE Eddie Vanderdoes is fully recovered from last year's ACL tear that cost him the 2015 season, the Westwood bunch might be the team to beat in the Pac-12 South. 27-

VIRGINIA

TECH...The Frank Beamer era is over in Blacksburg, but the new Justin Fuente era could begin with a bang if juco QB Jerod Evans really is the man to detonate the spread offense that Fuente has imported from Memphis. And Beamer d.c. Bud Foster is still around to wreak havoc with his stop unit. Watch "The Battle at Bristol" on September 10 vs. Tennessee that will draw a record crowd to the speedway and give an early indicator if Fuente has VPI on the right track and ready for a quick rebound in the ACC Coastal. 28-WASHINGTON

STATE

...Last season the Cougars won at Oregon and should have beaten Stanford en route to 9 wins and a Sun Bowl triumph (in frigid El Paso) vs. Miami. Several key contributors return including potent QB Luke Falk, a Heisman darkhorse and possible first pick in next spring's NFL Draft. The Cougs still can't run a lick and the defense has issues, but with Falk firing away this season could turn into one of Mike Leach's masterpieces. 29-

NORTH

CAROLINA...The Heels were more fortunate than Hillary Clinton to avoid the long arm of the law (or in this case the NCAA) in the offseason when the football and men's basketball programs were mysteriously removed from mention in the academic fraud scandal. Hmmm. Whatever, if strong-armed Mitch Trubisky can step in seamlessly at QB for Marquise Williams, moist ACC sources believe HC Larry Fedora's jet-powered spread will retain its altitude, and continuing improvement from the "D" in Gene Chizik's second year as coordinator would give the Heels a chance to repeat in the ACC Coastal.

30-

SOUTHERN CAL...The Trojans are working on their fourth coach since 2013 with the friendly Clay Helton having been retained from his interim assignment last fall. Yes, beating UCLA comes with its own perks in Trojan-land. Unfortunately SC has switched ADs (Pat Haden out, Lynn Swann in) since last season, breaks in a new QB (likely once-ballyhooed jr. Max Browne), and the schedule is one of the nation's toughest starting with the opener vs. Alabama at Jerry Jones AT&T Stadium, which means that Helton is looking at three straight losses since being given the full-time job before last December's Pac-12 title game setback vs. Stanford. Plus a complete rebuild is needed on the defensive front. Troy is finally close to full capacity again on scholarships after the Reggie Bush-related penalties, but Helton cannot afford to give his new boss and a demanding alumni base reason to doubt his hire.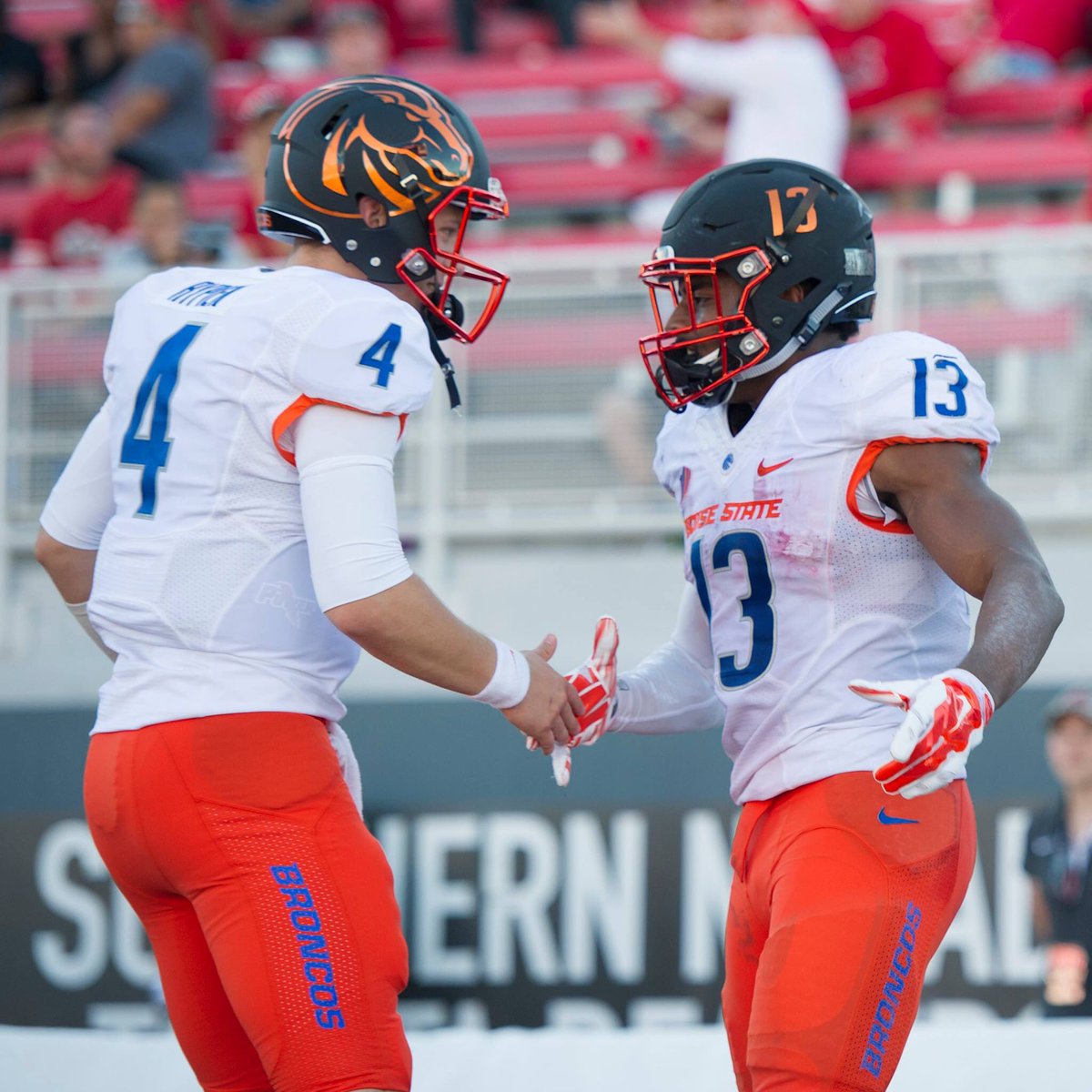 31-

BOISE

STATE...The Broncos actually lost a couple of games on their usually impenetrable blue carpet last fall but might have provided a hint of things to come in their lopsided Poinsettia Bowl rout of Northern Illinois. Soph QB Brett Rypien appears a star-in-the-making and RB Jeremy McNichols provides a potentially-devastating 1-2 offensive punch. 32-

OREGON

...It's been a while since we placed the Ducks this low. But the Pac-12 North is a rough neighborhood this season, and HC Mark Helfrich was disappointed enough by his defense last year that he enlisted ex-Michigan HC Brady Hoke as the new coordinator. This year's FCS transfer QB is Dakota Prukop, ex of Montana State, but one has to begin to wonder why the Ducks are having so much trouble developing their own QBs these days. And is there a hangover from blowing a 31-point lead in the Alamo Bowl vs. TCU? Moreover, is Helfrich really up to the task of keeping the Webfoots among the elite? 33-WISCONSIN...The Badgers won their customary 10 games in somewhat odd fashion last season, without much help from a ground game that ranked 95th (95th?), which made AD Barry Alvarez almost jump from his suite in the Camp Randall Stadium press box. Perhaps a healthy RB Corey Clement will help, but HC Paul Chryst also needs to find a new QB, and no one blocked the door out of USC for new d.c. Justin Wilcox, hired from the Trojans to replace Dave Aranda, who oversaw the nation's second-ranked stop unit last season before being lured to LSU. Which, by the way, plays the Badgers at Lambeau Field (yes, Lambeau Field!) on opening weekend! 34-

GEORGIA

TECH...Last year's collapse to 3-9 should never have happened to the Yellow Jackets, who blitzed Mississippi State in the Orange Bowl the previous season. Last season's spate of injuries and mistakes and close losses are not likely to be repeated, and sr. QB Justin Thomas is still in the fold as Paul Johnson's quintessential option pilot. Expect a recovery back to a bowl for Tech, which missed the postseason for the first time on Johnson's watch a year ago.

35-

AUBURN...Some SEC sources believe Gus Malzahn (who reportedly looked hard at South Carolina and Miami openings after last season) is on the hot seat at Jordan-Hare Stadium as he tires of competing in the same state vs. Nick Saban. Though Gus is apparently serious about no distractions whatsoever if he is willing to dismiss top returning rusher Jovon Robinson for disciplinary reasons. If Malzahn finds a proper QB for his zone-read attack (perhaps jr. John Franklin III is the answer) it will be a step in the right direction after last year's struggle at the position. The pressure is also on new d.c Kevin Steele to get the stop unit to perform to its potential.


36-BYU...A demanding schedule could make it a rough baptism for new HC and alum Kalani Sitake after Bronco Mendenhall made a somewhat surprising move (though not too surprising, considering his nice salary bump) to Virginia. But there is potential to outscore everyone on the slate if 25-year old QB Taysom Hill and sr. RB Jamaal Williams (929 yards from the school rushing record) can stay healthy. Keep on eye on the BYU-to-the-Big-12 rumors as the season progresses.

37-

PITT...The Panther program showed life under 1st-year HC Pat Narduzzi after an uplifting 8-5 campaign. There are 16 returning starters, and the "D" plays in the ultra-aggressive style Narduzzi preached for years when he apprenticed under Mark Dantonio. The questions are a receiving corps minus do-everything but graduated WR Tyler Boyd, which could impact former Tennessee transfer QB Nathan Peterman, and a rugged schedule that features Penn State, Oklahoma State, and North Carolina (the last two on the road) back-to-back-to-back in September. 38-TEXAS A&M...Some SEC sources say the heat is on HC Kevin Sumlin, whose QB position has turned into a merry-go-round since the end of the Johnny Manziel era and now lands upon Oklahoma grad transfer Trevor Knight as other ex-Aggie QBs dot rosters across the country. To help smooth the offense, Sumlin hopes new o.c. Noel Mazzone, hired away from UCLA (also A&M's opening week opponent), provides an upgrade, but Sumlin needs vet coordinator John Chavis to also coax more out of a defense that ranked a poor 108th vs. the rush a year ago. 39-

MIAMI-

FLA...Mark Richt commented in spring that his new Miami team does not have the sort of depth to which he was accustomed at Georgia. Fortunately his Hurricanes don't play in the SEC and shouldn't be too overmatched in the ACC, especially as they are in the division opposite league powers Clemson and Florida State (though, as usual, the Canes will face the Noles). Richt's return to his alma mater can still get off on the right foot if jr. QB Brad Kaaya can stay healthy and regain a bit of the confidence he lost last season. 40-

NAVY

...

The Mids proved a very awkward matchup for their new foes in the American in 2015 and will continue to be the team all league foes dread to face. Almost an entire cast of new starters is being plugged in offensively, but most were in the rotations last season, and sr. QB Tago Smith should be a serviceable replacement for graduated TD-machine Keenen Reynolds. The ballhawking "D" keyed last season's +19 TO margin (ranking 3rd nationally) and returns several playmakes, including FS Daiquan Thompson. They're also quite relieved in Annapolis that HC Ken Niumatalolo turned down BYU in the offseasson to stay with the Midshipmen, who have reached bowls in seven of Coach Ken's eight seasons in charge.



NEXT UP:

NFL DIVISION PREVIEWS BEGIN WEEK OF AUGUST 8!
Return To Home Page