6886...
TGS SPECIAL REPORT
...2016 COLLEGE HOOPS SUPERLATIVES!
by Bruce Marshall, Goldsheet.com Editor and

TGS

Staff
2015-16

TGS

ALL-AMERICAN TEAM
TYLER ULIS, 5-9 Soph, Kentucky
YOGI FERRELL, 6-0 Sr., Indiana
RYAN ARCIDIACONO, 6-3 Sr., Villanova
BUDDY HIELD, 6-4 Sr., Oklahoma
MALCOLM BROGDON, 6-5 Sr., Virginia
DENZEL VALENTINE, 6-5 Sr., Michigan State
JAKOB POELTL, 7-0 Soph, Utah
DOMANTAS SABONIS, 6-11 Soph, Gonzaga
BEN BENTIL, 6-9 Soph, Providence
BRICE JOHNSON, 6-9 Sr., North Carolina
PERRY ELLIS, 6-8 Sr., Kansas
GEORGES NIANG, 6-8 Sr., Iowa State


We have expanded our A-A team to a "full roster" of twelve players for this season!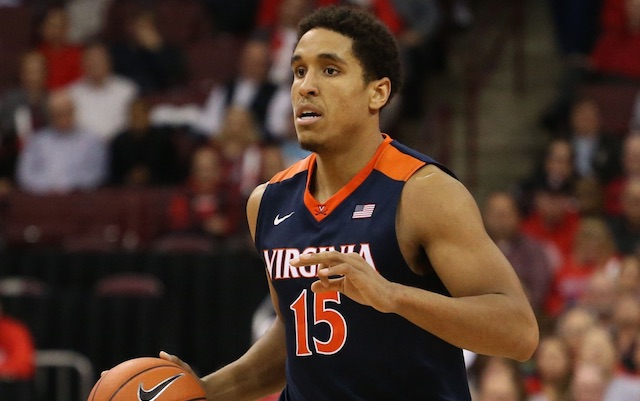 TGS

PLAYER OF THE YEAR:

Malcolm Brogdon, Virginia...We vacillated more than usual on this award for 2015-16, and considered making it a shared honor (though we really don't like to resort to co-winners if we can avoid it). In the end, there was simply a bit more consensus for Brogdon than anyone else. Cause for pause was Brogdon's subpar effort (2 for 14 from the floor) in Virginia's elimination game in the Elite Eight against Syracuse, when the Cavs blew a late 15-point lead, completing an underwhelming Midwest Regional for the Virginia senior. Though Brogdon would not be the only featured performer to throw in a stinker in this year's Dance (more on that in a moment). But we wonder if the Cavs would have ever come close to a top regional seed, or made the Dance at all, without Brogdon, who has spent much of the past few years subjugating his stats for the better of the team while also providing the ultimate example of lockdown defense for HC Tony Bennett's "pack-line" schemes on the stop end.

Called upon to provide more offense at midseason when Virginia needed it, Brogdon took over a succession of games from mid-January into the ACC Tourney, scoring 21.4 ppg over a 15-game stretch (a pretty neat trick for an offense that ranked among the bottom teams in number of possessions per game) that would elevate the Cavs to a top regional seed. Along the way this season, Brogdon would score nearly 19 ppg (again, quite impressive for a possession-conscious team such as the Cavs), hit nearly 40% of his triples, and convert a staggering 89.7% of his FT chances, ranking sixth nationally in the latter. Those impressive stats were also compiled against one of the nation's toughest schedules and within what proved to be the nation's toughest league, the ACC. And we're not finished with honoring Brogdon for this season (read on....).


Runners-up: Buddy Hield, Oklahoma...We'll admit that we were about ready to give the award to Hield prior to his disappearing act in the Final Four vs. Villanova, when the notorious Bahamas machine-gunner (whose 25 ppg ranked second nationally) went one inexplicable 7-minute stretch in the second half not taking a shot as the game was getting away from the Sooners and becoming a rout. Not good. But we must acknowledge Hield's overall impact, the fact he torched Oregon for 37 in the Elite Eight and VCU for 36 in the second round, scored 30 or more on twelve different occasions, and carried the load for a flawed Oklahoma team that would build an entire offense around him and make it to the Final Four while playing one of the nation's toughest schedules, and in one of the nation's roughest leagues (Big 12). Perhaps it was asking too much of Hield to carry a team all of the way to a title, but we're not sure any player could have made the impact, for the Sooners or any team, as did Buddy, who also stands as a possible transformational player for the sport, thanks to a style perfectly suited to the evolving game and rules. We'll see if Hield can make a similar impact in the NBA, or disappear at the next level, as has Jimmer Fredette. But our grass roots sources tell us that Hield's style and swagger are already starting to influence the next generation of hoopsters who want to "play like Buddy," as Hield will have a chance to further alter the hoops template if he can carry the same success into the pros. It won't erase the memory of his stinker vs. Villanova, but if Hield impacts the subsequent generation of players as we (and some other respected sorts) suggest, that would be a powerful legacy few collegians ever leave to their sport.


Denzel Valentine, Michigan State...Like Brogdon and Hield, Valentine's season and college career would end on a definite downer, unable to save his MSU from one of the shockers in Big Dance annals when 15th-seed Middle Tennessee scored an opening-round stunner over Sparty. Valentine's stat line was not awful, but it included only 13 points (well below his average), six turnovers and an inability to hit key shots that were definite contributing factors to a listless effort by Tom Izzo's team. Had Valentine been able to help stave off that major upset in the first round, his candidacy for MVP would probably have been strengthened. Again, however, Valentine is not alone among this year's stars who had a bad experience in the Dance. And it would be hard to find a player who did more for his team than Valentine, who did a bit of everything (19.2 ppg, 7.8 apg, 7.5 rpg, 44% beyond the arc and 85% from the FT line!) while playing his usual solid defense as the Spartans won yet another Big Ten title. Like Hield and Brogdon, Valentine also stuck around into his senior season, a development we hope resonates with future classes that will finally have some examples to stay in school and further develop their games rather than rush into the NBA. Valentine was one of several senior stars who hopefully set an example for others to follow.


Ryan Arcidiacono, Villanova...The heart-and-soul (of many heart-and-soul types) of the Wildcats and their General Sherman-like march thru the first five rounds of the Big Dance, all of the way into the finale vs. North Carolina. Along the way, senior Arcidiacono was an extension of HC Jay Wright on the court, as "Archie" was a tenacious defender and consummate orchestrator for Nova's surge thru the Dance after several March flameouts in recent years. Oh yes, Arcidiacono is another of this year's "senior brigade," and it is only fitting that we make special mention of four of this year's top performers in their final years of eligibility.


COACH OF THE YEAR: Jay Wright, Villanova...Long regarded as one of the class acts in a profession that often offers too few of those, Wright has elevated himself to the elite level after steering this year's Cat edition into the national title game for the first time at Nova since Rollie Massimino's epic run in 1985. It's hard to remember that the Wildcats actually lost three starters from last year's well-regarded team that was the latest of many Main Line entries to flame out in the sub-regionals. But few would even notice the personnel turnover, as Wright's Nova simply picked up where most of his recent teams left off, then bettered their performances with the school's first run to the Final Four since Wright's 2009 team. Along the way the Wildcats won another Big East title and have now won almost 90% of their league games since the reconfiguration of the loop three years ago. This mind-numbing consistency was in danger of being taken for granted once again until the current Nova, exhibiting all of the "Philly tough" characteristics of the best teams from the Cats' hoops-mad hometown, made a run to the Final Four with a hoops version of the KO power reminiscent of Philly's Smokin' Joe Frazier when he rose to the heavyweight crown in the late '60s.


Wright also does it mostly without the super blue-chips "one and dones" that annually enlist with the Kentuckys and Dukes of the college hoops world, instead finding next-tier talent and coaching them up through their careers. Just the way hoop powerhouses used to be built and sustain themselves.


What we most appreciate about Wright, however, is the aforementioned class and decency that was once again on display in his team's lopsided victory over Oklahoma in the Final Four. That 95-51 scoreline was the biggest beatdown in Final Four history, but one could tell that Wright was almost pained to have inflicted such punishment upon a classy sort such as the respected Lon Kruger. Wright was almost apologetic after the game while effusive in praise for his defeated rival. In a moment of such triumph, to have such empathy for a victim is truly the stuff of a first-class gentleman. There are too few Jay Wrights in the college coaching world.


Runners-up: Chris Beard, Little Rock...It would appear as if Beard (who also won in brief stops at McMurry and Angelo State on recent years) knows what he is doing. In one season he took a non-descript Little Rock team that had finished 13-18 the year before and was picked only in the middle of the Sun Belt, to a staggering 30 wins, the Belt crown, and the school's first Big Dance win since upsetting Notre Dame in 1986, rallying from 13 points down with just over 3 minutes to play to force OT vs. favored Purdue before finally beating the Boilermakers in double OT. When the smoke had cleared, Little Rock had improved a nation's-best 17 wins from a season ago, using a snarling defense that would rank fourth nationally in scoring (only 60.8 ppg) to squeeze the life out of the opposition that included well-regarded non-Belt foes Tulsa and San Diego State, which both lost at home to the Trojans in late November. All of this with only two returning starters! But it's hard to keep a 30-5 record at Little Rock a secret, and Beard has since enlisted at UNLV, where he takes over a floundering Runnin' Rebels program. Beard, a longtime assistant at Texas Tech under Bob and Pat Knight, has been taking the upwardly mobile angle to the extreme, as he is now on his fifth job since 2011, but now gets a shot at a program with some real facilities and tradition at UNLV. A quick recovery by the Rebs from the disappointing Dave Rice years would not surprise.


Eric Musselman, Nevada... Even before winning five games in the CBI and claiming the title in that event, the Pack had already more than doubled its win total from last year. In his first season on the job in Reno, Musselman took much of the same team that was nowhere close for predecessor David Carter a year ago (when finishing a desultory 9-22) and made it a viable contender. Uncovering a gem like frosh beast Cam Oliver was a huge bonus for Musselman, but keep in mind that Nevada's top returnee from last year, PF A.J. West, left the team in December. Had senior G and top scorer Marqueze Coleman been healthy in early March, the Pack might have even won the MW Tournament. Along the way, Musselman developed various other scoring options and re-energized the Lawlor Center, which had been a rather quiet place in recent years. Musselman has quickly changed not only the direction of the Nevada program, but also its culture, winning a postseason tournament while quickly raising the bar and elevating expectations through the roof. If Oliver doesn't go to the NBA draft, many expect the Pack to be a top 25 team entering next season, with three big-time transfers (including ex-Mizzou State Marcus Marshall) ready to go, and a top recruiting class on the way. That is one heck of turnaround in less than a year, not just winning, but rebuilding an entire program in short order. Now they are justifiably worried in Reno that Musselman is going to get hired away. Given the situation, Musselman might have made more of a positive impact on a program than any coach this season.


King Rice, Monmouth...Putting a school like Monmouth on the college hoops map is no easy task. With little tradition and subpar facilities, Rice's Monmouth nonetheless took on all comers this season, beating several of them (including UCLA, Notre Dame, Southern Cal, and Georgetown), all away from home, and did about everything a low mid-major could do except win its conference tourney, which the Hawks lost in the final moments to a good Iona. It was one of the controversies of Selection Sunday that Monmouth and its exciting, uptempo style ended up being bypassed for an NCAA bid. In the end, a loss to GW in the NIT was nothing to be ashamed about, as the Colonials were good enough to have been in the Dance, and ended up winnign the NIT. Rice likely parlays this big year at Monmouth to a significant job, perhaps Vanderbilt, where he once assisted Kevin Stallings and would be a proper fit. Whatever, Rice is destined for bigger things in the coaching world. As a former Tar Heel player, sources on Tobacco Road also suggest that Rice could also be moving into contention as one of the possible successors in Chapel Hill whenever Roy Williams decides to hang 'em up.


John Calipari, Kentucky...Even with the bluest of blue-chip recruits, to keep reloading every season is not easy in college hoops (ask UCLA). But Calipari continued to manufacture big results in Lexington even after once again losing almost all of last year's lineup (many of those having been one-and-dones, like top 2015 NBA draft pick C Karl-Anthony Towns). It's not the first time Calipari has reloaded on the fly. And Coach Cal might have to do more of the same next season as almost his entire 2015-16 team is going to give it a go in the May NBA tryout camp. Some of those, such as star G Tyler Ulis and

TGS

Newcomer of the year Jamal Murray, are probably ready to make the jump. But we have little doubt that Calipari will reload again and perhaps have another top contender in 2016-17. Though the Cats didn't get past the NCAA's second round this season, many veteran SEC observers believe this was one of Calipari's better jobs, as he dealt with an inconsistent collection of bigs (including ballyhooed frosh C Skal Labissiere) and was forced to alter his lineup at midseason, inserting 6-9 jr. Derek Willis as a "stretch four" to better space the floor. The move would trigger an immediate ascent as soph PG Ulis suddenly had more room to operate, and frosh star Murray would hit stride at the same time. Willis would eventually miss time with injury that somewhat slowed the late-season momentum, but the Cats would win another SEC Tourney and appeared to be a threat to make yet another Final Four run before being derailed by old foe Indiana in a too-soon sub-regional matchup in the second round. No matter, 2015-16 provided another feather in Calipari's cap, even though the season didn't end up in the usual Final Four.


Lon Kruger, Oklahoma...It would be easy to dismiss Kruger after his Sooners were torn apart by Villanova in the worst-ever Final Four beatdown. But keen observers know that few coaches could have molded the talent on hand in Norman into a championship contender as did Kruger, who returned to the Final Four for the first time since 1994, when at Florida. Long regarded as one of the top rebuilders of programs in the country, this season was one of Kruger's masterpieces, as no coach would develop a style better suited to the newer defensive rules and shorter shot clock. Without any real presence in the post, Kruger built a whirlwind of a team using his perimeter weapons, led by the aforementioend Buddy Hield, one of four starters (along with Gs Isaiah Cousins and Jordan Woodard, and F Ryan Spangler) who would start together an astounding 105 consecutive games. The offense, featuring the bombs-away Hield, would score 80 ppg and lead the Sooners to the top of the polls for a short while. In the end, OU's flaws were exposed by Nova in the Final Four, but Kruger did a masterful job getting OU so deep into the tourney. Moreover, Kruger remains one of the consummate gentlemen in his profession, with never with a hint of scandal. It is no accident that a lot of college insiders were pained to see the Sooners go down so hard in the Final Four, as many were pulling for Kruger, who has zero enemies in his travels.


Andy Enfield, Southern Cal...Enfield was being lambasted as the quintessential "coach du jour" following two poor seasons at SC after capitalizing on a surprise Sweet 16 run by his Florida Gulf Coast in 2013. But this would be a redemption year for Enfield, who guided the Trojans back into the Big Dance for the first time since 2011. Moreover, SC played a highly-entertaining style and would beat (make that crush) rival UCLA three times for the first time in a single season since the Trojans' Final Four campaign way back in 1954. With most of the roster, including fireball G Jordan McLaughlin, expected to return next season, some are projecting SC as a possible top ten team at the outset of the 2016-17 campaign. Meanwhile, the "Fire Enfield" websites have been shut down, and for the moment, Enfield has the last laugh.


Mike Lonergan, George Washington...One of the better-kept secrets in the coaching ranks who won big at Catholic U and Vermont before taking the GW job, Lonergan solidified his credentials this season with an NIT crown for his Colonials. Well-prepared GW maximized its talent on hand and was good enough to dump Virginia and Seton Hall in pre-league play, which kept it in the NCAA at-large discussion into Selection Sunday. In the end, GW proved good enough to play in the Dance but was well-rewarded in the NIT, where Lonergan's airtight defense throttled dangerous San Diego State and Valparaiso at Madison Square Garden in the final two rounds to win the title. Longeran overcame a tough offseason blow when key G Kethan Savage transferred to Butler, but the team quickly fit in Wake Forest transfer F Tyler Cavanaugh and stayed in the top tier of the combative A-10 all season. Lonergan continues to be mentioned in the rumor mill for various major job openings, but sources say he is content in D.C., where he has spent much of his coaching career. Nonetheless, expect Lonergan to continue getting mention whenever a bigger job opens in the region.


Tubby Smith, Texas Tech...Not the easiest job at Texas Tech, as passion for hoops does not run as high as football around Lubbock, where the Red Raiders didn't even average half of the capacity of their 15,098-seat United Supermarkets Arena last season. Nonetheless, the well-traveled Smith built a team that this season competed evenly in the rugged Big 12, beat several of the conference heavyweights, and was a surprise qualifier for the Big Dance. We can't say it surprises us because we have been seeing Tubby do the same at various locales for the past quarter-century.


Dana Altman, Oregon...Though the Ducks were expected to contend for a Big Dance berth this season, no one was thinking that Oregon was going to roll thru the Pac-12 and earn the top seed in the West Regional. But Altman began to push all of the right buttons early in conference play, and the Webfoots continued to improve throughout the season. Well-drilled, with soph F Dillon Brooks and frosh G Tyler Dorsey maturing into star performers, the Ducks were not only good but fun to watch. About all that has avoided Altman in his decorated career is a trip to the Final Four, but he's getting closer, as Oregon now threatens to usurp Arizona's long-held spot as the pre-eminent power in Pac-12 hoops.


Honorable mention (in no particular order): Nate Oats, Buffalo; Buzz Williams, Virginia Tech; Mark Few, Gonzaga; Kevin Willard, Seton Hall; Fran McCaffery, Iowa; Linc Darner, Green Bay; Rod Barnes, Cal State Bakersfield; Rodney Terry, Fresno State; Matt McCall, Chattanooga; Shaka Smart, Texas; Wayne Tinkle, Oregon State; Phil Martelli, Saint Joseph's; Tony Shaver, William & Mary; Eran Ganot, Hawaii; Dan D'Antoni, Marshall; Mitch Henderson, Princeton; Sean Woods, Morehead State; Kermit Davis, Middle Tennessee; Tom Crean, Indiana; Jeff Jones, Old Dominion; Greg Kampe, Oakland; John Beilein, Michigan; Larry Krystowiak, Utah; Ben Jacobson, Northern Iowa; Fran Dunphy, Temple; Kevin Keatts, UNCW; Mark Schmidt, St. Bonaventure; Derrin Hansen, Omaha; Tony Bennett, Virginia; Joe Mihalich, Hofstra; Ed Cooley, Providence; Marty Simmons, Evansville; Jeff Neubauer, Fordham; Bill Self, Kansas; Nick McDevitt, UNC-Asheville; Randy Bennett, Saint Mary's; Will Wade, Virginia Commonwealth; Jim Boeheim, Syracuse; Kyle Smith, Columbia; Dana Ford, Tennessee State; Roy Williams, North Carolina; Billy Kennedy, Texas A&M; Scott Cross, UT-Arlington; Bill Herrion, New Hampshire; Bob Huggins, West Virginia; Dan Majerle, Grand Canyon; Mike Brey, Notre Dame; Steve Pikiell, Stony Brook; Frank Martin, South Carolina; Russell Turner, UC Irvine; Kelvin Sampson, Houston; Frank Haith, Tulsa; Brad Brownell, Clemson; Matthew Driscoll, North Florida; Jim Larranaga, Miami-Florida; Greg Gard, Wisconsin; Dave Loos, Austin Peay; Chris Mack, Xavier; Joe Dooley, FGCU; Brian Gregory, Georgia Tech; Mike Krzyzewski, Duke; Jon Coffman, IPFW; Scott Nagy, South Dakota State; Brad Underwood, Stephen F. Austin; Chris Holtmann, Butler; Tom Izzo, Michigan State; Bill Carmody, Holy Cross; James Jones, Yale; Bryce Drew, Valparaiso; Cuonzo Martin, Cal; Gregg Marshall, Wichita State.


An underrated category that we at TGS believe warrants extra attention. Which is why we have bloated our honor list to four full starting fives worth of top-notch defenders!


JUSTIN ROBERSON, 6-1 Sr., ULM
TRA-DEON HOLLINS, 6-2 Jr., Omaha
RETIN OBASOHAN, 6-2 Sr., Alabama
GARY PAYTON II, 6-2 Sr., Oregon State
RON BAKER, 6-4 Sr., Wichita State
KRIS DUNN, 6-4 Jr., Providence
MARVELLE HARRIS, 6-4 Sr., Fresno State
ERIC McCLELLAN, 6-4 Sr., Gonzaga
MALCOLM BROGDON, 6-5 Sr., Virginia
TERRY TARPEY, 6-5 Sr., William & Mary
RAPHEAL DAVIS, 6-6 Sr., Purdue
LUKE KORNET, 7-1 Jr., Vanderbilt
TONYE JEKIRI, 7-0 Sr., Miami-Fla.
VASHIL FERNANDEZ, 6-10 Sr., Valparaiso
PRINCE IBEH, 6-10 Sr., Texas
MOSES KINGSLEY, 6-10 Jr., Arkansas
WILLIAM LEE, 6-9 Soph, UAB
WINSTON SHEPARD, 6-8 Sr., San Diego State
GARY CLARK, 6-7 Soph, Cincinnati
MO ALIE-COX, 6-7 Jr., VCU DEFENSIVE PLAYER OF THE YEAR: Malcolm Brogdon, Virginia...Here is the category that would push Brogdon to the top of our overall MVP list. Conscientious, hard-worker for what has been one of the nation's best defenses over the past few years. Understood every nuance of HC Tony Bennett's notorious "pack-line" defense, as Brogdon would be adept at pushing his man into traps or forcing poor judgements while setting the tone for the Cavs on the stop end. Brogdon has been a center-piece of this well-oiled defense for the past few years, and his attention to detail on the stop end is rare for a player also handling the bulk of the scoring burden on the other end.


RUNNER-UP: Vashil Fernandez, Valparaiso...We can always tell someone who never played competitive basketball by their lack of understanding how disruptive a top-flight shot blocker can be on the floor. Basketball players hate having their shots blocked, and will always be conscious of any fly-swatters on the floor. And nobody blocked shots any better this season than Valpo's Fernandez (almost four blocks pg!), who also altered countless more attempts and distorted the mechanics of many opposing offenses that simply had to be aware at all times of where Fernandez was patrolling.


TGS MID-MAJOR ALL-AMERICAN TEAM
Another overlooked collection that we at TGS also believe warrants some extra attention, hence another expanded grouping... a full 21 honorees!


KAY FELDER, 5-9 Jr., Oakland
AUSTIN McBROOM, 5-9 Sr., Eastern Washington
FRED VANVLEET, 5-11 Sr., Wichita State
JACK GIBBS, 6-0 Jr., Davidson
CARRINGTON LOVE, 6-1 Sr., Green Bay
MARCUS POSLEY, 6-1 Sr., St. Bonaventure
WES WASHPUN, 6-1 Sr., Northern Iowa
JOSH ADAMS, 6-2 Sr., Wyoming
D.J. BALENTINE, 6-2 Sr., Evansville
TREY FREEMAN, 6-2 Sr., Old Dominion
CHASE FISCHER, 6-3 Sr., BYU
RON BAKER, 6-4 Sr., Wichita State
MARVELLE HARRIS, 6-4 Sr., Fresno State
THOMAS WALKUP, 6-4 Sr., Stephen F. Austin
STEFAN JANKOVIC, 6-11 Jr., Hawaii
DOMANTAS SABONIS, 6-11 Soph, Gonzaga
JOEL BOLOMBOY, 6-9 Sr., Weber State
ALEC PETERS, 6-9 Jr., Valparaiso
KYLE WILTJER, 6-9 Sr., Gonzaga
JOHN BROWN, 6-8 Sr., High Point
JAMEEL WARNEY, 6-8 Sr., Stony Brook
DEANDRE BEMBRY, 6-6 Jr., Saint Joseph's
MID-MAJOR PLAYER OF THE YEAR: Domantas Sabonis, Gonzaga...Tough category, but, as always, we are compelled to honor any mid-major player who makes our overall A-A team. This season, that would be Sabonis, son of the great Arvydas and one of the key cogs of a Gonzaga machine that was unlucky not to advance to the Elite Eight. While teammate Kyle Wiltjer was also a featured performer for the Zags, it was Sabonis who would do not only most of the dirty work on the blocks but also demonstrate quickness and moves not usually associated with a 6-11 post threat. Which is why NBA scouts reportedly consider Sabonis a likely lottery pick should he choose to enter the draft this June.


RUNNER-UP: Trey Freeman, Old Dominion...For those of you who don't consider Gonzaga a mid-major, and thus believe we have bent the rules by awarding the honor to Sabonis, we give you Freeman, who almost single-handedly willed ODU into the Big Dance, falling just 2 points short of Middle Tennessee in the Conference USA finale. Trey scored nearly 27 ppg over a breathless 18-game stretch after New Year's, and in the end would lead the Monarchs to the first-ever title of the better-than-expected Vegas 16 Tourney, outdueling fellow mid-major MVP contender Kay Felder from Oakland for tourney MVP honors.


SPECIALIST OF THE YEAR: Max Hooper, Sr., Oakland...The energizer bunny Felder was not the only attraction for this year's highly-entertaining Golden Grizzlies. Designated dagger-thrower Hooper took three-point specialization to the extreme, as all 257 of his shot attempts this season would be triples, converting 117 of those for an impressive 45.5% success rate! The 117 three-balls would rank fifth nationally, quite an achievement for a guy who played barely half of each game for Oakland. The 6-6 Hooper, who transferred from St. John's earlier in his career, has been up to similar tricks the last few seasons; in 2014-15, 159 of his 167 shot attempts were triples, while at St. John's the previous year, 62 of 65 shots were three-balls. In his college career, of Hooper's 489 shot attempts, 478 have been triples!


DISAPPOINTING TEAMS OF THE SEASON: UCLA and Georgetown...It's one thing to be not as good as expected. It's quite another matter to be not good at all, which separated the Bruins and Hoyas from other notorious underachievers this season. UCLA and HC Steve Alford had lost quite a bit of firepower to the NBA Draft in recent seasons, and had to replace the athleticism of departed 6-4 G Norman Powell and 6-9 Kevon Looney from last year's Sweet 16 team. Most, however, still figured the Bruins as a likely Big Dance entrant, and there was quite a buzz in the Pac-12 after Alford's team whipped San Diego State in a preseason scrimmage. UCLA was still ranked in the AP Top 25 as of New Year's after beating Kentucky and Gonzaga (the latter on the road) in December and was in most Big Dance projections into February. But a lack of quicks and athleticism both on the blocks and on the perimeter would prove too much to overcome, while touted frosh Aaron Holiday and Prince Ali failed to make much of an impact. The Bruins would close their season losing five straight and 10 of 13, while Alford would admit the team did not improve after January, as it would suffer three humiliating defeats vs. crosstown USC for the first time since 1954. Alford felt disturbed enough by the developments and the sub-.500 record of 15-17 that he would rescind his latest contract extension, but he still enters next season feeling considerable heat, and hoping that a new, touted frosh class can lead a revival. The Bruins would also record an 11-21 mark vs. the number, one of the worst spread performances in the country.


As for the Hoyas, they also figured as a Dance qualifier by most at the start of the season. But things got off on the wrong foot for JT III's team with an upset loss at home vs. unheralded Big South entry Radford in the opener. By mid-December, Georgetown would also have losses at the Verizon Center against Monmouth and UNC-Asheville, and things would eventually collapse at the end of the season when the Hoyas would lose seven of their last eight to sag to an unsightly 15-18, JT III's first-ever sub-.500 season in 16 combined years at Princeton and Georgetown. Without a usual menacing presence on the blocks and with no consistent second scoring option emerging to complement G D'Vauntes Smith-Rivera, Georgetown sagged to near the foot of the Big East table, propped up only by lowly DePaul and St. John's. While Thompson is still considered as hoops royalty in D.C., and papa "Big Jawn" still has a presence in town, it's unclear how much heat JT III might be feeling. But another losing season in 2016-17 likely gets the war drums beating.


OTHER DISAPPOINTMENTS... Arizona, perhaps due to its extended run of success that has continued under HC Sean Miller, was regarded highly entering the season despite heavy graduation losses that included four starters, two of them (Stanley Johnson and Rondae Hollis-Jefferson) being first-round NBA draftees. Given those parameters, perhaps the eventual 25-9 mark wasn't so bad. But the Cats fell short of projections and never seemed to hit on all cylinders, with sr. C Kaleb Tarczewski missing eight games due to injury between Thanksgiving and Christmas and never quite regaining his top form, and promising frosh G Allonzo Trier missing seven games in January due to injury. Miller thus rarely had all hands on deck until later in the season, while 6-9 San Francisco transfer Mark Tollefson was not as effective as the other high-profile transfer, ex-Boston College 6-9 F Ryan Anderson, and juco G Kadeem Allen did not live up to his hype. In the end the Cats would go out meekly in the first round of the Dance vs. Wichita State, a far cry from the Elite Eight runs of the past two years. Miller will need a new crop of frosh to hit the ground running next season after heavy graduation losses rip away much of the roster.


Coach Kevin Stallings would get Vanderbilt back to the Dance, but barely so in the play-in game that would turn into a lopsided loss to Wichita State. Expected to contend in the SEC and ranked in the preseason Top 25 by many publications, the Dores were bothered by inconsistency and would miss the key presence of 7-1 Luke Kornet for a crucial five-game stretch around New Year's, part of a 2-6 slump in an 8-game span that had the Dores scrambling to get back on the safe side of the Big Dance cut line. Along the way Stallings would become increasingly annoyed at his erratic guard play as well as the up-and-down performances of his other 7-footer, Damian Jones. When the smoke cleared, Stallings, after working a weekend in studio for TNT as an analyst for the Dance, would bolt (not unexpectedly) for Pitt after being rumored to be bound for the job in Saint Louis, Stallings'old stomping grounds and home to his beloved baseball Cardinals. Instead of the Redbirds, it's now the Pirates for Stallings, while Vandy conducts a search for a new coach.


BE CAREFUL WHAT YOU READ: High School recruit top 100 ratings...The faulty projections of high school stars has become commonplace, but never more so in recent memory than this season. Three bigs who were considered the bluest of the blue chips--Kentucky's Skal Labissiere, Kansas' Cheick Diallo, and UNLV's Stephen Zimmerman--did not come close to living up to their hype (though Diallo had eligibility issues in November and Zimmerman would suffer a knee injury in late January and miss the remainder of the season). With Diallo rarely seeing the court as the season progressed, and Labissiere and Zimmerman declaring for the draft (with Zimmerman already hiring an agent, disqualifying him from a return to college), it reminds that recruiting is not an exact science, and that landing these blue chips with overinflated expectations often does the schools little or no good.


THEY MIGHT REGRET IT: Schools mistakenly hitting the eject buttons on their coaches...We see it every year, with coaches walking the plank for various dubious reasons, often accompanied by a change in administration. Several coaches were somewhat surprisingly given their walking papers at the end of the just-completed season...and we have to wonder if the schools are making mistakes. Good luck finding replacements as good as the coaches you've just discarded. Denver--Joe Scott; Georgia Tech--Brian Gregory; James Madison--Matt Brady; Milwaukee--Rob Jeter; Portland--Eric Reveno; Wright State--Billy Donlon.


BEST MINOR TOURNAMENT: Vegas 16...Though the crowd counts were subterranean for the inaugural Vegas 16 (which became effectively the Vegas 8) at the Mandalay Bay Event Center in Las Vegas, the action was good on the court, with Old Dominion nipping Oakland in an exciting finale. The players and teams all seemed to enjoy the one-venue setting, too (as was the old NIT when all games were played at Madison Square Garden thru 1976), more so than other similar tourneys. Such as the CIT, which sent poor UC Irvine on a road trip that not even an NBA team would endure...to North Dakota, to Cajun country at UL-Lafayette, to the Myrtle Beach area and Coastal Carolina, then to New York City to face Columbia! The Anteaters did return home after that trip to forlorn North Dakota and did make it all of the way to the title game (losing to Columbia 63-57), but the final three legs of the trip came in rapid succession. We would assume if the Anteaters had to do it again, they would opt for the Vegas 16.


POINTSPREAD CHAMP: VCU (22-9). Other spread champs...Oakland 21-9, Seton Hall 23-10, Virginia Tech 20-9, Saint Joseph's 24-11, Kansas 24-12, Little Rock 20-11.


POINTSPREAD CHUMP: Rice and Cal Poly SLO (both 8-19). Other spread chumps... Georgia State 9-19, UCLA 11-21, Boston College 9-17, North Texas 9-17, DePaul 10-19, Troy 10-19.
NEXT ISSUE: NFL DRAFT PREVIEW--PART I
Return To Home Page