6878...
TGS MLB PREVIEW
...PLAY BALL! 2016 NL "FUTURES" TO WATCH!

by Bruce Marshall, Goldsheet.com Editor and Daniel M. Gray,

TGS

Baseball Consultant



Believe

it or not, baseball season is just around the corner!
As we like to do at this time each spring, we're offering our 2016 previews of both the American and National Leagues, focusing upon the "futures" (over/under wins) recommendations. And remember that beginning April 4, TGS will provide featured MLB releases (Monday thru Saturday at 10:15 AM PDT) on Top Choice and Top Choice Plus (+), the latter featuring the daily TC, plus two other featured releases, available online at www.goldsheet.com.


First up is our look at the NL; our next issue (

TGS

Hoops 36) on Monday will preview the AL. As always, thanks to TGS Baseball Consultants Daniel M. Gray and Dr. Paul DiGiovanni for their contributions. Play ball!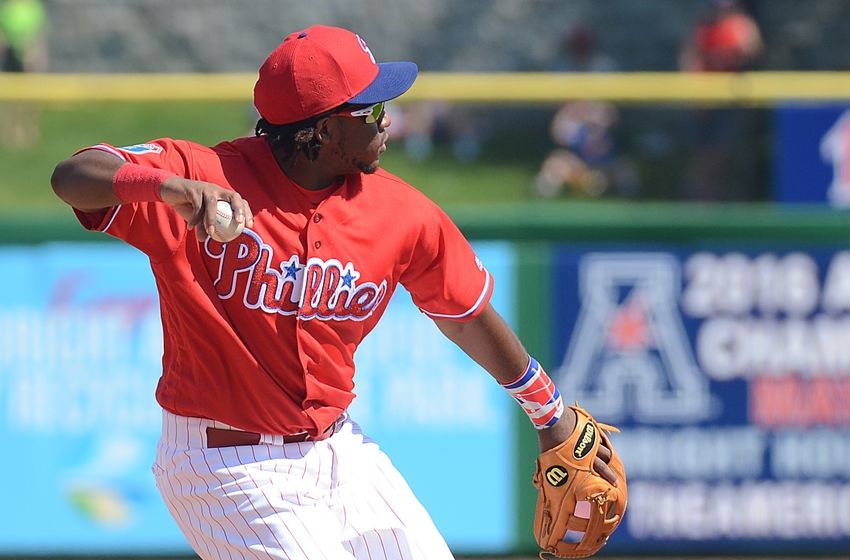 NL EAST:

BEST BET...It has been a few years since we mentioned "over" and the Philadelphia Phillies (65 1/2) in the same sentence inside one of our NL season previews. Assuming, however, the Phils bottomed out during last year's difficult 63-99 slog, there could be a bit of value on the upside in Philly. The organization has finally culled almost all of the dead weight (including slow-to-react GM Ruben Amaro) it was carrying from the recent glory years; of the players who stayed far beyond their sell-by date, only 1B Ryan Howard remains, and even he figures as no more than a platoon option going forward, with Darin Ruf likely getting at-bats against the lefties. New blood began to flow throughout the lineup last season, with 3B Maikel Franco flashing big potential after racking up 14 homers and 50 RBIs in less than a half-season (80 games) of work, and is swinging a big bat this spring in Clearwater, leading the Grapefruit League in homers as he is apparently well beyond the broken wrist that ended his 2015 season. Given the shorter dimensions at CBP, Franco could do significant damage, though his contact rate must improve.

Though still a long way from the heydays of Jimmy Rollins and Chase Utley, the new DP combo of SS Freddy Galvis and 2B Cesar Hernandez has potential, and FA Peter Bourjos should provide a defensive upgrade wherever manager Pete Mackanin sticks him in the outfield. The staff? Well, there is nothing close to an ace in the rotation, at least not yet, though Aaron Nola hinted at plenty of upside as a rookie last season. Journeymen offseason additions Jeremy Hellickson and Charlie Morton are going to have to eat up plenty of innings, but these questions with the staff are why the win total is in the mid 60s, not the mid 80s. And then there's the non-descript bullpen, which might turn to Andrew Bailey, who once upon a time came out of nowhere to win a spot on the All-Star team in 2009, but has since bounced from the A's to the Red Sox and Yankees, and now the Phils, after a succession of elbow and shoulder problems, as the closer after encouraging March work in Clearwater. If they played in the NL Central, we probably don't give the Phils a look, but in the East, climbing above this modest win total is not asking a lot. We look "over" in Philly while planning our next visit to CBP and a chance to devour a "Schmitter" (check it out online) down the left field line.
OTHERS: Things went unexpectedly pear-shaped last season for the Washington

Nationals

(89), who not surprisingly made erratic manager Matt Williams walk the plank in the aftermath of a 13-win decline (96 to 83) from the 2014 playoff campaign. If only the Nats' problems ended with Williams' dismissal. Instead, the Lerners botched the hiring of a new manager, first appearing to give the job to ex-Padres skipper Bud Black before doing an about-face and bringing Dusty Baker on board instead. Unwittingly, Washington might have stumbled into a better option, as Baker has often provided a quick spark in past managerial assignments. Let's see how he deals with a team that was guilty of so many mental errors last season, while also having to juggle some difficult personalities (Bryce Harper and Jonathan Papelbon atop the list) in a clubhouse that might make Baker wish for the days he was dealing with Barry Bonds in San Francisco.

Still, expect sorts such as 1B Ryan Zimmerman and 3B Anthony Rendon to respond positively to the upbeat Baker, as OF Michael Taylor has already done this March in Viera, while key FA signee Daniel Murphy provides another much-needed left-handed bat in the lineup while adding more flexibility to Dusty's lineup card. Baker also has a staff much deeper than his last job in Cincinnati, with Max Scherzer (two no-hitters last season) and Stephen Strasburg (now in a contract year) among three starters with at least 11 wins a year ago. Prickly closer Papelbon, however, proved a needless deadline acquisition last summer while becoming an unwanted distraction before the season concluded. Dusty might prove a dugout upgrade, but there remain too many internal issues to go overboard with the Nats, whose ceiling seems around 90 wins, with more downside to worry about. It's an "under" 89 wins for us in D.C., but an "over" for chili half-smokes from one of the many Ben's Chili Bowl stands throughout Nats Park.


Though we were among the few on the early bandwagon for the New

York

Mets (89 1/2) last season, and started to believe in late spring, we also didn't expect a run to the World Series that sneaked up on the Big Apple, which didn't seem to catch "Mets fever" until deep into the summer. But New York might have some staying power, and there should be electricity once again in Citi Field after wisely re-signing exciting OF Yoenis Cespedes, who (after his trade deadline acquisition from Detroit) was the catalyst of the post-All-Star Game surge that put the Nationals in the dust. But it's a young, affordable, hard-throwing rotation that makes the Mets a threat to get back to the postseason. Best of all, none from among starters Jacob deGrom, Matt Harvey, Noah Syndergaard, Steven Matz, or Zack Wheeler will be eligible for free agency until after the 2018 season. Provided that sore arms don't become an issue, the rotation once again appears a strength, as should be the bullpen after Jeurys Familia emerged as one of the NL's top closers with his 43 saves and 1.85 ERA in 76 games last season.

Thanks partly to Cespedes' late-summer heroics, the Mets would rank 7th in NL runs scored despite a measly .244 BA, but with ex-Pirates 2B Neil Walker now joining Cespedes, RF Curtis Granderson, 1B Lucas Duda, and a hopefully-healthy 3B David Wright in the batting order, there is plenty of pop in skipper Terry Collins' lineup. It should be another exciting "over" season at Citi Field, where a detour to the Shake Shack (before the game and the long lines) in the outfield concourse is still worthwhile.


The glory days are way back in the rear-view mirror for the Atlanta

Braves

(66 1/2), who have gone into semi-2011-13 Houston Astros mode and completely revamped a roster with designs on hitting the ground running in 2017 when the new SunTrust Park opens north of downtown by the I-285 perimeter in Cobb County. (The current Turner Field is being sold to Georgia State University, which plans to turn it into a football venue for its Panthers.) Team president John Hart, architect of the Cleveland Indians revival in the '90s, hopes he is in the early stages of doing the same in Atlanta, though the decline of the Braves has been steep since their last playoff season in 2013, dropping from 96 wins to just 67 wins a year ago, when the offense finished last in the bigs in runs, homers, slugging and OPS...quite an indictment of a team that played half of its games in a hitter-friendly park.

Many observers also feel that Hart is going to sacrifice overmatched manager Fredi Gonzalez this season and jettison him at the end of the campaign (if not before) to spare any new skipper the likely long and difficult slog that will undoubtedly be 2016. Hart did bolster the long-term look of the roster by adding promising SS Dansby Swanson (the Vanderbilt product who was the top draft pick last summer), RHP Aaron Blair, and OF Ender Inciarte from the D-backs in a deal that only cost SP Shelby Miller, who didn't notch a win last season from May 17 until closing day, October 4. The aforementioned offensive struggles might be relieved a bit if RF Nick Markakis and 1B Freddie Freeman are beyond the nagging injuries that reduced their stats last season. But the staff, beyond innings-eater Julio Teheran and perhaps promising Matt Wisler at the top of the rotation, is full of question marks. Since the Braves aren't serious about winning this season, any "over" forecast has to wait for the new ballpark; in 2016, it's an "under" for us in the Showcase City of the South.


We seem to forecast a breakthrough for the Miami

Marlins

(80 1/2) every year, only to end up disappointed. Well, we'll only go half-way this season. Most sources believe that new manager Don Mattingly, out of the L.A .pressure cooker and having to deal with fewer head cases than he had to suffer through at Chavez Ravine, will prove an upgrade in the dugout. But what will help the Marlins more than anything is getting a full season out of rotation ace Jose Fernandez, who has made only 19 starts over the past two seasons due to Tommy John surgery. Adding ex-Orioles lefty Wei-Yin Chen and the well-traveled Edwin Jackson provides more depth for a staff that also is hoping live-armed ex-Astro Jarrod Cosart is beyond the vertigo that stalled his progress last season, and that some of the electric stuff displayed by young lefty Adam Conley this March in Jupiter is not a mirage.

Injuries have also slowed OF Giancarlo Stanton from an expected MVP run the past two seasons, but if healthy, Miami's lineup has plenty of potential pizzazz, especially with 2B Dee Gordon and LF Christian Yelich providing excitement on the base paths. Still, an "over" projection for the Marlins has to assume close to full seasons out of both Fernandez and Stanton, and recent history suggests that might be a bit much to ask. We'd rather not risk a recommendation, so will instead take a pass in Miami.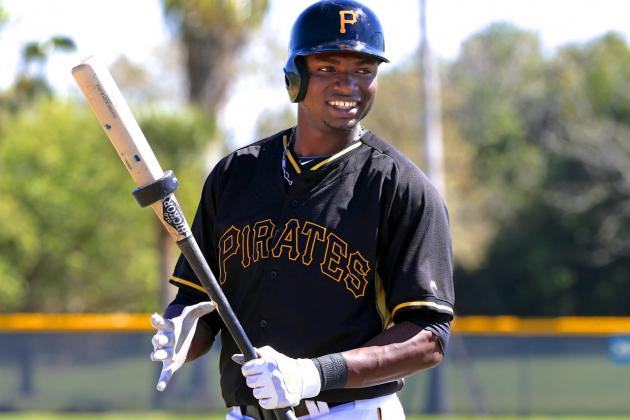 NL CENTRAL:

BEST BET...When Bud Selig announced a new, one-game wild card setup in one of his last meaningful acts as commissioner before the 2013 season, few realized that one team would become a fixture in that mini-playoff. Especially since, at that time, at least, the Pittsburgh

Pirates

(85 1/2) had not qualified for the postseason, or even finished above .500, since 1992. Now, though, the Bucs are at the forefront of discussions to alter the one-game scenario after hosting each NL elimination game since its inception (why not just make the wild card game part of the season ticket package?), losing to hot pitchers Madison Bumgarner and Jake Arrieta each of the last two seasons in the mini-playoff. Whatever. We still can't quite comprehend why Pittsburgh is being projected to drop so far from last year's 98-64 masterpiece, more wins than the franchise's 1971 World Series kings (who won 97) and equaling the 1979 "We Are Family" Bucs champions.

Yes, three starting pitchers have departed since last season, but J.A. Happ and Charlie Morton were replaceable, and former Met Jon Niese should fill one of the rotation spots behind returning co-aces Gerrit Cole and Francisco Liriano. Watch 6-8 flamethrower Tyler Glasnow, who averaged 11.2 Ks per 9 innings in the minors, and ex-Rockie and Dodger Juan Nicasio, who has created a lot of buzz this March in Bradenton, with both likely to benefit from the sage tutelage of pitching coach Ray Searage. With RF Gregory Polanco poised for a breakthrough year, the Pirates could have the NL's best outfield, alongside former MVP CF Andrew McCutchen and dynamic LF Starling Marte. Moreover, the Pittsburgh defense and baserunning should again be among the NL's best.They're used to winning again these days in Pittsburgh, so we're looking forward to the Perogis, a Primanti Brothers double egg and pastrami, and another "over" at PNC Park.


OTHERS: Every year it seems as if there is one inefficiency in the season-wins market that is driven by unrealistic expectations. For years, the Yankees and Dodgers had their win totals inflated because of market demands. This year, that appears to have afflicted the Chicago Cubs (94 1/2). We admitted early last season to a mistake on underestimating the Cubs, as it soon became evident that GM Theo Epstein had dramatically upgraded the roster, manager Joe Maddon was providing a huge difference in the dugout, and several newcomers (such as 3B phenom and eventual NL Rookie of the Year Kris Bryant) were producing at a higher level than projected. But Chicago is also currently posted 12 wins higher than it was at this stage a year ago (when it went on to record a 97-65 mark). And we've seen surprise teams emerge only to regress the next season (Maddon's Tampa Bay in 2008 & '09 comes to mind).

Getting another Cy Young season out of starter Jake Arrieta might be asking a bit much, and at age 37, not sure the well-traveled John Lackey is going make much of an impact as the newcomer in the rotation. True, the versatile Ben Zobrist and CF Jason Heyward should be worthwhile everyday additions, but we wonder how much defense Maddon is sacrificing by putting all-hit, no-field Kyle Schwarber (a prototype DH...if only he played for an AL team) in left field. (Schwarber is also scheduled to catch on days Jason Hammel is on the mound). Perhaps we are nitpicking, as we still believe the Cubs can make it back to the playoffs, and, who knows, maybe to the World Series for the first time since 1945, and maybe even win it for the first time since 1908, though owner Tom Ricketts seems more concerned at the moment with derailing Donald Trump's presidential bid. A 93-69 or 94-68 mark can get the Cubs on their way to the postseason...and still stay "under" that 94 1/2.


Reasons to spend an afternoon or early evening in the upper deck at Great American Ballpark are less now about watching the

Cincinnati Reds (70 1/2)

than enjoying the sight of the barges floating by on the adjacent Ohio River, or perhaps munching on some cheese coneys from a Skyline Chili stand. It's possible that the Reds bottomed out during last year's 64-98 mess. But a turnaround is not necessarily imminent under skipper Bryan Price, whose teams have played to a combined 44 games under .500 and 50 games out of first place in the Central the past two seasons. Even given the roster downgrades with the Reds, many (including us) were surprised at the return of Price, who has certainly not gotten the team to punch above its weight, not to mention his profanity-laced tirade at a beat reporter and ejection before a game against the Indians last season, the sorts of acts on top of the losses that have gotten other skippers fired in the past.

In Price's defense, he hasn't been given much to work with, and the roster was hardly upgraded in the offseason, dealing one of its few established offensive threats, 3B Todd Frazier, to the White Sox in a three-team deal and receiving only some prospects from the Yankees for fireballing closer Aroldis Chapman. Cincy's plight is perhaps summed best by CF Billy Hamilton, who is one of the NL's premier base-stealers (113 the past two seasons) but can't get on base, as his .274 OBP in 2015 suggests. With depth concerns as well, any extended injury absences of 1B Joey Votto or RF Jay Bruce could send the Reds to 100 losses. We're not even sure Cincy is into a rebuilding phase, which might at least explain the recent fade. Maybe they're just plain old bad. Listening to vet Reds play-by-play man Marty Brennaman complain on the radio, enjoying a cheese coney, taking in the very worthwhile Reds Hall of Fame at Great American Ballpark, and the view of the barges floating by are probably the only worthwhile things that should be happening the next few months in Cincy, where we look "under" once again, with wins hard to come by in the tough Central.


After winning 100 games a year ago, and averaging 91 wins the past eight seasons, posting the St. Louis Cardinals (86 1/2) in the mid 80s might be another chain reaction to the enormous, and perhaps misplaced, love given to the Cubs. As stated, we're not inclined to buy Chicago at its current win prices, but we are intrigued by potential undervaluing with the Redbirds. After all, can losing Jason Heyward in free agency really downgrade St. Louis by 14 wins? We don't think so. Especially since the other key departure, SP John Lackey (also now with Heyward in Chicago), has been effectively replaced in the rotation by a now-healthy Adam Wainwright, who missed last season with an Achilles tendon injury but is now good to go. If you ask us, that's a net plus for the Cards, whose rotation also added ex-Red Mike Leake to hold down a No. 4 or 5 starter's role.

The only other significant roster concern is C Yadier Molina, being brought along slowly during March in Jupiter after two thumb surgeries, but expected to be ready for opening day, and defense in the outfield sans Heyward. But Heyward's power numbers (only 13 HR and 60 RBI last season) can be absorbed, perhaps by Brandon Moss, who came over from Cleveland at the deadline last July and whose bat is likely in the lineup either at 1B (where he likely platoons with Matt Adams) or in LF. While we expect the Cards to drop off somewhat from last year's 100-62, the descent might not be too steep, and the Central title still goes thru St. Louis. Out of habit, we'll do another "over" at Busch Stadium.


While Miller Park remains one of the most festive venues in the bigs, the atmosphere became a bit more subdued last season when the Milwaukee

Brewers

(70 1/2) dropped 14 wins to 68-94 after making an unlikely playoff push into Labor Day the previous year. Not wholly unexpected, as the organization has spent the last year shedding veteran players and salary, gearing for what appears to be a rebuild under 30-year-old GM David Stearns, an Ivy Leaguer who wasn't even born when the Brew Crew made its only World Series appearance in 1982. Stearns, however, was in Houston during the Astros' recent reformatting, and is hoping to do the same in Milwaukee, where a stacked farm system could be ready to deliver MLB-ready pieces...but not until 2017 or 2018 at the earliest.

Things have also gone a bit bumpy this March in Maryvale, with projected LF Rymer Liriano suffering serious facial injuries after a beaning incident vs. the Dodgers, and skipper Craig Counsell leaning toward a closer-by-committee arrangement, as the bullpen has yet to find a viable successor to closer Francisco Rodriguez, one of the players let go by Stearns. We're also not sure how much help is forthcoming from main offensive offseason addition 1B Cris Carter, the quintessential boom-or-bust element, a potential 30-homer bat but also a wind machine due to strikeouts, a category in which he led the AL as recently as 2013. Meanwhile, former MVP RF Ryan Braun has been brought along slowly in March as he recovers from back surgery, while longtime C Jonathan Lucroy might be the next on Stearns' trade list. And since Milwaukee starting pitchers were 45-79 with a 4.79 ERA last season, and there's not much behind Jimmy Nelson and Wily Peralta at the top of the rotation, don't expect the arms to prove a salvation. While we suggest tuning into Brewers radio while we still have a chance to hear 82-year-old Bob Uecker at the play-by-play microphone, the rugged Central and the rebuild in Milwaukee have us recommending little else besides the polish sausage, bratwurst, sausage races, and another "under" at Miller Park.


NL WEST:

It's an even-numbered year, which means that it's time to keep an eye on the San

Francisco

Giants (88 1/2), World Series winners in 2010, 2012, and 2014. We still suspect that GM Brian Sabean might have overpaid FA starting pitchers Johnny Cueto and Jeff Samardzija after both struggled noticeably the second half of last season. But if vet pitching coach Dave Righetti can't straighten them out, no one can, and staff ace Madison Bumgarner is still around and as dominant as ever. A more useful FA signing might have been ex-Nats CF Denard Span, the best leadoff hitter the Giants have had in a while, creating a potential dynamic presence at the top of batting order with 2B Joe Panik, who had a breakout 2015, and C Buster Posey, still capable of an MVP-caliber performance. And then there is manager Bruce Bochy, who is renowned for pushing the right buttons with this roster if it can make it into October, as well as GM Sabean, who has shown a knack for adding the right pieces at the trade deadline if needed.

We should point out the Giants haven't exceeded 88 wins since their 2012 World Series year, but with so many potential victories in the lowly non-Dodgers portion of the West, it is not much of a stretch to see San Francisco handily clearing 90 wins and heading back into the postseason. Remember, it's an even-numbered year. We're looking forward to an "over" at AT&T Park as well as to another season of enjoying the post-game "Giants Roundtable" featuring non-pareil play-by-play man Jon Miller, plus sidekick Dave Flemming and TV cohorts Duane Kuiper and Mike Krukow, gathering for an always-entertaining review of the day's activities on the blowtorch signal of flagship 680 KNBR, and the rest of the Giants radio network, throughout the summer.

OTHERS: It's a good thing that fans in Denver have the Broncos to cheer. There certainly hasn't been much to get excited about lately with the hometown Colorado

Rockies

(71), who have failed to reach 70 wins three times in the past four years, topping out at a measly 74-88 the past five seasons. If there are some green shoots appearing on the barren landscape, perhaps it's because the organization is finally emerging from a dark period in which grating front office exec Bill Geivett commandeered many of the GM duties from Dan O'Dowd, then would resign after the 2014 season when not given the official GM title after O'Dowd turned down a contract extension...reportedly because he no longer wanted to work with Geivett. Go figure. In the wake of that recent mess, the Rocks began yet another rebuild last year under GM Jeff Bridich, the latest new-wave exec to be immersed in analytics and embracing an emphasis on youth. The payoff could come in a few years, but not 2016, as offseason additions were no more than short-term patches (relievers Jason Motte and Chad Qualls, 1B Mark Reynolds, OF Gerardo Parra), and Bridich might be inclined to deal away any other vets at the deadline in order to speed up the rebuild.

True, there are some nice building blocks in 3B Nolan Arenado and RF Carlos Gonzalez (who quietly posted some monster numbers after the All-Star break) already on the roster, but there are depth concerns, and there is the always-shaky pitching, which does not have the altitude to blame for the NL's worst road ERA (4.41) since late in the 2010 season. Just in case, keep an eye on Chad Bettis, a potential staff-ace-in-waiting who rather impressively allowed just three runs or fewer in nine of his eleven home starts. Good for the Rocks that they're still training in Arizona while Denver gets pelted with another blizzard. But after the snow clears, Colorado will still be no closer to contending. Until further notice, we're looking "under" at Coors Field.


Frankly, we have been very turned off by a lot of the things done lately by the front office of the Arizona

Diamondbacks

(82), from the ownership group trying to immerse itself in national politics, to CEO Derrick Hall, who reminds of a quintessential government bureaucrat, to the franchise's heavy-handed tactics as it threatens to sue Maricopa County to force upgrades and renovations at Chase Field, which looks pretty darned nice to us whenever we visit Phoenix for a game. But unlike a lot of other teams immersed in youth movements and building for the future (in many cases so they don't have to spend much money now), at least the D-backs seem like they want to win immediately, throwing out huge bucks to pry ace Zack Greinke away from the NL West rival Dodgers, while liberating Shelby Miller from Atlanta (where he lost 17 games last season despite a 3.02 ERA) to give skipper Chip Hale a big upgrade at the front of the rotation. Chief Baseball Officer Tony LaRussa and GM Dave Stewart moved several good-looking prospects (who weren't likely to help in 2016) for Miller, suggesting the win-now mantra in the desert.

There appears to be enough offense, especially if Cuban import Yasmany Tomas settles in RF after being quite uncomfy in his audition at 3B last season. The top of the batting order, which features MVP-caliber 1B Paul Goldschmidt, do-everything CF A.J. Pollock, and power-hitting LF David Peralta, is already capable, and adding ex-Brewers SS Jean Segura was another nice bit of maneuvering by LaRussa and Stewart. After 79 wins a year ago, adding Greinke and Miller to solidify the rotation should be enough to get the D-backs over .500. It's a measured vote for an "over" for us in Phoenix, which we also note is the farthest west one can find our favorite breakfast chain, the Waffle House.

Maybe the San

Diego

Padres (74) and GM A.J. Preller knew what they were doing last season when gambling on several high-priced veteran additions to spark a quick turnaround. Preller says it was worth the risk, though contention didn't happen, as the Pads stayed stuck in the muck in the lower half of the NL West while cutting ties with manager Bud Black before midseason. Preller, however, insists that his rebuild is still on course, and the short-term spending spree last year resulted in several of those vets moving elsewhere in the offseason and opening up more payroll for Preller to use as he re-stocks the farm system (helped by extra compensatory draft picks) and adds prospects from elsewhere.

Unfortunately, the offense, which has been AWOL for most of March in Peoria, appears to remain very sluggish as it risks the declining Matt Kemp as its run-generating source, while there could be problems in the rotation beyond Tyson Ross, James Shields, and Andrew Cashner, who should capably fill the 1-2-3 roles. Meanwhile, Fernando Rodney's high-wire act now anchors the bullpen after Preller shipped closer Craig Kimbrel to the Red Sox for more prospects. Trying to fit the pieces together will be a new skipper, Andy Green, who has experience as a manager at the minor league level, but will be trying to make sense of what will likely be a fluid personnel situation in San Diego, where the fans will also have only one more summer to enjoy HOF announcer Dick Enberg, who will cut back his workload considerably in his final year before retiring as the Pads transition to ex-Red Sox voice Don Orsillo as their main play-by-play voice. We're not risking an "over" pick at Petco Park, where we look "under" instead in yet another transition year in San Diego.
With nothing but exasperating Division Series playoff exits the past two years and no pennant after three straight NL West titles (and a World Series drought now at 28 years), the

Los Angeles Dodgers (89 1/2)

scaled back some of their recent wild spending and lost staff co-ace Zack Greinke to NL West rival Arizona as a result, while playing it a bit low-key in free agency. Enough remains to stay in contention, but the Dodgers also spent part of their offseason hoping to get the clubhouse chemistry right when hiring good guy Dave Roberts to succeed Don Mattingly in the dugout. Unfortunately, Roberts has no managerial experience, which he might need to better deal with a few of the head cases left on the roster, in particular RF Yasiel Puig, whose antics inside and outside of the clubhouse have become such a distraction that many observers believe the Blue will ship him out by the trade deadline unless the Cuban defector begins to mature, and in a hurry.

Meanwhile, GM Andrew Friedman did not completely sit on his hands in the offseason, adding lefty Scott Kazmir and Japanese import Kenta Maeda in free agency to help solidify the rotation behind Clayton Kershaw, whose string of Cy Young wins was broken by the Cubs' Jake Arrieta last year. Though attempts to land Reds closer Aroldis Chapman (off-field issues) and ex-Mariners starter Hisashi Iwakuma (failed physical) were eventually scuttled. There's still too much top-line talent to dismiss the Blue, but the many disconnected pieces mean this also might be a tall order for a rookie manager such as Roberts, though many locals will continue to remain in the dark as the Dodgers' TV deal with Time-Warner continues to implode, and most non-TW subscribers in the L.A. basin cope with a possible third straight year of no Dodgers on TV. Blasphemous! We'd rather just watch and see what transpires and will instead take a pass at Chavez Ravine, where 2016 will become a season-long tribute to longtime, 88-year-old play-by-play man Vin Scully, who still sounds good but is reportedly due to retire at the end of the season. Pull up a chair, indeed!
NEXT ISSUE: AL SEASON WINS PREVIEW!
Return To Home Page