6804...
TGS COLLEGE HOOPS

...EARLY FEBRUARY BRACKETOLOGY UPDATE!
by Bruce Marshall, Goldsheet.com Editor
It's been three weeks since our last "Bracketology" report, and there has been more movement than in the preceding weeks in our projections. The "Big Dance bubble" is now taking real shape and the name of "St. Joe's" Lunardi is being mentioned more and more on ESPN...a sure sign that March is just around the corner.


We at TGS will continues to provide our own Big Dance forecasts into March. Later in February we will offer more specific league-by-league updates, and by the end of the month will begin to preview the conference tourneys.


Remember, for all of our "Bracketology" updates, the term "protected seed" refers to seeds 1 thru 4 in each region, and likely favorable geographic placement in the sub-regional round.


As usual, we break down the projected matchups by each region, beginning with the sub-regionals, which this season will begin on Thursday, March 17, with the Dayton "First Four" games played on March 15 and 16. Straight-up records and RPI are as of February 2. Remember, Selection Sunday is only a bit more than five weeks away!


March, coming soon? Where has this season gone?


EAST REGIONAL (Philadelphia)


At Providence...


1 Villanova (SUR 18-3, RPI-3) vs. 16 UNC-Asheville (15-8, 156))...Even the best teams are going to lose a few games this season, so we are not inclined to downgrade Villanova for its honorable defeats (against ranked Oklahoma, Virginia, and Providence). As long as the Cats or Xavier win the Big East Tourney, they should be ticketed to the top line. In the Big South, UNC-Asheville is currently setting the pace, with Winthrop, Cliff Ellis' Coastal Carolina, and Scott Cherry's High Point close behind. If the Bulldogs do emerge, many will be noting an earlier win over a Big East rep, Georgetown (which has a loss to another Big South rep, Radford, as well).


8 Arizona (17-5, 35) vs. 9 Notre Dame (15-6, 32)...It has been a while since Arizona was seeded this low, but this is not a powerhouse Wildcat edition, and others such as Oregon and USC appear the teams to beat in the Pac-12. We suspect the Selection Committee could go very deep in the ACC, and, as long as Notre Dame avoids a collapse in the next month, the Irish should land on the safe side of the Big Dance cut line. The win over Iowa at the Disney World Tourney during Thanksgiving week is a gift that could keep Notre Dame out of trouble on Selection Sunday.

At Denver...


4 Indiana (19-4, 39) vs. 13 Chattanooga (19-3, 51)...The pained expressions of Tom Crean must just be a habit, because the war drums have stopped beating in Bloomington, as Indiana threatens to steal the Big Ten regular-season crown. Tuesday's romp at Michigan was the latest impressive Hoosier win and their first significant scalp claimed on the road (though IU did beat Notre Dame at neutral Indianapolis in mid-December). Continuing to set the pace in the SoCon is Chattanooga, which has not skipped a beat after HC Will Wade moved to VCU after last season. The Mocs are getting used to the idea that new HC Matt McCall is going to make this job a career pit stop for him, too, as recently-enlightened UTC seems to be embracing itself as a good stepping-stone job (something several other mid-majors might want to consider).


5 West Virginia (18-4, 13) vs. 12 Washington (14-7, 50)/Seton Hall (15-6, 45)...It might seem a bit harsh to put WVU out of protected seed territory, but we are projecting a bit and believe the tough Big 12 slate is still going to knock a few of the contenders down a couple of pegs on the seeding ladder. Still, the Mounties could also end up a 2 or 3 seed quite easily. In one of the at-large play-in games, Lorenzo Romar is doing enough with his electric collection of frosh to get off of the hot seat at U-Dub, and the Huskies could easily move away from play-in territory if they remain in the top tier of the Pac-12. Meanwhile, bubble-riding Seton Hall continues to do just enough to hang in the projected field of 68.


At Des Moines...


2 Iowa (17-4, 7) vs. 15 Yale (13-5, 85)...Last week's loss at Maryland might have temporarily knocked the Hawkeyes off the top line, but they continue to be one of the nation's most pleasant surprises and likely bound for the Des Moines sub-regional. As noted in our recent article touting the upperclassmen-laden high-ranked teams, Fran McCaffery's collection of seniors appears poised for a deep March run as Iowa continues to improve. The Ivy race appears up for grabs, especially since Tommy Amaker's Harvard has mysteriously slumped and is already several lengths behind the leaders. Remember, Yale was a 22-win team last season that lost in an Ivy playoff to Harvard and was then snubbed by other postseason tourneys. The Eli are playing with a chip on their shoulders this season.


7 Baylor (17-5, 23) vs. 10 Monmouth (18-5, 34)...Even more so than our example with West Virginia, the rugged Big 12 slate is starting to take some bites out of Baylor, and the Bears are sliding down the seeding scale. If the skid continues, that trend could cost Scott Drew's team a few more spots as we get into March. Monmouth is beginning to separate from the pack in the Metro-Atlantic, and the question now is if the Hawks have done enough with their collection of non-conference scalps (UCLA, Notre Dame, Southern Cal, and Georgetown) to get an NCAA at-large bid if they lose in the conference tourney. Also keep an eye on Monmouth HC King Rice, a former North Carolina Tar Heel and likely to be on a short list for any number of higher-profile job openings after the season.


At Raleigh...


3 Virginia (17-4, 6) vs. 14 Stony Brook (17-4, 63)...After a bumpy few weeks, last Saturday's romp at Louisville has solidified Tony Bennett's Cavaliers in protected seed territory. Forgive Bennett for crossing his fingers that Michigan State (UVa's recent Big Dance nemesis) gets placed in another region. As for Stony Brook, the home team of Strat-o-Matic games on Long Island continues to set the pace in the America East. Albany, Vermont, and New Hampshire are giving the most spirited chases, but remember that the Seahawks currently have the pole position for the all-important home-court edge in the conference tourney.


6 Dayton (18-3, 12) vs. 11 LSU (14-8, 72)...Here is a team we might watch as a threat for a protected seed, as Dayton continues to pile up Ws in the competitive A-10 and has several good non-league wins (Iowa, Alabama, Vanderbilt, Arkansas, and Monmouth) as well. For the moment we keep the Flyers on the 6 line with an arrow pointing up. Count us among those who believe the Committee is likely to give LSU any benefit of the doubt on Selection Sunday, as the commercial side of the committee will want frosh superstar Ben Simmons performing in the Big Dance, and not the NIT.


SOUTH REGIONAL (Louisville)


At Raleigh...


1 North Carolina (19-3, 9) vs. 16 Texas Southern (10-11, 201)/Wagner (14-7, 206)...Even after the Big Monday loss at Louisville, we have kept the Tar Heels on the top line. Still plenty of heft in the UNC portfolio, and it will remain a contender for the top overall seed if it can win the ACC Tourney. In the 16 vs. 16 play-in discussion, rest assured the SWAC will be involved this season. After a 1-11 non-conference mark, Mike Davis' Texas Southern is unbeaten in league play. Southern U and Jackson State, currently 2-3 in the standings, are the only SWAC teams over .500 at the moment. The Northeast is also likely to be involved in one the 16 vs. 16 battles, and Bob Beckel's alma mater Wagner continues to set the pace. Way down the NE table is usual contender Robert Morris, as the home team of the Pittsburgh Airport has yet to gain its normal traction.


8 Cincinnati (16-6, 56) vs. 9 Florida (14-8, 20)...Cincy tests the "good loss" theory (which is often overblown), but we suspect a high finish in the combative American could get the Bearcats into their home white jerseys for the sub-regional tip-off. Florida helped its at-large case immeasurably in last Saturday's Big 12-SEC Challenge romp past West Virginia. Michael White's side is now developing some momentum and probably only has to avoid a meltdown in the next month to stay on the safe side of the cut line.


At Spokane....


4 Purdue (19-4, 24) vs. 13 UAB (18-4, 111)...Purdue is going to be a nightmare matchup for smaller teams in the field because of its twin towers lineup featuring 7-footers AJ Hammons and Isaac Haas. The Boilermakers could eventually get hurt by their earlier loss to Illinois, but staying in the top three of the Big Ten ought to get Matt Painter's team a protected seed. UAB will have any sub-regional foe on alert after last year's upset over Iowa State. With a similar squad, the Blazers continue to set the pace in Conference USA, with Middle Tennessee, La Tech, and recently-surging Marshall looking to be the top challengers.


5 Kentucky (16-6, 26) vs. 12 UALR (19-2, 62)...As recently as last week we would have had Kentucky in protected seed territory. Heck, we probably had the Wildcats still at a 4 seed even after their Saturday OT loss at Kansas. But the Tuesday collapse at Tennessee, when Coach Cal's Cats blew a 21-point lead, has knocked UK down to a 5 seed until further notice. Meanwhile, keep an eye on dangerous UALR, which is starting to gallop away from rest of the Sun Belt. The Trojans, who once upon a time made some noise in the Big Dance with a major upset of a Digger Phelps Notre Dame side, also have good wins over San Diego State and Tulsa in pre-league play.


At St. Louis...


2 Kansas (17-4, 4) vs. 15 North Florida (18-7, 139)...The Jayhawks, who had hit some speed bumps in recent Big 12 action, won an important Big 12-SEC challenge vs. Kentucky last weekend while also discovering Wayne Selden, Jr. as the potential take-charge guy that Bill Self has been looking for all season. There's a very good chance KU gets sent to St. Louis, where Jayhawks fans will flock in droves, for the sub-regional. In the Atlantic Sun, defending champ North Florida continues to set the pace, with only nearby Jacksonville offering much of a challenge to the Ospreys. The A-Sun is another of the leagues where the regular-season champ will have the home edge thru the conference tourney.


7 Pitt (17-4, 27) vs. 10 Gonzaga (17-5, 73)...The ACC is going to look like a feeder conference for the Big Dance, with all teams finishing in the top half of the league (and maybe one or two more) expecting to get bids. Count Pitt in that group, though the Panthers can help their seeding prospects with another marquee win or two besides Notre Dame and Syracuse. This is the lowest Gonzaga has been projected in years, as it does not appear to be a vintage season for the Zags. Mark Few doesn't figure to miss the Dance (the last Gonzaga team not to qualify was in 1998), but its suspect RPI is a bit of a danger sign in Spokane.


At Brooklyn...


3 Providence (18-5, 28) vs. 14 Belmont (16-7, 89)...Providence has collected some nice Big East road wins, including one at Villanova, that probably keeps the Friars as a protected seed, at least for now. But Ed Cooley's team can't afford many more slip-ups like Tuesday at DePaul, or continuing to alternate wins and losses in conference play, to stay on the 3 or 4 line. As for Belmont, it has finally passed nearby Tennessee State for the top spot in the OVC. Vet HC Rick Byrd has most of his weapons on hand from last year's Big Dance qualifier, and still gets our nod for the conference tourney held across town at The Jetson's-looking Nashville Municipal Auditorium March 2-5.


6 Southern Cal (17-5, 19) vs. 11 UConn (15-6, 59)...SC looked like it might be wobbling a couple of weeks ago when it was swept on its road trip to the Oregon schools. But last week's quick recovery vs. Washington and Washington State, and continuing to make a fortress out of the Galen Center, have stabilized the Trojans just outside of protected seed territory. Expect Andy Enfield to triumphantly return to the Dance for the first time since his Florida Gulf Coast "Dunk City" took March by storm three years ago. UConn has some losses and an RPI that hardly suggests the Huskies are an automatic at-large entry. Good non-league wins over Michigan, Texas, and Georgetown will help the cause for Kevin Ollie on Selection Sunday.


MIDWEST REGIONAL (Chicago)


At Oklahoma City...

1 Oklahoma (19-2, 1) vs. 16 Bucknell (12-9, 181)/Hampton (13-8, 190)...As long as Oklahoma stays at or near the top in the Big 12, it is going to have a clear shot at a spot on the top line. Also, note that "The Peake" in Oklahoma City, while a huge regional edge for the Sooners, does not activate the NCAA stay-away role for OU. Only if the sub-regional were conducted in nearly Norman at the Lloyd Noble Center would the Sooners be prohibited from participating at that venue. Ok City is close to Norman, but no restrictions there for OU. One of the 16 vs. 16 play-in games is almost assuredly going to involve a rep from the MEAC, where the Hampton Pirates continue to set the pace. The only other league rep above .500 is South Carolina State. The Patriot is also likely to be involved in 16 vs. 16 action, with CBS head honcho Les Moonves' alma mater, Bucknell, under new HC Nathan Davis after Dave Paulsen moved to George Mason, currently ahead of Ed DeChellis' Navy atop the league table.


8 South Carolina (19-3, 29) vs. 9 St. Joseph's (18-3, 30)...There are still some SEC non-believers in South Carolina, as the Gamecocks took advantage of a favorable pre-league slate to take an undefeated mark into conference play. Frank Martin's team has some stumbles on the conference trail, including Tuesday at Georgia, and we would not be surprised to see SC slip a bit more before Selection Sunday. Meanwhile, Phil Martelli seems to be up to some of his old tricks at St. Joe's, and we think the Selection Committee might go 4-deep in the league in March. But a few more results like Wednesday's home loss to St. Bonaventure will have Martelli again reaching for the Rogaine.


At St. Louis...


4 Louisville (18-4, 18) vs. 13 Akron (18-4, 54)...Just as we were ready to pull the Cards out of protected seed territory after their humbling Saturday loss to Virginia, they turn around and beat North Carolina, moving back to the 4 line. Note that Rick Pitino's team will not be placed in the South, as the regionals will be played on the Cards' KFC Yum! Center home court. In the MAC, Akron is starting to put some distance between itself and the rest of the contenders, but all that will get Keith Dambrot's Zips is the top seed in the conference tourney at "The Q" March 10-12.


5 Wichita State (16-5, 36) vs. 12 Valparaiso (19-4, 40)...For a while in December it looked like Wichita would have to win the Missouri Valley to make the Dance. Now the Shockers look like they'll make it regardless of what might happen next month in "Arch Madness" at St. Louis, but could end up as a protected seed as well. (The Selection Committee will note key Wichita injuries when losing several pre-league games.) Valpo's record and RPI suggests it, too, might be able to get an at-large bid even if losing in the Horizon Tourney. But the Crusaders will be prohibitive favorites for that event, which now has a neutral site in Detroit (Joe Louis Arena March 5-8) after being held on campus in recent years.


At Oklahoma City...


2 Texas A&M (18-3, 11) vs. 15 Stephen F. Austin (15-5, 189)...By now it is confirmed that Texas A&M is no false alarm, as the senior-laden Aggies hit February as the top-rated SEC team and poised to go on a deep run in March. The sub-regional at The Peake looks a likely destination. In the Southland, familiar Stephen F. Austin, after a somewhat rocky pre-league slate, all of a sudden has taken charge of the league, standing unbeaten in loop play entering February. Challenges in the conference tourney in the Houston suburb of Katy likely come from upstart Houston Baptist and Texas A&M-Corpus Christi. San Antonio-based Incarnate Word, currently close behind in the league standings, and Abilene Christian are still in their D-I transition phases and ineligible for the conference tourney (but could get invited to the CBI or CIT).


7 Utah (17-5, 15) vs. 10 Syracuse (16-8, 53)...Utah's numbers might suggest the Utes should get a better seed than a 7, but we suspect the Selection Committee will show more respect to the Big 12, ACC, and probably the Big 10 over the Pac-12, which would keep Utah out of the protected seed discussion. Speaking of discussion, in it for the first time this season is Syracuse, as the Orange have rallied for Jim Boeheim and bring plenty of momentum into February. Boeheim has already served his 9-game suspension, and there is no postseason ban for the Orange as a result of their recent penalties. They've played well enough in recent weeks to get a call from the Selection Committee.


At Des Moines...


3 Michigan State (19-4, 21) vs. 14 UNCW (16-5, 94)...We had Michigan State on the top line into mid-January, but the second loss to Iowa and subsequent setbacks vs. Wisconsin and Nebraska knocked the Spartans down a couple of pegs. Much needed was the recent win over Maryland that temporarily solidifies Tim Izzo's team as a protected seed. The Colonial looks wide open, as it has been in recent years, and likely having another shot to qualify for its first-ever Dance will be William & Mary. For the moment, however, a measured vote for Kevin Keatts' entertaining UNCW, though the Tribe, James Madison, Hofstra, and defending tourney champ Northeastern all think they have a chance when the fun starts four weeks hence in Baltimore.


6 Texas (15-7, 17) vs. 11 Clemson (14-8, 70)...Seven losses do not look good, at least on the surface, for Shaka Smart's Texas. Drill a bit deeper, however, and look at those quality wins (Washington, North Carolina, Stanford, Iowa State, West Virginia, Vanderbilt, Baylor). As of now, the Longhorns are in, and safely so. Brad Brownell's Clemson makes our cut for the first time this season after a succession of impressive recent wins over Louisville, Duke, and Miami-Fla.


WEST REGIONAL (Anaheim)


at Providence...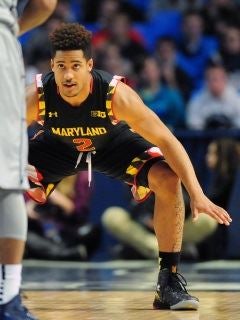 1 Maryland (19-3, 8) vs. 16 Cal State Bakersfield (15-6, 159)... Maryland's recent win over Iowa puts the Terps temporarily back on the top line, though they might have to win the Big Ten Tournament to stay there. In March, we will find out like the rest if HC Mark Turgeon is really capable of leading a team into the Final Four. If you've been wondering whatever happened to former Ole Miss and Georgia State HC Rod Barnes, he's been at Cal State Bakersfield for the past few years and now has his best Roadrunner edition. We'll have to wait for the WAC Tourney at the Orleans Arena in Las Vegas March 10-12 to see if Barnes can deny Marvin Menzies' New Mexico State a fifth straight Big Dance visit.


8 Saint Mary's (18-2, 44) vs. 9 Colorado (17-5, 22)...No one in the region was really expecting Randy Bennett to re-load so quickly at Saint Mary's. But the never-ending succession of Aussies at Moraga has not only kept the Gaels afloat, but also has them atop the WCC after earlier home wins over Gonzaga and BYU. As for Colorado, the Buffs are doing more than enough for HC Tad Boyle to return to the Dance after a disappointing showing a year ago.


At Brooklyn...


4 Miami-Florida (16-4, 16) vs. 13 South Dakota State (18-5, 48)...Jim Larranaga's Miami was one of those teams we talked about last week that was filled with upperclassmen and ready to use that experience to make a deep run in March. More than holding their own in the tough ACC, the Canes appear a good bet for a protected seed. We have seen Scott Nagy's South Dakota State in Big Dances before, and the Jackrabbits are looking to get back after a bitter loss in the conference tourney final to rival North Dakota State last March. SDS, which advanced to the NIT instead last season, has four returning starters and now appears the favorite for the tourney in raucous Sioux Falls, though IPFW, IUPUI, and Omaha (eligible this season) will like their chances as well.


5 Iowa State (16-6, 14) vs. 12 Butler (15-7, 61)/George Washington (16-5, 52)...Iowa State's RPI reflects its tough schedule (and wins over Iowa, Oklahoma, and Kansas), but the Cyclones are also taking some torpedo hits, and the losses are mounting. For us, Tuesday's home loss to West Virginia puts ISU out of a protected seed until further notice. In the other at-large play-in game, Butler gets a call for this update after its midweek win over Georgetown (which, for our purposes, was an effective elimination game for the play-in). But the Bulldogs have slipped from our previous Bracketology reports as they continue to swim in the sub-.500 waters of the Big East. GW is also barely hanging in the field, with bad losses to DePaul and Saint Louis as stains that will not go away, but neither does the fresh scent of the Colonials' November win over Virginia and other non-league successes vs. Seton Hall and Tennessee. But any more bad losses and the Colonials might be NIT-bound instead.


At St. Louis...


2 Xavier (19-2, 5) vs. 15 Weber State (15-6, 159)...It is nip-and-tuck for us at the moment whether to put Villanova or the "X" on the top line. The Cats' lopsided win over the Muskies on New Year's Eve has Nova ahead for the moment, but Chris Mack's team can still likely secure a 1 seed if it can win the Big East Tourney. The Big Sky looks to be a 2-team race, so a measured vote for Weber State, with the best 1-2 punch in the Sky with G Jeremy Senglin and F Joel Bolomboy, combining for better than 35 ppg. Montana is giving spirited chase. Note that like the Horizon League, the Sky moves its tourney to a neutral venue, in this case Reno, not at the Nevada Wolf Pack's Lawlor Center, but instead at the Events Center, home of the NBA D-League Bighorns.


7 Duke (16-6, 25) vs. 10 VCU (16-5, 31)...It's been a while since we've seeded Duke this low. It's also been a while since the Blue Devils were out of the Top 25, which just happened last week. Times change. A matchup vs. VCU would recall bad memories for Coach K, whose Duke was dumped by the Rams in the sub-regional in 2007, when Eric Maynor (remember him?) was the VCU hero. The current Rams, under first-year HC and Shaka Smart disciple Will Wade, have not lost since Dec. 19 vs. Cincinnati and are currently setting the pace in the A-10.


At Spokane...


3 Oregon (18-4, 2) vs. 14 UC Irvine (15-6, 76)...Since our last update, one of the real "movers" has been Oregon, now atop the Pac-12 and ascending quickly. The Ducks' eye-opening RPI suggests they're on course for a protected seed, and Dana Altman's team looks a good bet for the Spokane sub-regional. The Big West appears to be a three-team race between defending champ UCI, Hawaii, and Long Beach State. There will be an advantage for the Anteaters and 49ers with the conference tourney played nearby at the NHL Ducks' Anaheim Honda Center, which is a long mainland excursion for the Rainbow Warriors. A measured vote for UCI, which had never qualified for the Dance prior to last season but now looks for back-to-back trips. Note that Hawaii has been hit with significant NCAA penalties, but the postseason ban does not take effect until the next 2016-17 campaign.


6 Michigan (17-6, 41 ) vs. 11 San Diego State (17-6, 53)...Every once in a while, the Committee displays a devilish side and sets up a matchup with some connections (and controversies) from the past. So be it if former Michigan and current SDSU HC Steve Fisher is pitted vs. his long-ago employer Wolverines in the sub-regionals. As a Big Ten rep, John Beilein's team figures to be granted a wide berth by the Selection Committee. As for Fisher's Aztecs, they endured a difficult pre-league slate with no marquee wins other than a success in Las Vegas vs. Cal during Thanksgiving week, but they are currently upbeaten in the Mountain West and might be in position for an at-large bid in case they lose next month at the Thomas & Mack...a scenario which, at the moment, seems the only way the Mountain becomes a multi-bid league, especially with Boise State stumbling vs. UNLV and New Mexico last week.


Last four in: Washington, Seton Hall, Butler, George Washington.


Last four out: Cal, Florida State, Wisconsin, Georgetown.


Next four out: UCLA, St. Bonaventure, Marquette, Vanderbilt.
Return To Home Page