6706...
TGS SPECIAL REPORT
...CHECKING IN ON NEW JERSEY
by Bruce Marshall, Goldsheet.com Editor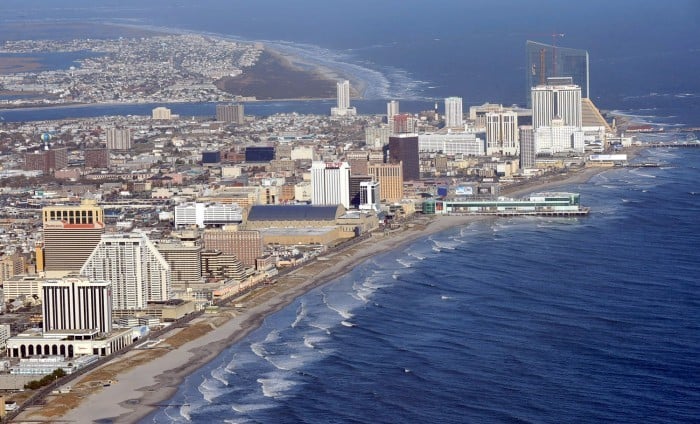 Readers

of

THE GOLD SHEET

can be excused for wondering what has happened with New Jersey's attempt to legalize sports wagering, which has been followed closely on these pages over the past couple of years. This fall, however, much of the media became sidetracked from the New Jersey storyline when focus shifted toward the fantasy sports marketplace, and we at TGS followed along with a three-part editorial devoted to that same topic earlier this football season.
But while the New Jersey sports gaming storyline has been flying under the radar in recent months, rest assured it has not disappeared. Rather, while many were concentrating upon FanDuel and DraftKings, some significant developments were taking place regarding the Garden State's latest attempts to legalize sports wagering. More on those updates in a moment.


In the meantime, a bit of a refresher might be in order regarding the New Jersey storyline (extensive TGS chronicling of the subject can be accessed on our website homepage at www.

goldsheet

.com). More than four years ago, Gov. Chris Christie and various pols decided that they wanted in on full-scale sports betting action that could help prop up the sagging economy within the state. In 2011, New Jersey voters approved a referendum to allow sports betting in hopes the state could legitimize what is currently a black market industry, thereby tapping into billions in annual bets to produce a new source of revenue for the state budget, Atlantic City, and the horse racing industry. The State Legislature then passed a law legalizing sports betting, and Christie signed it in January 2012.


Christie went so far as to begin the process of issuing sports gaming licenses and proclaimed the state would begin to accept bets at its various casinos and race tracks, but knew he would encounter trouble along the way. Not that Christie wasn't prepared for his legal challenge to the 1992 Professional and Amateur Sports Protection Act, when select states (Nevada, Oregon, Delaware, and Montana) were "grandfathered" by federal law to accept sports wagers, though only in Nevada's case would it include single-game wagering; it was parlay cards only for the other states. (Indian casinos were not included.) To no one's surprise, the pro sports leagues would block Christie in U.S. District Court ("Christie I"), and when the US Supreme Court denied to hear the case, New Jersey appeared to hit a roadblock.


Only it hadn't. In 2014, Christie decided to endorse a new measure introduced by State Senator Raymond Lesniak that would circumvent an apparent loophole in federal law and allow the state to repeal its long prohibitions on sports gaming. By removing itself from licensing and regulating the sports wagering activities, New Jersey, according to the Lesniak proposal, would not be in conflict with PASPA, and could allow privately-run sportsbooks to operate in the state.


Of course, the sports leagues challenged once more and in the Federal District Court were awarded an injunction for a second time by the same judge, Michael Shipp. Again, as in its original challenge, New Jersey would appeal to the Third Circuit, and in late August was defeated for a second time by the same 2-1 vote in US Court of Appeals, effectively saying the latest New Jersey attempt ("Christie II") still ran afoul of PASPA. (The two votes against New Jersey were cast, rather surprisingly, by judges Marjorie Rendell, whose husband, former Pennsylvania Governor Ed Rendell, has been a big gaming proponent and brought casino wagering to the Keystone State, and Maryanne Trump Barry, sister of none other than Donald Trump, who for years held interests in Atlantic City hotels and casinos). Game over for New Jersey?


Not quite. In October, Christie and the Garden State would finally, and somewhat surprisingly, score their first significant court victory. In a rather unexpected move, the same United States Court of Appeals for the Third Circuit motioned for an "en banc" rehearing.


"This is extraordinarily rare," Daniel Wallach, a sports and gambling lawyer told the New York Times regarding the en banc announcement. "It's the judicial equivalent of winning the lottery. The pendulum has swung the other way. New Jersey needs only to win once. I believe they are on the path to victory."


An en banc hearing will bring at least 12 of the 23 circuit judges to the panel instead of only three, and is considered a rarity, as it forces a majority of judges to question a legal decision made by their fellow bench mates and ultimately voids earlier interpretations.

Thus, while granting the rehearing, the Third Circuit also vacated its August verdict in favor of the leagues

.


Legal observers have noted that New Jersey unquestionably scored a significant procedural victory in getting the court to order rehearing en banc. That's because the Third Circuit rarely grants en banc consideration; only one of 2,402 appeals in 2014 and two of 2,715 appeals in 2013 were considered by the court sitting en banc. So it would appear as if New Jersey has made it past the biggest procedural obstacle in its path.


Still, legal insiders suggest that sports gaming proponents in the Garden State should refrain from celebrating, as getting the six or seven votes needed could prove a daunting task. At this stage, New Jersey can only probably count upon one sure vote, judge Julio Fuentes (left), who registered the dissent in the 2-1 August verdict in Christie II. (Fuentes, by the way, had voted against New Jersey in the earlier 2013 ruling). Legal experts who are already predicting the outcome of the en banc procedure also believe judge Thomas Vanaskie, who voted in the dissent and for New Jersey in Christie I, can probably be counted upon to join Fuentes, but any predictions regarding the other judges are tricky at best.


A final appellate ruling will also likely take some time. Arguments are not going to be heard until sometime in 2016, with decisions usually on a three-to-six-month timeline thereafter. In the case of dissenting opinions, the wait is often longer, and many legal observers expect dissent in the New Jersey case. Most legal experts are expecting a close call on whatever the verdict.


There are going to be several interested observers beyond sports gamblers. Indiana, Minnesota, New York, South Carolina, and Texas have all introduced measures this year to legalize such wagering. Aforementioned attorney Daniel Wallach said a New Jersey victory "will potentially open the floodgates to nationwide sports betting." Wallach also told the NYT that he experts neighboring Pennsylvania and Delaware would likely act "swiftly" to pass similar legislation--and that it could also force Congress' hand to lift the national ban, especially as it deals with the fall-out from recent fantasy sports headlines.


As for the states, Pennsylvania is already in the process of exploring several other forms of gaming, including Internet casinos and sports. In a chorus that could be sung by several states, the Keystone State, faced with a proposed nine percent budget increase from first-term Governor Tom Wolf, is investigating whether expanding gambling services could help reduce the strain on personal taxes. Introduced by Pennsylvavnia State Rep. Nick Kotik (D) and endorsed by House Gaming Oversight Chairman Rep. John Payne (R), Kotik has said his bill would create an exemption under PASPA to allow the Pennsylvania Gaming Control Board to dictate such local laws.


While some recent sports gaming proponents, including NBA Commissioner Adam Silver, have advocated Congress becoming involved to repeal PASPA, most observers believe that process to be too cumbersome, and suggest that more-pressing matters are going to be on the minds of legislators and lawmakers these days. Most legal insiders believe the court remains the best alternative for New Jersey and other states.

If New Jersey loses in the re-hearing, the state could petition the US Supreme Court to hear the matter, as it unsuccessfully did in 2014 after its first attempt at bypassing PASPA had failed. That, however, remains a longshot, and even the ever-hopeful State Senator Raymond Lesniak said such a petition would unlikely be granted. The en banc is New Jersey's best chance.

"This (the upcoming en banc) is really the last hurrah for us," Lesniak said. "I expect it to be a big hurrah." As always, stay tuned.
Return To Home Page