6539...
TGS 2015 PRO FOOTBALL PREVIEW
...A LOOK AT THE NFC SOUTH
Following is our 2015 preview of the NFC South, courtesy Senior Editor Chuck Sippl. As always, teams are presented in predicted order of finish, with 2014 straight-up, spread, and O/U results listed. Next up will be the AFC South...Bruce Marshall, Goldsheet.com Editor

by Chuck Sippl, Senior Editor


NEW

ORLEANS

(Straight-Up Record 7-9;

Pointspread Record 6-10;

Over/Under 9-6-1)...
2014 was a strange campaign for New Orleans, which finished with the top-ranked offense in terms of yards, yet couldn't unseat Carolina as NFC South champ despite the Panthers' weak 7-8-1 regular-season record. The Saints' failure came about for three main reasons.
First, it was N.O.'s thin, banged-up and sagging defense, which was 31st in yards allowed, 28th in points allowed (26.5 pg), 29th vs. the run, and 25th in sacks. Second was a turnover problem that saw the Saints finish with a -13 margin, with Drew Brees sacked on 29 occasions and picked off 17 times. (During N.O.'s Super Bowl season, those latter comparable numbers were 20 and 11.) Third was a loss of the team's Superdome mojo. After the Saints went 8-0 and 8-0 at home in Sean Payton's previous two seasons (he was suspended for 2012), New Orleans was only 3-5 last season. And one of those defeats was a late-season 41-10 hammering by the Panthers, followed two weeks later by a 30-14 to the hated Falcons.


After missing the playoffs for the first time in five years, the Saints decided to make some major changes while the remarkable Brees (36 years old, virtually 5000 YP each of the last four years) still has a couple of good years left. To help steady last year's shaky pass protection, GM Mickey Loomis dealt extra-dimension (but sore-shouldered and very expensive) TE Jimmy Graham to Seattle for C Max Unger. The team's No. 1 draft pick was spent on 6-7, 320 OT Andrus Peat from Stanford. To help restore a missing edge to the backfield, the Saints added speedster C.J. Spiller from Buffalo in the hope of reviving the Darren Sproles' role of the recent past.


With less age, more speed, and improved depth needed for Ron Ryan's flagging defense, there have been a number of changes, including the unexpected release of OLB Junior Galette (10 sacks LY) due to off-field issues. Loomis and Ryan are now counting on draft selections and the return to health of some injured players to provide the new blood and veteran depth to help the defense produce more sacks, stops, and takeaways.


There appears to be some reason for optimism in their thinking. The veteran additions include physical 6-4, 222 CB Brandon Browner (Seattle & N.E. L4Ys), CB/S Kyle Wilson from the Jets, LB Donnell Ellerbe (only one game LY due to injury) from Miami, and DE Anthony Spencer (limited by injuries L2Ys) from Dallas. Even long-time Viking run-stuffing DT Kevin Williams (LY with Seattle) is getting a look. Returning injured players from the Saints include safety Jairus Byrd (only 4 games LY), safety Vinnie Sunseri (only 9 games), and massive 6-3, 350 NT John Jenkins (missed early action due to chest injury).


It's always somewhat hopeful to count on returning injured players to reach their previous form. But if a few of the free-agent signees or returning Saints can rejoin the fray with the likes of DE Cameron Jordan, MLB David Hawthorne, OLB/DE Parys Harralson, cover corner Keenan Lewis, and hard-hitting S Kenny Vaccaro, def. coord. Ryan might once again have a defensive platoon capable of doing more intimidating than being intimidated.


Youthful speed has arrived in the form of blitzing OLB Kiko Kikaha (19 sacks LY for U. of Washington), ILB Stephone Anthony (330 career tackles at Clemson), and athletic CB P.J. Williams (Florida State). Three fifth-round picks were also used for defense--OLB Davis Tull of Chattanooga, DT Tyeler Davison of Fresno, and CB Damian Swann of Georgia. New Orleans' investment on young defenders has begun in a big way.


It will be up to Brees and offensive guru Payton to sustain the offense, which will miss top target Jimmy Graham (99, 85, 86 and 85 recs. the L4Ys) and emerging WR Kenny Stills (63 recs. LY). Also, reliable slot guy Marques Colston, never long on speed, is entering his 10th season. But Payton believes the Saints will be consistently productive once again, especially with the slippery Spiller joining dependable Mark Ingram (964 YR) and still-developing Khiry Robinson (362 LY) in the RB rotation. The departure of Graham & Stills will mean more targets for speed-burning WR Brandin Cooks (53 recs. LY), rangy (6-4, 218) Nick Toon (17 recs. in 8 games LY), and potential-laden Brandon Coleman, while dependable vet Ben Watson (12th year) and others will handle the TE duties.


SUMMARY...It appears between New Orleans and Atlanta to capture the NFC South this season, with each possessing dynamic attacks and several warts elsewhere. Despite the ominous presence of Matt Ryan/Julio Jones/Roddy White in the ATL, we'll give the nod to the Saints. Certainly, Super Bowl-winning coach Sean Payton deserves the edge over fiery rookie Falcon mentor Dan Quinn. Not all of the Saints' myriad defensive moves have to work out in order for their stop unit to be substantially improved over last year's 31st-ranked unit. And the draft has provided talented youth in quantity. Unless GM Loomis "whiffed" on the vast majority of his FA additions and draft choices, there will be no 424 points scored against the Saints (as there were last year). Look for Payton's Superdome magic to return in 2015.



ATLANTA (

Straight-Up Record 6-10

, Pointspread Record 8-8; O/U 6-10)...Although the Falcons had a decent winning record under Mike Smith (66-46 in seven years), the team seemed to have peaked without ever getting over the hump. Smith went only 1-4 in the playoffs. And owner Arthur Blank decided to make a move after back-to-back injury-filled seasons of 4-12 in 2013 and 6-10 in 2014.


In an effort to regain their swagger and to take that next step in the postseason, Blank tabbed as his new coach Dan Quinn, the defensive coordinator of the Super Bowl teams in Seattle the past two seasons, with the Seahawks leading the league in total defense each year. During those same two campaigns, Atlanta has finished 27th and 32nd in yards allowed. Considering the big-time playmakers on the Falcon offense, Quinn has considered it essential to boost the defensive unit in terms of strength, depth and youth, employing many of the concepts used successfully for the past few years in Seattle.


In taking over in Atlanta, Quinn--who helped construct the "Legion of Boom" secondary in Seattle--has been greatly enthused by inheriting Desmond Trufant and Robert Alford, two of the better young CBs in the league. To augment them in the pass-happy NFL, Quinn then signed hard-nosed veteran Phillip Adams from the Jets and drafted 6-1 Jalen Collins (second round) from LSU. Young safeties Dezmon Southward and Kemal Ishmael (97 Ts LY) have much promise. And if heavy-hitting safety William Moore can stay healthy enough to assume the Cam Chancellor role, Quinn should have enough quality DBs on hand to either play lots of press coverage or to employ the combined man, plus three-deep zone, that succeeded in Seattle.


The Falcs' attempt to solidify their thin, undersized defensive units of resent seasons actually began the with last year's addition of 6-4, 345 DT Paul Soliai from Miami and DE Tyson Jackson from K.C. This year's veteran additions up front include DE Adrian Clayborn from Tampa Bay and LBs Brooks Reed (6-3, 254) from Houston and Justin Durant from Dallas. Veteran holdovers DT Jonathan Babineaux, now slowing in his 11th season, and undersized Kroy Biermann should still be able to take part in the new Atlanta front-four rotation, a tactic used successfully by Quinn with the Seahawks.


But if the Falcons' pass rush (only 22 sacks LY) is to improve substantially, Quinn will likely have to find the key to unlocking consistent performances from athletic 6-6 DT Ra'Shede Hageman (only one sack LY), one of the top penetrators in the NFL...but only from time to time. Perhaps the addition of No. 1 pick OLB/DE Vic Beasley, a natural pass rusher who had 12 sacks LY at Clemson, will help light the fire. MLB Paul Worrilow (142 Ts LY) is an admirable overachiever who made the team two years ago as an undrafted free agent from Delaware. But, at 6-0, 230, Worrilow's speed and size limitations are often exposed by clever offenses.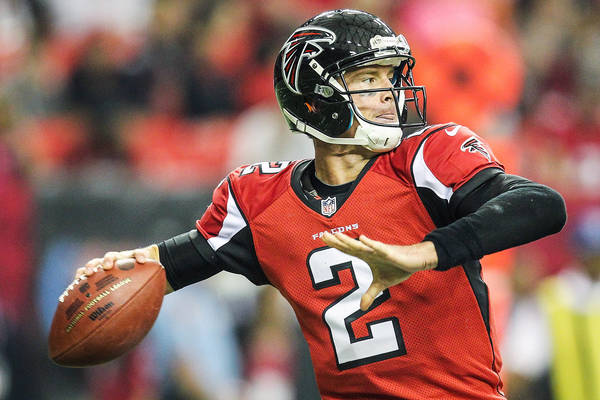 Unlike on defense, there is no lack of swagger on the attack. Kyle Shanahan, now in his eighth year as an NFL offensive coordinator, takes over direction of the Atlanta attack, planning to take advantage of the underrated mobility of peaking QB Matt Ryan (66%, 4694 YP, 28 TDs, 14 ints.) in the Shanahan misdirection, move-the-pocket system. No, there won't be any designed runs, but Ryan will now theoretically be tougher to track down behind a still-marginal OL, and he will be positioned to scramble for a few more first downs and to absorb fewer full-on hits.
On the receiving end, 6-3, 220 Julio Jones (104 recs., 1593 yards, but only 6 TDs LY) has arguably become the fastest of the many high-quality power WRs in the league. Roddy White, in his 11th season, started to show some wear & tear (ankle) in 2014, but still had 80 recs. and 7 TDs. KR/WR Devin Hester (38 LY) has still not blossomed as expected as a slot receiver between those two, while 6-8 TE Levine Toilolo (31 recs.) will never have the receiving knack of Tony Gonzalez. But the Falcs do have a rookie who appears to be on rapid ascension in 5-10 Justin Hardy, the volume WR from East Carolina.


For several years now, Atlanta has been trying to develop a complementary running attack to pair with the accurate, strong-armed, and heady Ryan. The aging Steven Jackson (only 3.7 ypc on 707 YR LY) did not work out in full. Holdovers Devonta Freeman and Antone Smith are not likely to be the answer, nor are they intended to be. The Falcs' high hopes have been placed on third-round pick Tevin Coleman, who ran for 2036 yards (7.5 ypc!) LY at Indiana, not exactly a powerhouse in recent decades. A sore hamstring in camp kept Coleman out of the team's first two exhibitions. Coleman's purported excellent running vision will be needed if Atlanta is the mount a season-long challenge for the South title.


SUMMARY...It seems as if the Falcons have further to go on defense than do the Saints, whose running game is more of an existent reality than is Atlanta's. Matt Ryan and Julio Jones have matured into the elite class of QBs and WRs, respectively. Maybe rookie RB Coleman can stay healthy and successfully balance the offense, making things easier for Ryan and taking pressure off the still-building defense. If Coleman does, the Falcs' will be eying their January 3 season finale vs. the Saints--in Atlanta--with great interest.



CAROLINA (

SUR 8-9-1

;

PSR 8-9-1

; O/U 10-8; Defeated Arizona 27-16 in Wildcard Round;

Lost 31-17 at Seattle in Divisional Round

)...Even before the Panthers lost key WR Kelvin Benjamin (ACL in August practice) for the season, history was against Carolina repeating as NFC South champion. Prior to the Panthers last season, no team had ever repeated as champion from the NFC South. In the first place, the rivalries in this division--although relatively new by NFL standards--are about as fierce as any. And, in the second place, Carolina won last year by the thinnest of margins, going 3-8-1 in its first 12 games before winning its last four to enter the playoffs as a wildcard host of QB-depleted Arizona.


But last year's 7-8-1 record is not going to win many division races. And, now, the Panthers will have to try to do so without the big 6-5, 240-lb. target Benjamin, who in his first season became one of the better clutch targets (73 recs., 50 first downs, 9 TDs) in the league, and Cam Newton's go-to option. Now, it might be up to second-round pick Devin Funchess of Michigan to quickly emerge as a similar performer. The 6-4, 232 Funchess did so well early in his career as a TE at Michigan that he was eventually split out on a near-regular basis. Only the lack of consistent QBing in Ann Arbor kept Funchess limited to 62 recs. and 4 TDs in 2014.


Surely, the loss of one key player in the preseason does not automatically ruin the upcoming campaign for an NFL team in such a multi-dimensional game as football. However, in Carolina's case, the team already had several immediate areas of concern on offense. And those "situations" are extremely unlikely to be resolved this season by the Panthers' small list of five draft picks--first-round LB Shaq Thompson (Washington), second-round WR/TE Funchess, fourth-round T Daryl Williams (Okla.), fifth-round LB David Mayo (Texas State), and fifth-round RB Cameron Artis-Payne (Auburn). Even before Benjamin's injury, Carolina had lost G/T Jonathan Martin & CB Chris Houston to retirement, plus up-the-field DT Star Lotulelei for several weeks following a foot fracture in camp.


Thus, the Panthers will have to be creative with what they have, plus post-exhibition season pickups, and by "coaching up" their young players and by featuring the strengths of the high-quality players they do possess. Among those key performers are QB Newton (59%, 18 TDs, 12 ints.), now in his fifth season and giving signs of finally coming into his own. Remember, Newton started last year recovering from ankle surgery and then a rib injury in the preseason. Also available are veteran RBs Jonathan Stewart, bullish Mike Tolbert, and versatile Fozzy Whitaker. And TEs Greg Olsen (84 recs. LY) and Ed Dickson (the former clutch catcher with the Ravens). And a mixed bag of WRs that includes the likes of Ted Ginn Jr., Philly Brown, Jerricho Cotchery, and Brenton Bersin.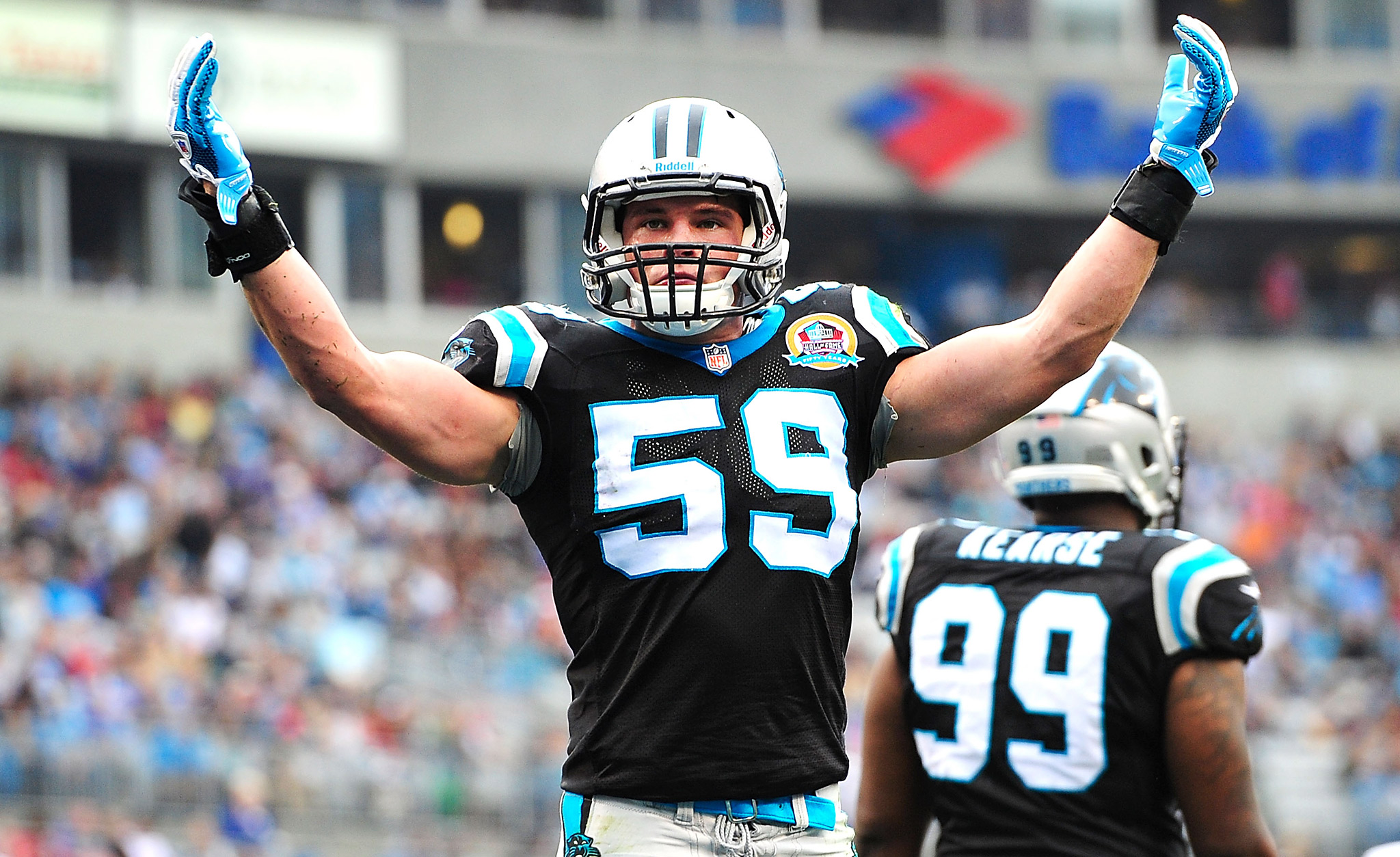 With all due respect to those players, they do not compare favorably with most other offensive units in the NFL, nor to they figure to allow Newton's strong arm to fully blossom. In the OL, Carolina is counting on T Michael Oher to rebound and lock down the left side after back-to-back mixed seasons with the Ravens and Titans, respectively. Charged with sorting out the offense (19th in scoring LY at 21.3 ppg) is cerebral coordinator Marc Trestman, the HC of the Bears the last two seasons.


The picture is much brighter on defense, where the Panthers ranked 10th in yards, but were only 21st in points allowed. Led by ever-hustling MLB Luke Kuechley (153 tackles, 3 sacks), Carolina is two deep at most front-seven positions, with the likes of third-year DT Kawann Short, second-year DE Kony Ealy, and draftee LBs Thompson & Mayo possessing promising upsides to add to a group that already includes DT Lotulelei, DE Charles Johnson, and OLB Thomas Davis, that miracle of modern orthopedic medicine. The secondary is the main defensive area of concern, even with the addition of takeaway expert CB Charles Tillman via free agency from Chicago. Now in his 12th season, Tillman played only two games for the Bears in 2014 due to injury. Safety Roman Harper (16 starts for Carolina, but only 62 tackles LY) has the smarts, but no longer the top-end speed coveted by NFL secondary coaches.


SUMMARY...Even with a healthy Benjamin, it would have been no surprise to see the offensively-potent Falcons and Saints pass more-limited Carolina in 2015 in the South. Tampa Bay with rookie QB Jameis Winston? Well, that would be a surprise. On the plus side, The Panthers have demonstrated considerable resilience in the past two years, battling back to win the division in 2014 and then bonding in the playoffs following the fire that destroyed the house of HC Rivera. Big and strong Cam Newton will have his moments this year. But very likely not enough of them for the Panthers to "three-peat" in the South.



TAMPA

BAY

(SUR 2-14; PSR 7-9; O/U 5-11)...Before getting much further in this Tampa Bay forecast, we'll get right to the major question. No, we don't think top overall draft choice Jameis Winston is going to make a the Buccaneers a major contender this season. In the first place, the starting record of rookie QBs overall in the NFL is not very good. Yes, there are exceptions such as Ben Roethlisberger, Russell Wilson, Joe Flacco, and a few others. Even Mark Sanchez and Nick Foles come to mind. Robert Griffin, but only after a 3-6 start. It helps to be playing for a good team. When you're not, you get rookie years such as Peyton Manning's 3-13 with 28 ints. with the Colts in 1998. Maybe struggling, but improving, seasons such as Cam Newton and Blake Bortles in recent years.


In the second place, the Heisman-winning Winston has given multiple signs both on and off the field in the last two years that he has a ways to go before becoming a solid player in the NFL. Even though he was undefeated as a college QB until last January 1 vs. Oregon in the semis of the College Football Playoff, last season's 18 interceptions along the way were worrisome. And, while his frequent comeback wins last season were impressive, the erratic play that led to FSU falling behind so often was partly Winston's responsibility.


In the third place, no Tampa Bay starting QB has ever been signed to a second contract, and that includes Doug Williams, Steve Young and Vinny Testaverde. That is not a positive omen.


In fact, there is a substantial faction in the Tampa Bay area that believes gangly but competitive 6-7 third-year QB Mike Glennon deserved the first shot in 2015 after last year's experiment with Josh McCown quickly fell into disrepair. It was Glennon at the controls for one of last year's victories, with the long-necked QB hitting the winning TDP in the closing seconds at Pittsburgh. But after T.B. selected Winston with the top overall pick and gave him a $16 million bonus, second-year coach Lovie Smith said relatively early that the job is Winston's to lose.


While that early support might have thrilled the multi-talented youngster, wary NFC South observers point to the Bucs' stuttering offense that was 29th in points, 30th in yards, and 29th in passing. Last year's acquisition of veteran G Logan Mankins didn't prove to be much help for an OL that allowed 52 sacks and punched out only 3.9 ypc. More changes are on the way up front this season. The addition of veteran free-agent C Evan Dietrich-Smith from Green Bay should help a little, but second-round picks T Donovan Smith of Penn State and G Ali Marpet of Hobart better be quick studies if they are tabbed to start along with Winston.


Trying to put things together will be new offensive coordinator Dirk Koetter, who directed the Atlanta attack the last three seasons. In one hopeful sign, HC Smith says Doug Martin, who banged for 1454 in 2012 before subsequently being plagued by injuries, appears close to his old form and was at the top of the RB list heading into preseason play. Charles Sims (2.8 ypc) and Bobby Rainey (4.3) are youngsters with promise, but aren't exactly threats to crash the Pro Bowl. The strength of the Bucs' offense is its pterodactyl-like receiving corps of 6-5 Vincent Jackson (70 recs. for 1002 yards LY), 6-5 Mike Evans (68 for 1051), and 6-6 TE Austin Seferian-Jenkins (21 in nine games LY). 5-10 rookie Kaelin Clay from Utah has the potential to help out in the slot and on special teams after he posted 3 PR TDs and 1 KR TD last season for the Utes.


Lovie Smith, who broke into the NFL as a LB coach with the Buccaneers under Tony Dungy, has always been able to craft decent defenses during his 10 years. He has been profuse in his praise of the leadership and play of sixth-year DT Gerald McCoy (8½ sacks LY), and Dubgy hopes to boost the career of DE George Johnson (6 sacks with the Lions LY). In his rookie season LY, DE Jacquies Smith had 6½ sacks despite starting only seven games. Former Seattle starting DT Tony McDaniel was added in camp. Young LBs David Lavonte (146 tackles LY; All Pro) and Danny Lansanah (82) are another couple of Lovie favorites. And Smith is seeking to build a "takeaway" secondary with 6-2, third-year CB Johnthan Banks (4 ints.), sneaky 5-10 Alterraun Verner, former Kansas safety Bradley McDonald, and safety Major Wright, a one-time Lovie draft pick in Chicago.


Depth is still being built on a stop unit that ranked 25th last season and gave up 25.6 ppg. But Lovie's defense is "coming." It would help the unit if Tampa Bay were able to run better this year and if it were to improve its -8 turnover margin. However, with a dubious OL in front of a rookie QB, it's tough to project major improvements in those areas this season.


SUMMARY...For Tampa Bay, it's four straight last-place finishes in the NFC South (one in a tie with a 7-9 mark). And, once again this season, every other team in the division is far ahead of the Buccaneers at the QB position. Carolina, New Orleans, and Atlanta all have playoff ambitions. Although Winston got off to a promising start in the preseason, one must remember that exhibition games don't count and that opposing defenders play the entire contest in the fall. Even if Winston surprises as a rookie QB, it's likely to remain clearly a rebuilding campaign in Tampa Bay.
Return To Home Page